The stunning new Porsche Mission X, unveiled to mark the 75th anniversary of the brand, is an electric hypercar concept that previews a potential successor model to the Carrera GT and 918 Spyder.
The rear-drive two-seater is intended as a lightweight 'super-sports car' with a high-performance electric powertrain – which could potentially offer around 1500bhp – and a goal to become the fastest road-legal car on the Nürburgring Nordschleife. It would effectively fill the gap at the top of the Porsche line-up that has been open since the 918 Spyder went out of production in 2015.
Porsche boss Oliver Blume said the model would be "a technology beacon for the sports cars of the future", adding: "It picks up the torch of iconic sports cars of decades past: like the 959, the Carrera GT and the 918 Spyder before it, the Mission X provides critical impetus for the evolutionary development of future vehicle concepts."
The Mission X name is a clear reference to the 2015 Mission E concept, which previewed the Taycan that went into production in 2019. In 2021 Porsche showed a Mission R, which hints at the electric 718 Boxster and Cayman successors expected around the middle of this decade.
Based on those timelines, any production car based on the Mission X would be unlikely to appear until around 2027. It is understood that the concept is being developed purely by Porsche and isn't linked to Rimac, the Croatian hypercar firm Porsche holds a major stake in.
The Mission X has relatively compact dimensions at around 4.5m long with a wheelbase of 2.73m – which, Porsche notes, makes it a close match for the Carrera GT and 918 Spyder that it shares a philosophical lineage with. It stands less than 1.2m tall and sits on 20in wheels at the front, with 21in versions at the rear, a move designed to optimise aerodynamics.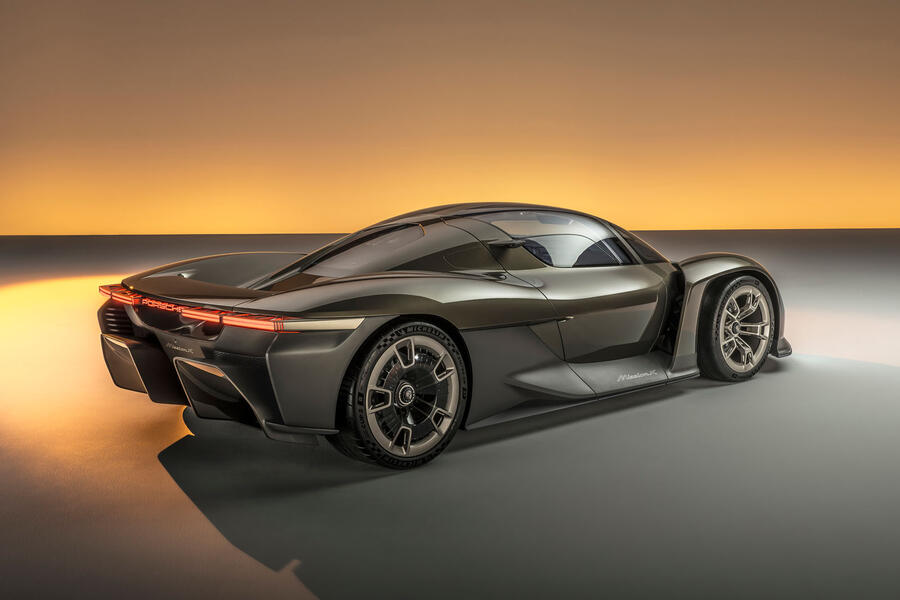 Porsche hasn't divulged any technical details of the intended powertrain for the Mission X – but it has laid out a 'technical vision', giving a series of objectives that engineers are aiming to hit for it to reach series production.