Land Rover's bold new era has begun with the unveiling of the long-awaited fifth generation of its full-sized Range Rover. The flagship model has been completely redesigned, updated and upgraded in all respects and substantially electrified in line with the company's radical plan to slash emissions across its line-up.
The new Range Rover is making its motor show debut in Los Angeles following the culmination of a five-year, seven million-hour testing programme and ahead of its market launch in spring of next year. The reinvented Porsche Cayenne rival will spearhead a top-to-bottom overhaul of Land Rover's line-up, in which each model will be offered with a fully electric option by the end of the decade. The pure-electric version of the new Range Rover, which has been confirmed for launch in 2024, will be the brand's first all-electric model.
Revealed here in both standard and long-wheelbase forms, with the latter giving the option of seven seats for the first time, the reinvented luxury SUV is available to order now – from £94,400 in short-wheelbase form and £120,000 for the long-wheelbase – ahead of customer deliveries getting under way next spring. A range of petrol and diesel powertrains are also available from launch, to be followed in around three months' time by a choice of petrol plug-in hybrids.
DESIGN
The Range Rover's distinctive silhouette remains fundamentally intact, with a rising shoulder line, short overhangs, a 'floating' roof and a clamshell bonnet, but differences between it and the outgoing car are extensive.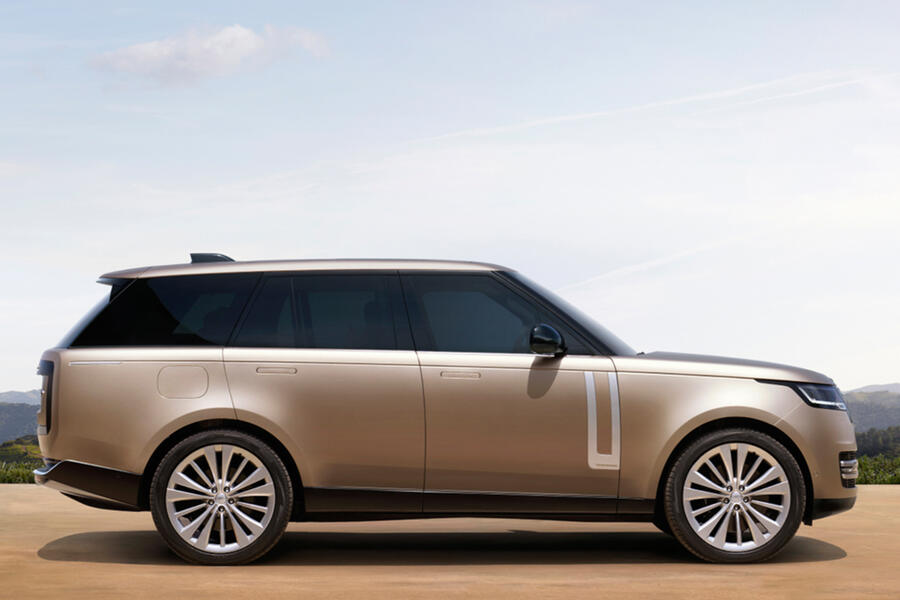 The most obvious differentiator is the addition of a sizeable gloss black panel at the rear, incorporating vertical brake lights at the side and indicators in a bar across the top, all of which are invisible when not in use. Land Rover says this new set-up will become a Range Rover "signature", suggesting it will eventually appear on the next-generation Evoque, Range Rover Sport and any Velar successor. The tail-lights are said to use the most powerful LEDs in existence, while at the front, each headlight cluster contains some 1.2 million individual mirrors that reflect light from a rear-mounted mirror. Each mirror can be turned on or off independently, giving a so-called 'shadow tracking' functionality that avoids shining any light at oncoming cars.