Infiniti has revealed a concept for its first production electric vehicle at the Detroit motor show.
The QX Inspiration, a production-focused mid-sized SUV that could preview the next-generation QX70, debuts a new design language for the brand as well as a new platform as part of a plan to launch a full range of electrified Infinitis over the next half-decade.
Inspired in part by the Q Inspiration concept revealed last year, the QX Inspiration is said to have a "cab-forward stance" allowed by the compactness of the electric motor. Much of the styling is focused on giving optimised aerodynamics, essential to improve electric range. The 4.65m long concept is roughly the same size as an Audi Q5.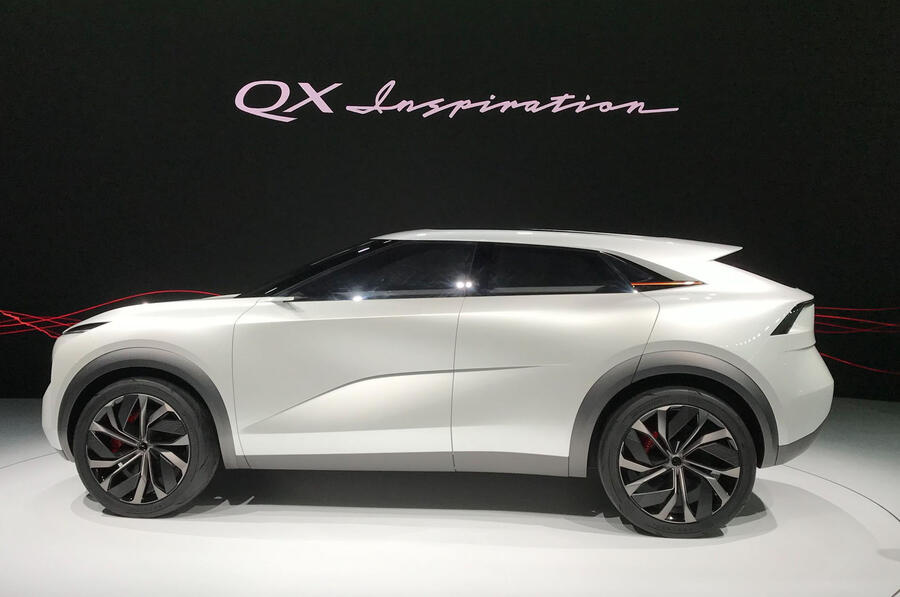 Infiniti claims the platform allows the electric powertrain to be mounted low down in the body and between the 2.85m wheelbase, allowing the car's proportions to be realistic for production. No technical specs have been release yet, but a "powerful electric all-wheel drive system" is mooted, using a high capacity battery pack to feed two electric motors mounted across the axles.
The interior is typically conceptual, said to be "designed like a lounge" to illustrate the car's spaciousness despite the battery pack underneath the floor. Innovative use of materials, such as marble for the centre console panel, timber for the roof headlining and suede for the floor. A full-width infotainment screen features, as do screens mounted below in the centre console and on the steering wheel.