A prototype of the all-electric Maserati Granturismo Folgore has been pictured on public roads, driven by Stellantis CEO Carlos Tavares.
The images, released by Maserati, gives us the clearest look yet at the Granturismo Folgore's exterior styling. It took to the streets ahead of the 2022 Rome E-Prix and was driven to the city's Formula E circuit.
The model previously took centre stage at an event to mark the Italian firm's new partnership with Rokit Venturi racing in the Formula E electric single-seater championship.
The electric GT, expected to arrive imminently, appeared in its now familiar light camouflage, but it is evident that the styling will be subtly evolved compared to the current car, rather than radically reinvented.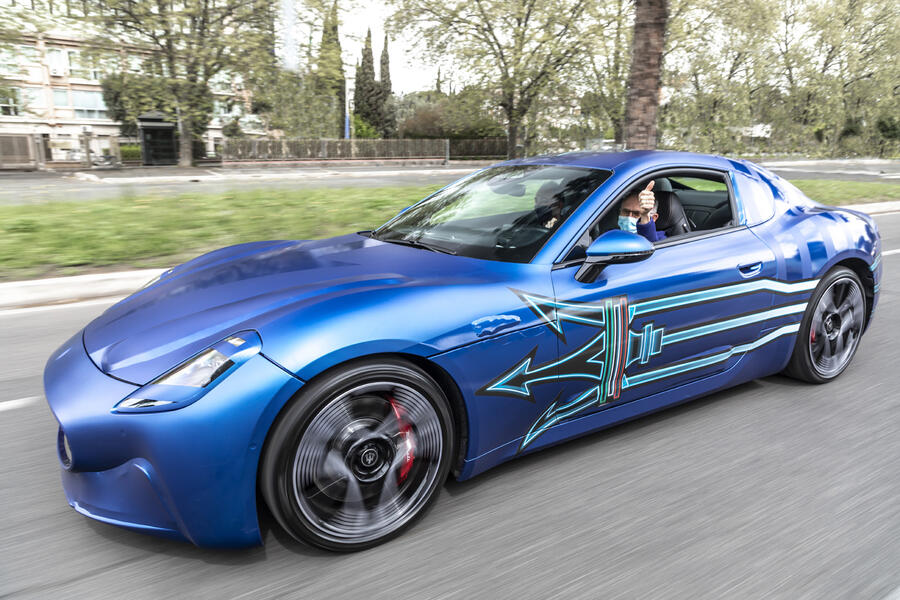 The electric Granturismo Folgore was previously spotted lapping a private test facility in Italy last year. It was then pictured with quad rear exhausts, indicating that it was a petrol-powered version.
The official 'spy shots' for the ICE model were released by Maserati itself and showed how the Ferrari Roma rival's design will subtly evolve.
Modena remains tight-lipped on what lies under the bonnet, but the new Nettuno V6, as fitted to the MC20 supercar, and the Ferrari-derived V8 used by the Quattroporte are likely choices.
The Granturismo is also set to follow the Ghibli and Levante in adopting a hybrid option, but its positioning makes their mild-hybrid 2.0-litre four-cylinder petrol engine an unlikely fit.
The new images confirm the Granturismo will retain the sleek silhouette of its predecessor, as well as its name. It looks to bear a resemblance to the long-awaited Alfieri, which was revealed as a concept as long ago as 2016.