BMW has given its current 7 Series a bold new look as part of an extensive mid-life facelift for the three-year-old luxury saloon. The reworked model is due to arrive in the UK in April.
The facelifted 7 Series reflects the shift brought to upmarket BMW models by a new brand strategy announced by chairman Harald Krüger in 2017, with a greater emphasis on interior luxury and the move to a more formal design language.
As with its predecessor, the 2019 7 Series is offered in standard-wheelbase and long-wheelbase guises, but both models have been extended by 22mm, taking their length to 5120mm and 5260mm respectively.
It is up front where the styling changes are most evident. Key among them is the adoption of a new chromed kidney grille that's similar in size to that seen on the recently unveiled X7 and 40% bigger than the 7 Series' old grille. It extends back into the leading section of a newly contoured bonnet as well as deeper into a re-profiled front bumper, which features new chrome highlights within the lower air ducts.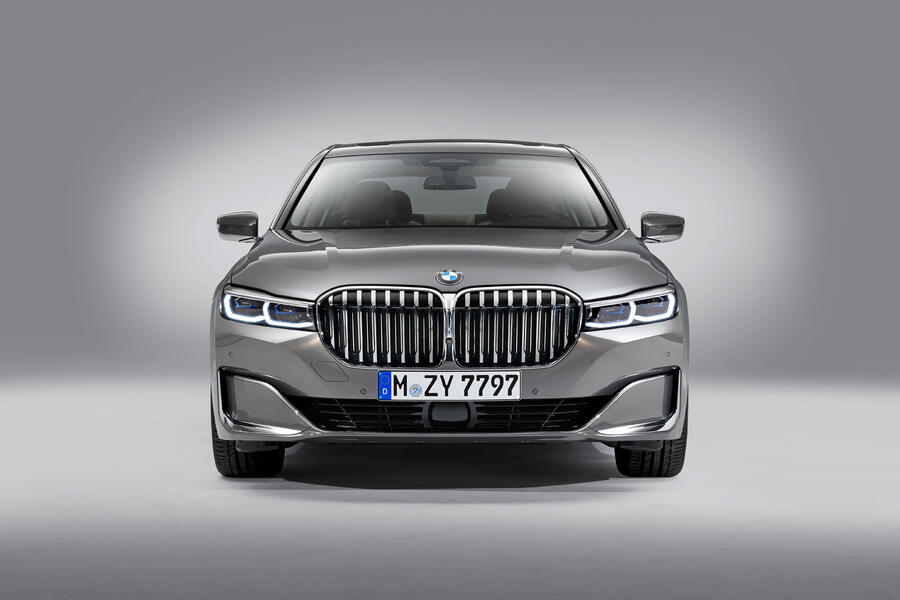 As part of efforts to improve the refinement levels of Munich's flagship saloon, it adopts side glass that is 5.1mm thicker and new front wings improve airflow and reduce buffeting at speed. Changes to the sound-deadening material in the rear wheel arches have also been made.
Additional minor visual changes continue at the rear, which receives more heavily structured OLED tail-lights with new lens graphics. They are connected by a full-width LED light band that illuminates in combination with the daytime running lights. Also evident on the freshened 7 Series are wider chromed tailpipe trims integrated into a reworked bumper.
The interior features more subtle upgrades, including improvements to the materials and new connectivity functions. An updated Parking Assistant function now has a Reversing Assistant that's able to back up the car by up to 50m along the course it drove in on.