Nobody's ever asked me if I've contemplated 'taking on an Ironman'. Mercifully, I think they know what the answer would be.
In my head, of course, that contest would involve a very short and one-sided arm wrestle with Robert Downey Jnr (he's only 5ft 8in, you know…) embarked upon, on 'winner takes all' terms, for the rocket-propelled contents of his underground lair.
According to some of my friends, the other 'Ironman' is a particularly gruelling triathlon only ever undertaken, presumably, as part of a drunken bet: 2.4-mile swim, 112- mile bike ride and then a marathon chucked in for good measure. All in the same day. Even if I'd inadvertently insulted Downey Jnr's mum and was on the run for my life, I wouldn't contemplate that.
As all this was explained to me recently, I wondered if there was a car coming this year whose stature could be assessed in a similar way. It'd have to be something we expected to be very good, going up against rivals all of which set the class's standard in their own particular ways. Come on down, then, the new Mercedes-AMG E63 S 4Matic+ – a super-saloon freshly installed with a 604bhp twin-turbocharged V8 and, for the first time for UK buyers, four driven wheels, picking up from a line of predecessors that have each been our favourite 'bahn-storming four-door in their time.
Don't think of this as a normal comparison test, then, but instead a series of head-to-head duels that the new Merc will have to negotiate in turn before it can prove itself to be the greatest super-saloon.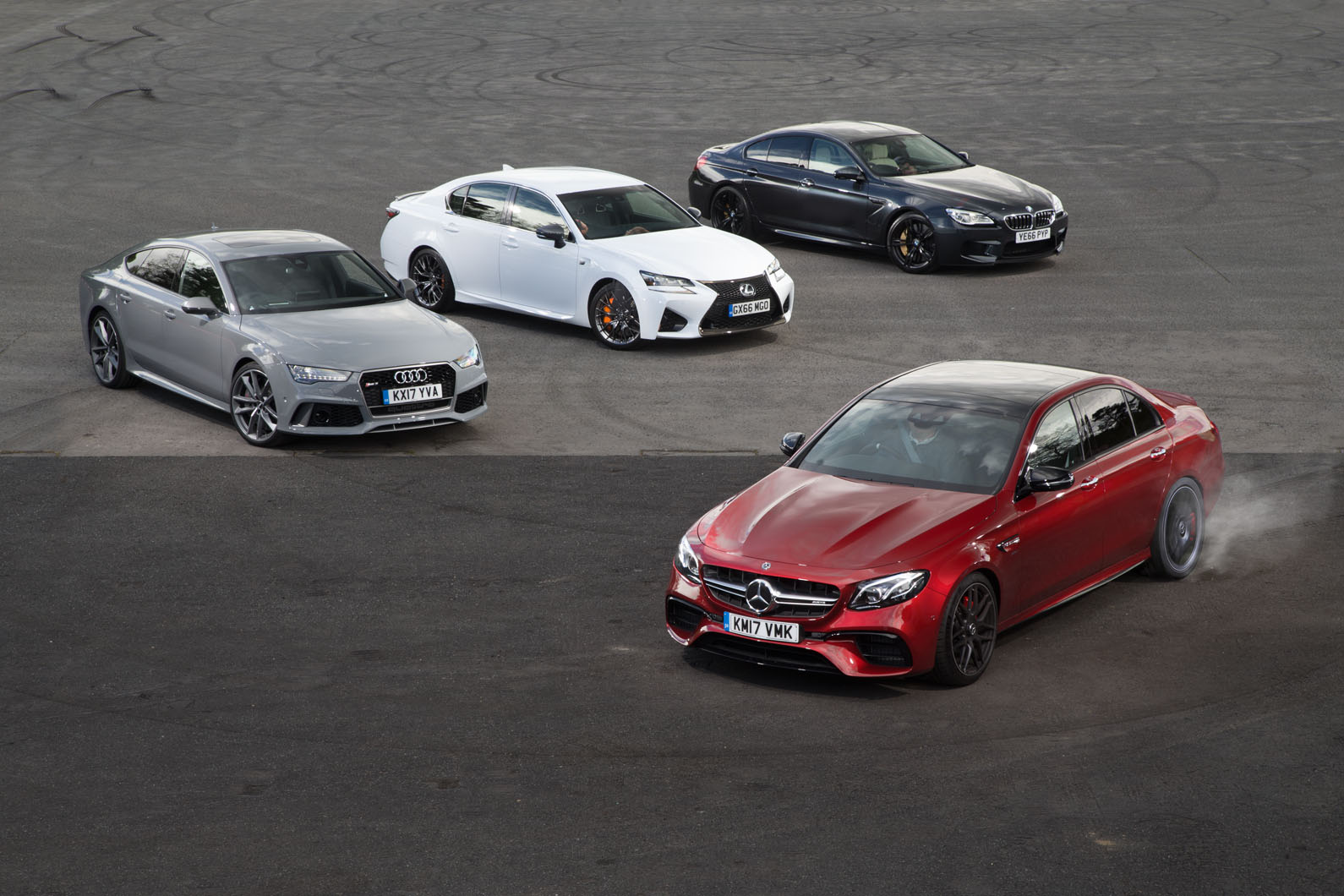 The Lexus GS F would seem to be easy meat for the AMG in so many ways, but it does have a normally aspirated 5.0-litre V8 well known for going all operatic as the rev needle passes 4000rpm. Out-bellowing the Lexus will be the Mercedes' first challenge. After that, we'll break out the Autocar timing gear and discover whether the E63 can out-accelerate a four-door that, frankly, feels entirely un-out-accelerate-able even by most super-sports cars: the absurdly rapid Audi RS7 Sportback. Finally – and only assuming it progresses that far – the AMG will face off against the BMW M6 Gran Coupé Competition Pack, a handling purist's M car with steel springs, rear-wheel drive, hydraulically assisted steering and an overall driving experience so good that it damn near denied the brilliant new Porsche Panamera Turbo a group test win earlier this year.