Will V8-loving Aussies fall for the Jeep Grand Cherokee SRT? Only one way to find out...
A kangaroo can jump 20ft at a time and is the only large animal to use hopping as a means of propulsion.
They're fast enough to hit 40mph – so why has this large male decided to stand his ground in front of my Jeep Grand Cherokee SRT?
Black-faced, large and very common, the western grey weighs more than 50kg. And although this Jeep isn't fitted with 'roo bars', there's only going to be one winner if he doesn't move before I can bring the SRT to a halt on its Brembo brakes.
Those with happy memories of 1960s TV series Skippy The Bush Kangaroo might want to skip a few paragraphs now. There's a sickening thud, followed by a deafening silence. Fortunately the animal dies instantly, but that doesn't ease a massive sense of guilt.
There's no such problem for my Australian co-driver, who has seen it all before. Almost nonchalantly, a Crocodile Dundee-sized knife is pulled out of a bag as he points out we have the basic ingredient of an Aussie delicacy: kangaroo tail soup.
I leave the gruesome road kill butchery to him and assess the damage. The Jeep is remarkably intact, although the air intakes in the bonnet have taken a battering and the grille is smashed.
It's not a promising start to our trip up the coast of Western Australia, although the soup is amazing. The 1500-mile return journey will take us north from the state capital of Perth to the Cape Range National Park, near the town of Exmouth.
The Coral Coast road borders the Indian Ocean and is one of the most spectacular drives in Australia. I've been promised magnificent sunsets, dramatic scenery and sightings of seals and dolphins, plus an opportunity to swim with humpback whales at our journey's end.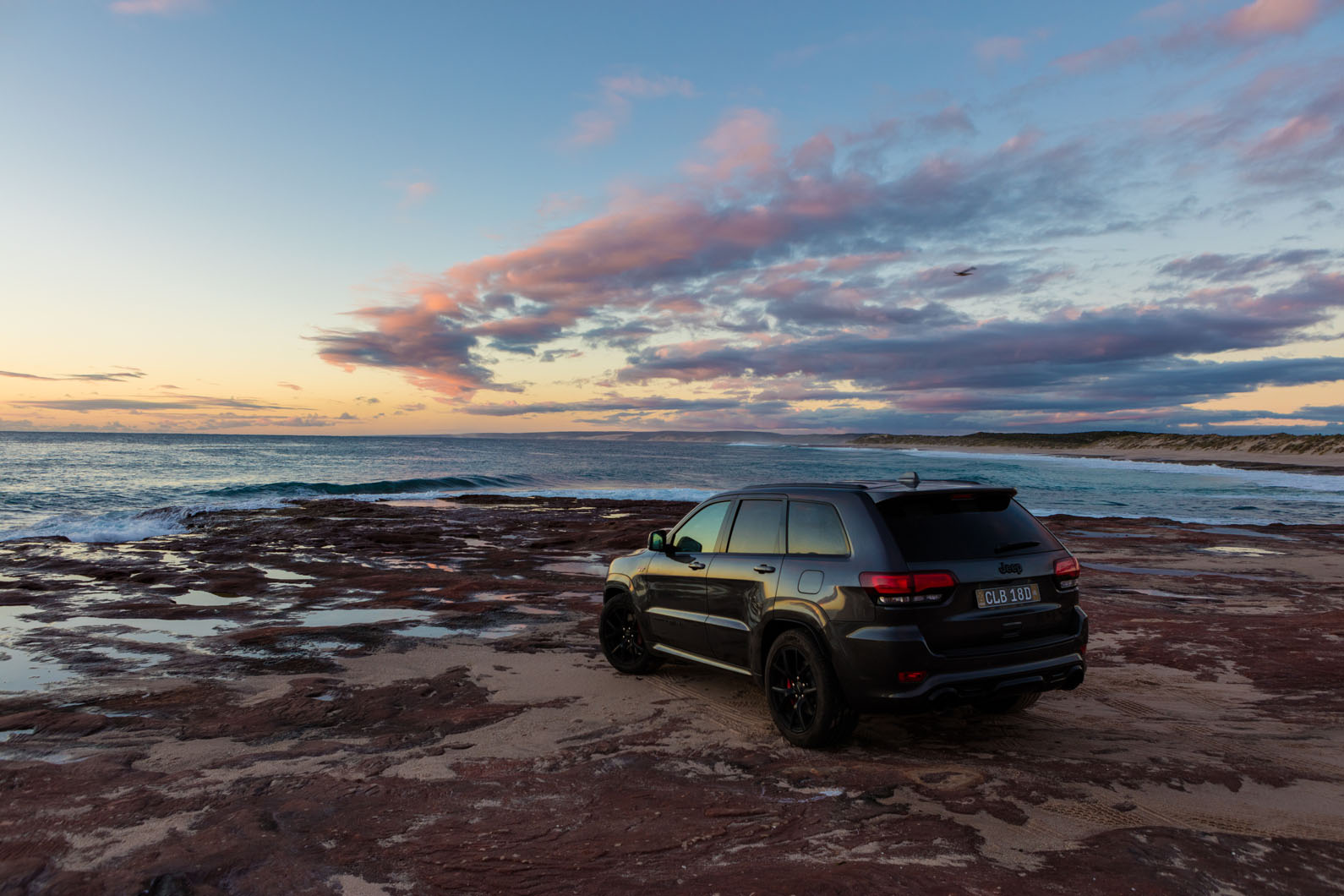 For such a whale-sized journey, you need a car with a whale-sized engine. The SRT's 6.4-litre V8 Hemi makes 468bhp and 460lb ft. It is sold in the UK but in truth, you're more likely to spot a marsupial playing on the M25.