The Infiniti Q60 coupé will be priced from £33,990 when it goes on sale in the UK this October.
That price is for the Premium trim level, but Premium Tech, Sport and Sport Tech trims will sit above this, priced from £37,690 to £38,690.
The new model will first be available exclusively with a turbocharged 2.0-litre petrol engine, but a high-performance twin-turbocharged V6 will join the line-up later. Full specifications are listed below.
The Q60's starting price is £3730 pricier than that of the BMW 4 Series and £3290 more than the Audi A5, but a lengthy selection of standard equipment brings like-for-like models closer into line.
As a replacement for the G37, the Q60 is both longer and wider than the old model, measuring 4683mm in length and 1850mm wide, and it sits 1385mm high with a 2850mm wheelbase.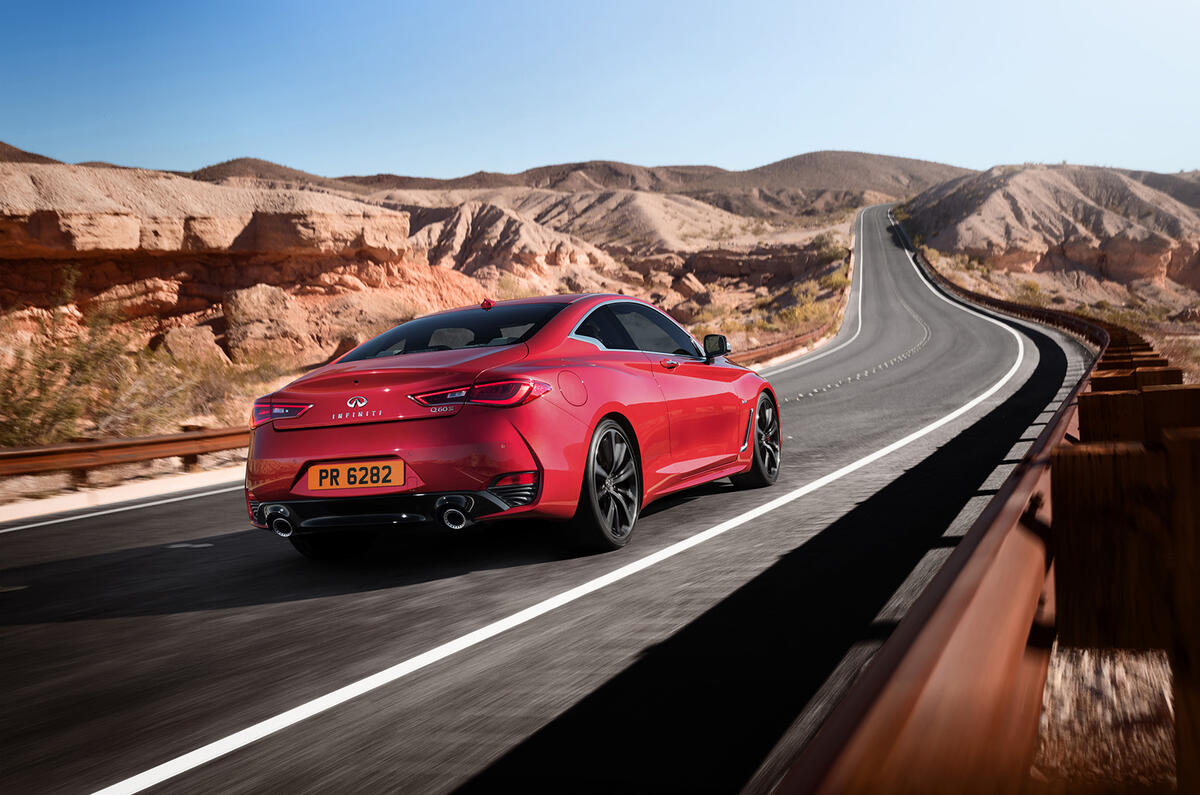 Engines and gearbox
At launch the Q60 comes with a turbocharged 1991cc four-cylinder petrol engine that puts out 205bhp at 5500rpm and 258lb ft at 1500rpm. This engine returns a claimed 24mpg (US highway) and emits 154g/km of CO2.
Later on, the Q60 will gain a twin-turbocharged 2997cc petrol V6, codenamed VR30, from Infiniti's VR new-generation powertrain family, available in two states of tune.
The lower-powered unit produces 296bhp at 6400rpm and 295lb ft from 1600-5200rpm. The more powerful derivative serves up 396bhp at 6400rpm and 350lb ft from 1600-5200rpm.
The 296bhp engine returns a claimed 23mpg (US highway) and emits 154g/km of CO2, while the 396bhp variant is capable of 22mpg (US highway) and emits 206g/km of CO2, according to the manufacturer's calculations.