There's a feral party atmosphere at Baja Portalegre, the final round of this year's FIA World Cup for Cross Country Rallies in the east of Portugal.
A rural hillside is scattered with empty Sagres bottles and chicken bones and there's a sweet, pungent smell from bonfires of eucalyptus logs.
A mobile bar, pumping out Metallica from a battered hi-fi, is doing a roaring trade among the frazzled locals, who are flecked head to toe with splodges of orange mud thrown up by the competing Ford Rangers, Toyota Hiluxs and Nissan Navaras.
Then a different kind of car approaches. The yowl of a combustion engine is absent, replaced by the less perceptible whine of electric motors. Its progress is cheered by the crowd, appreciative of the commitment of the man behind the wheel.
That man is Hiroshi Masuoka and his car is a Mitsubishi Outlander PHEV. Yes, the Japanese company is rallying a plug-in hybrid.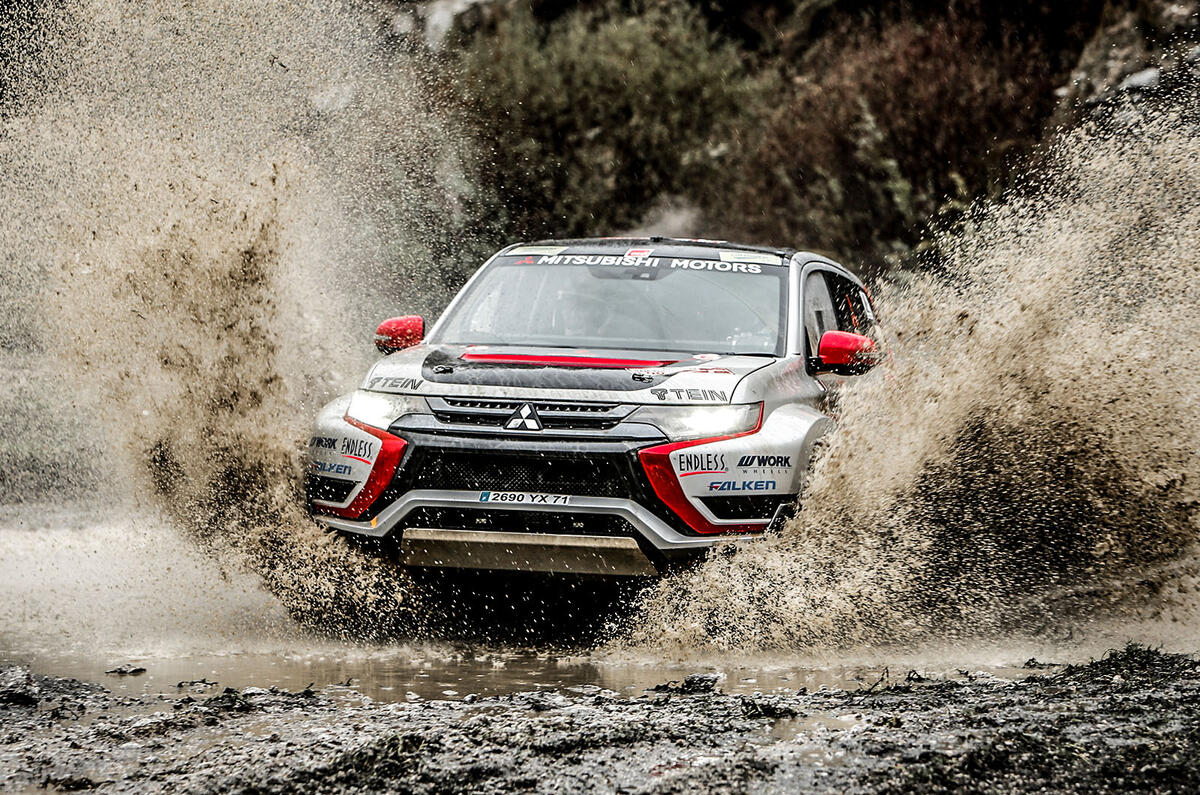 On paper, the concept of a production-based hybrid rally car makes sense: off-road competition cars are as much about low-end traction on variable road surfaces as they are about high speeds. The instant torque of the electric motors should prove useful, as should the ability to quickly juggle power between axles to counteract ever-changing conditions.
That's a theory Mitsubishi is setting out to prove by lending factory support to the Baja Portalegre effort. It's the first time it has dabbled in cross-country rallying since it withdrew from the sport in 2009, and this marks a return to a sport that helped to cement its reputation as a maker of durable SUVs.
Key to its previous success, which culminated in two outright Dakar Rally victories, was Masuoka. Now in his 50s and still competing on demanding events such as the Pikes Peak hillclimb, he has returned to drive the PHEV.
The team is managed by technical director Yasuo Tanaka and includes engineers from Mitsubishi's electric vehicle component research department. The car lives in France, at the headquarters of Vaison Sport, which assists Mitsubishi with on-event logistics.