It's fair to say Mazda hasn't been quick off the mark for electrification, instead choosing to focus on improving the delivery of traditional fuels. One outcome has been the impressive spark plug-controlled compression ignition technology, introduced on the new Mazda 3, which promises to "combine the economy and torque of a diesel engine with the performance and lower emissions of a petrol unit".
Nonetheless, no maker can put off the inevitable - introducing an electric model - for much longer, given the next tranche of emissions targets landing in 2021. And so we find ourselves in Frankfurt, Germany, driving the prototype of Mazda's first EV, disguised beneath the body of the upcoming CX-30, just days before the model is fully revealed at the Tokyo motor show.
The production EV will be a small SUV, able to accommodate the underfloor battery but also be suitable for city driving, given its relatively short range - expected to be less than 150 miles on a single charge, provided by a 35.5kWh battery.
Mazda has a different reason to most firms for its relatively small range. It's looked at the entire lifecycle of a car and how that affects emissions, and found that a 35.5kWh battery produces fewer emissions than a petrol-powered 3 or an EV using a massive 95kWh battery (as the Audi E-tron does).
Christian Schultze, research and development boss at Mazda Europe, said: "We should not be excessive with battery size. We should understand how much range does a customer really need? How much battery can we avoid to reduce CO2 substantially? We deceded 35.5kWh is a useable size where you can do your shopping, take kids to school and go to the office before you need to recharge."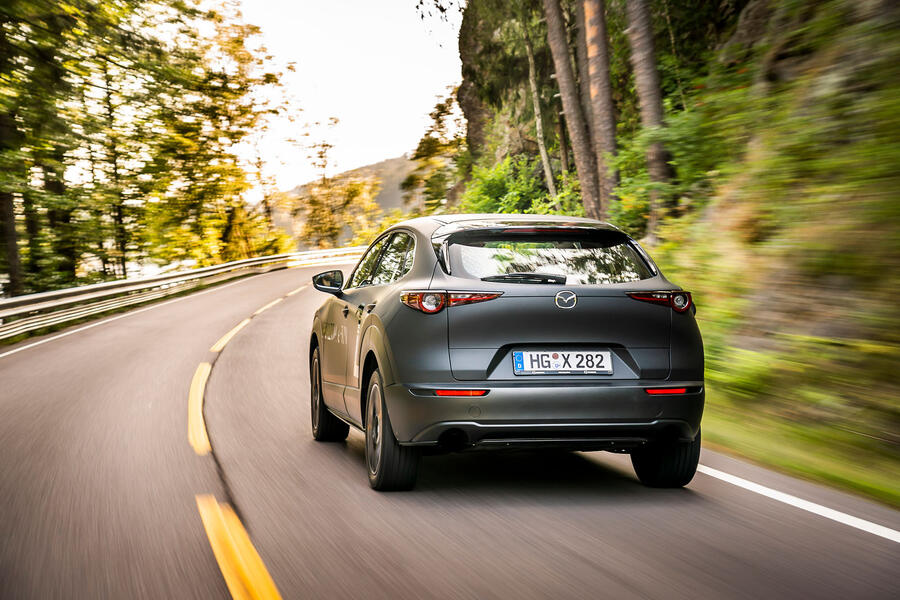 What's most refreshing about Mazda's EV, on roads before the end of next year, is how different its approach is to existing EVs on sale today, Those who have driven a few EVs will be familiar with their typical characteristics: instant torque, near-silent motion and one-pedal driving. None of those apply here.