The BYD Seal U will be sold in the UK, the Chinese brand has confirmed at the Munich motor show.
A slightly taller and wider sibling to the electric Seal saloon, the SUV is sold in China as the BYD Song Plus Champion Edition, with either a plug-in hybrid or a battery-electric powertrain.
Both powertrains will be offered in the UK, with the electric edition becoming available with either 71kWh or 87kWh lithium-iron-phosphate (LFP) batteries. The hybrid powertrain will likely be offered later given BYD's efforts to initially concentrate on electric power when it arrives in the UK.
Both 71kWh and 87kWh batteries yield a range of 323-376 miles on the Chinese CLTC test cycle, according to local media reports, but these figures are expected to change when the model undergoes European WLTP testing.
Charging capabilities are yet to be detailed, but the Seal saloon – based on the same e-Platform 3.0 – can replenish its battery at rates up to 150kW. This is on a par with many current models, although it falls short of the 350kW offered by the Hyundai Ioniq 5 and Kia EV6.
Two electric motors are offered in the Seal U, putting out 204bhp and 218bhp along with 229lb ft of torque.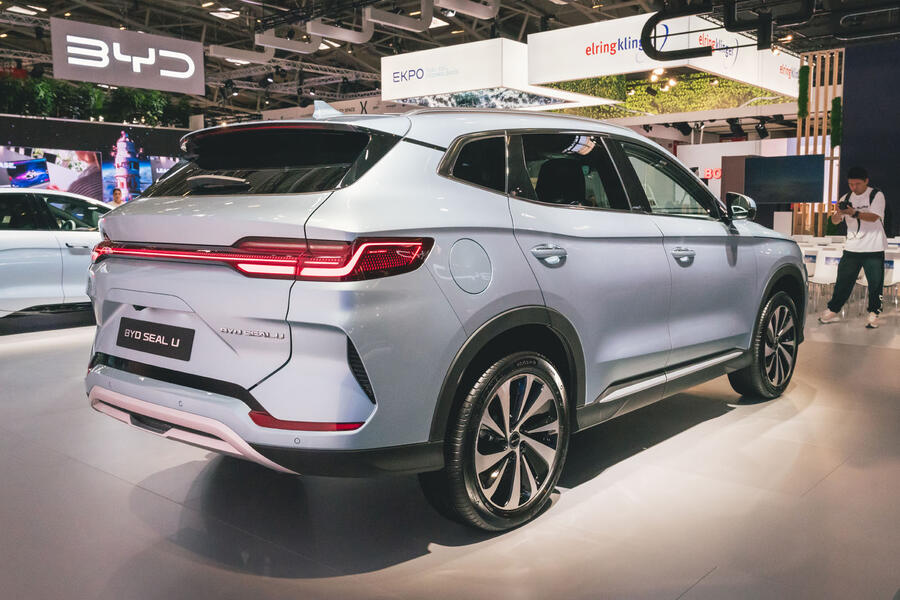 The interior features the same 15.6in rotating infotainment touchscreen as the Seal saloon, as well as a digital instrument display.
The Seal U is likely to be priced a slight premium compared with its saloon counterpart, which is expected to arrive at around the £45,000 mark, mirroring the relationship between the rival Tesla Model 3 and Model Y.
The SUV represents the next stage in BYD's European expansion, which began with the Atto 3 electric crossover late last year. It will soon be followed by the Dolphin hatchback, priced from £25,490.
The firm is the world's biggest manufacturer of plug-in hybrid and battery-electric cars, having sold 1.8 million such vehicles in 2022. It aims to more than double its volumes in 2023, pinning its hopes on a successful European launch.