A damp circuit would have been exactly what Audi might have ordered for the start of our track judging process at Snetterton. Intermittent rain kept the surface from drying out for much of the morning, making grip levels inconsistent and confidence at the wheel hard to come by.
Predictable four-wheel-drivers like the Audi RS3 should have been at a natural advantage, while life was made more difficult for highly strung, rear-wheel-drive super-coupés such as the Mercedes-AMG GT S.
That both cars tied for last place may be harder on the Audi than the Mercedes, therefore. Ultimately, neither car impressed the judges much. In previous years, we've seen cars end up at the tail end of the rankings, narrowly shaded by a field of superb driver's cars and highly undeserving of the ignominy that, no matter how we try to wrap it, is inevitably associated. Not this year, though, when the gulf between the bottom two cars and any of their superiors was plain.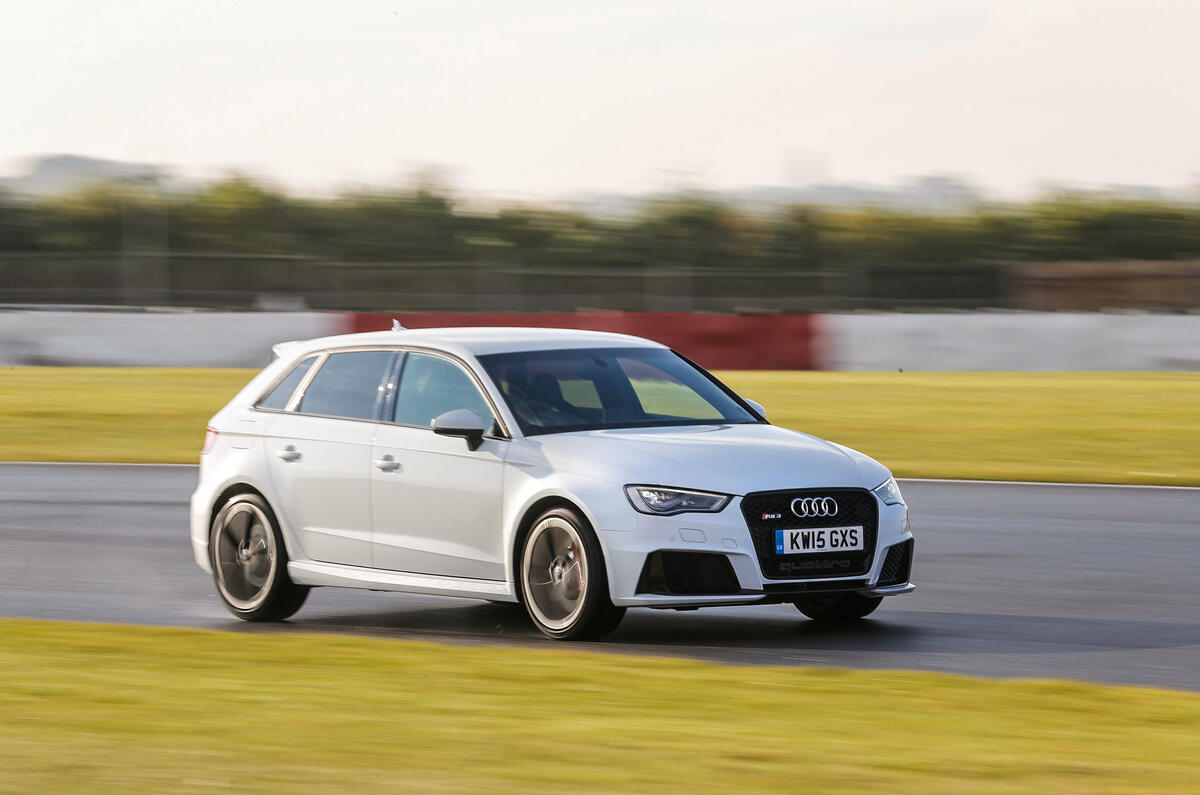 In the case of the RS3, it was plainer on the track than on the tight, punishing B-roads of rural Norfolk. The Audi's surefootedness won it some praise on the road. Almost idiot-proof point-and-shoot handling may limit the amount of fun you can have in less restrictive circumstances, but it's less of an imposition when you're skirting around hedges, dodging potholes and sizing up the awkward-looking cambers of a shaded country lane, generally at a good arm's length from the limit of grip. Here, the all-enveloping composure and stability of the RS3's four-wheel drive chassis don't seem so misplaced, particularly when they make it easier to enjoy a wonderful five-cylinder engine.
If powertrains could win prizes here, the RS3's might have. It sounds rich and characterful, hits hard, spins willingly and works well at both dawdling and dicing pace. And its breadth of talent is in no small part down to Audi's S tronic paddle-shift gearbox, which changes superbly quickly in manual mode and with intuitive good sense in automatic.
Powertrains like that make you carry big speeds without thinking about it, though – and the Audi's sets a pace that its steering and suspension struggle to cope with. Although it is not entirely without feedback, the RS3's steering is light and reticent and it gets lighter, if anything, as your effort levels increase. The suspension, which is good at keeping the car flat during hard cornering, doesn't have the wheel travel or damping authority to soak up bigger crests and compressions attacked with much speed. Over the yumps of our test route, one tester remarked that the suspension "felt like so much cotton wool rather than metal, rubber and oil". It's cushioning, sure, but not sufficiently controlling.