The forthcoming BMW M5 Touring has been spotted testing on the Nürburgring ahead of its launch in 2024, having been on hiatus since the E60-generation model was discontinued in 2010.
It will arrive in showrooms alongside the new M5 saloon using a plug-in hybrid pairing BMW's S63 twin-turbocharged 4.4-litre V8 petrol engine with a rear-mounted electric motor, as previously reported by Autocar.
Sources close to the German manufacturer claim the two units combine for power and torque outputs in the region of 790bhp and 737lb ft.
The car was pictured turning the mini carousel on the Nordschleife in heavy camouflage with wideer front grille openings, a ground-hugging stance, muscular rear apron and signature M5 quad exhaust exits.
It's currently undergoing testing not just on the track but also urban areas, country roads and motorways around Munich and at the BMW M headquarters in Garching.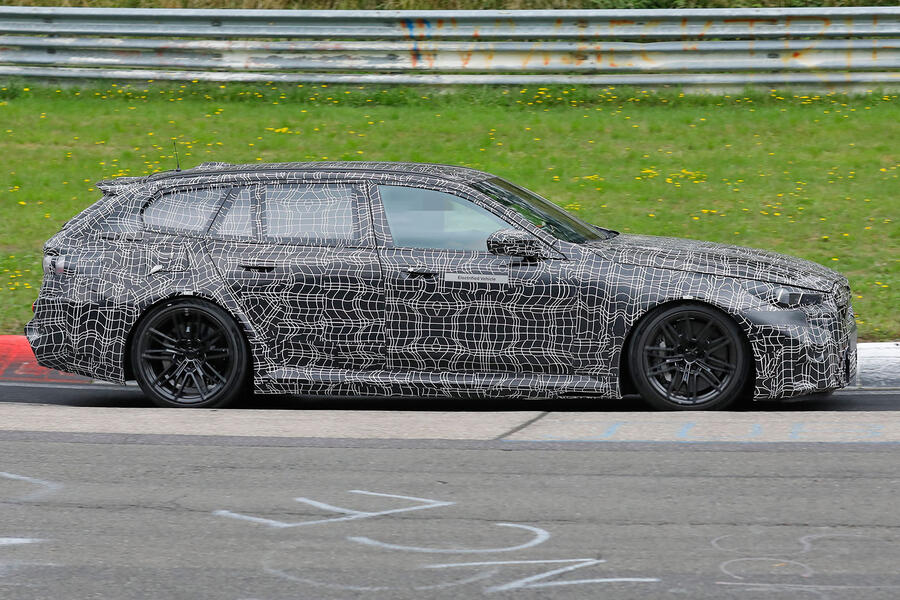 Early prototypes of the new M5 were said to use a lithium ion battery similar in capacity to the 12.0kWh unit found in the outgoing BMW 545e.
Whether this item will be used for production versions of the next M5 remains to be seen, although suggestions were made that BMW M is developing its own performance battery with ultra-rapid discharging.
That the upcoming 530e and 550e PHEVs receive a 19.4kWh battery hints that the super-saloon and estate may too receive a more capacious battery.
"We're now also installing a hybrid drive system with typical M performance in other high-performance cars," said BMW M development head Dirk Häcker.