BMW's M Performance car division has lifted the veil on the new BMW i7 M70 xDrive – the company's most powerful electric model to date.
Set to see UK sales during the second half of 2023 following its unveiling at the Shanghai motor show, the upmarket saloon arrives with a newly developed dual-motor drivetrain offering a combined 650bhp – some 40bhp more than the system used by the iX M60 xDrive launched in 2022.
At the heart of the latest electric-powered M Performance model is a front electric motor with 255bhp and a heavily revised rear electric motor delivering up to 483bhp.
The latter is claimed to provide a new standard of power density at 2.41kW per kg owing, in part, to a patented six-coil design within the stator.
All up, the two electric motors provide the i7 M70 xDrive with a combined 749lb ft of torque, with up to 811lb ft available for short periods of full-throttle acceleration when the new model's M Launch Control and M Sport Boost functions are activated.
By comparison, the dual motor electric drivetrain used by the standard i7 xDrive60 develops 536kW and 549lb ft.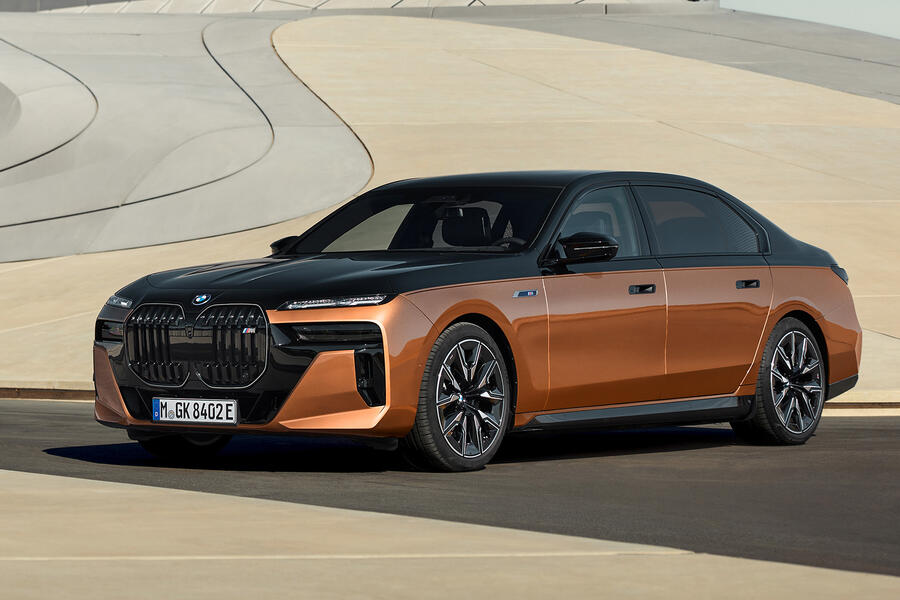 It also compares to the nominal 649bhp and 701lb ft of the Mercedes-AMG EQS 53 4Matic+. Although, with an AMG Dynamic Plus system, the i7 M60 xDrive's closest rival ups its reserves to 751bhp and 752lb ft.
While it is yet to provide a kerb weight figure for the flagship i7 model, BMW M says it will hit 62mph from a standstill in 3.7sec and reach a top speed limited to 155mph.
Electric energy is provided by a 101.7kWh lithium-ion battery mounted within the new saloon's CLAR platform. Equipped with its own uniquely programmed power electronics system, it is claimed to provide the i7 M70 xDrive with a range of between 303 and 348 miles on the WLTP test cycle, with the combined consumption put at between 23.8 and 20.8kWh/100km.
This is achieved in a new 'Max Range' driving mode that limits the output of the electric drivetrain and top speed. Up to 228kW of electric energy can be recovered during braking, according to BMW M.