Consider this. In 1975, the Volkswagen Golf GTI developed 110bhp. In 2012, the latest Golf GTI was launched with 220bhp.
Granted, the doubling of its output hasn't occurred at quite the same breakneck clip as Moore's law, which dictates a twofold increase in microchip performance every two years or so, but it is significant – not least because it's now a recurring theme in the hot hatch genre.
Read our full review on the Peugeot 308
In 1987, the Peugeot 309 GTi developed 127bhp from its 1.9-litre petrol engine. Cut to 2015 and the new Peugeot 308 GTi, its maker's latest attempt to re-enter the credible end of the segment, produces 266bhp from an even smaller four-pot unit. With the introduction of its latest Mountune kit, the Ford Focus ST we've chosen to test it against develops 271bhp. That's a massive 166bhp more than the Escort XR3i that Ford was punting to buyers in 1982 and almost 100bhp more than the Focus ST170 it produced in 2002.
Read our full review on the Ford Focus ST, as we put the hot hatch through its paces
Stand back from that inexorable rise to consider it for a moment and the naked grunt being dangled before us by mainstream manufacturers is ridiculously substantial.
The original 2.7-litre-engined Porsche Cayman, introduced only eight years ago, produced less power – and substantially less torque – than either the 308 or the Focus. And don't forget, neither is outrageously expensive, nor intended to live at the top of the range (an R and RS version respectively waiting in the wings). Both, instead, are still meant to do what the 309 and XR3i were built for in the 1980s – namely, stick it to the copper-bottomed reputation of the Golf GTI.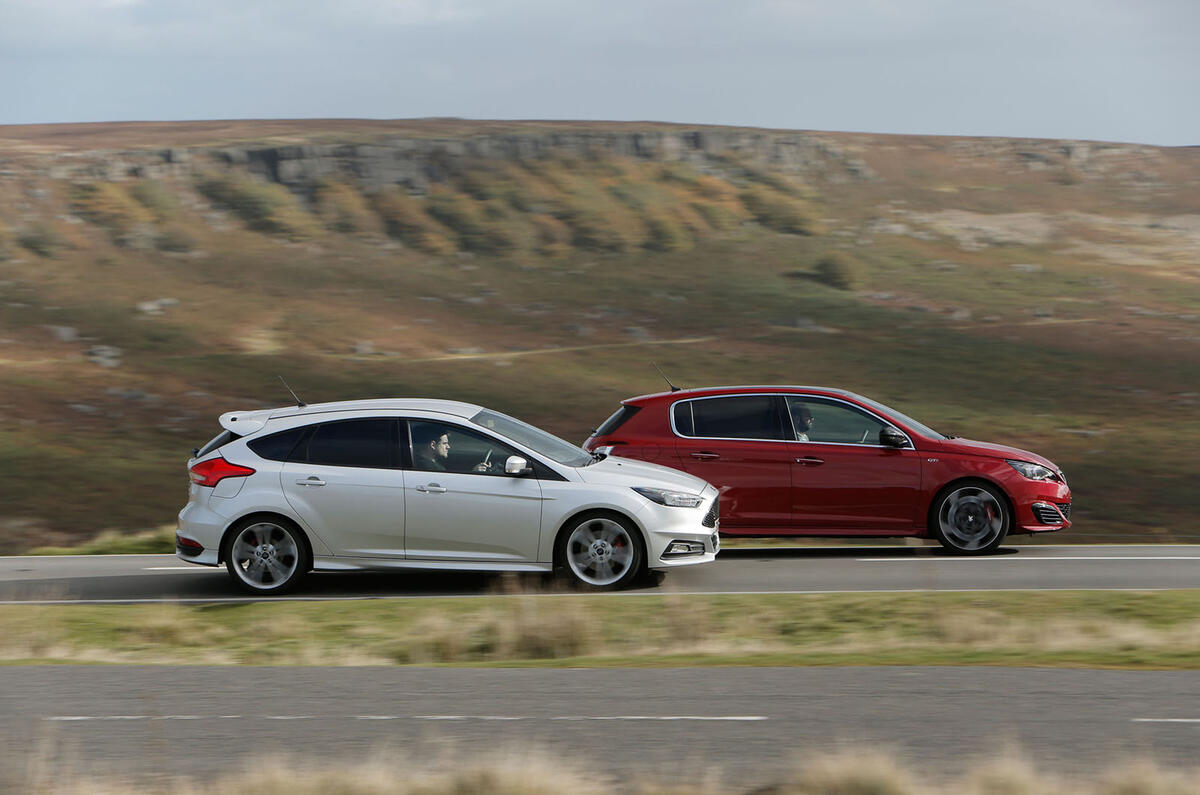 Thus, their snowballing total outputs are considered an imperative in the hot hatch arms race.
The forthcoming Golf GTI Clubsport (a car for now quietly pushed under the rug by Volkswagen) will have 261bhp at all times and 287bhp available for short bursts.