The £2.5 million Aspark Owl hypercar has made its first public European appearance ahead of customer deliveries later this year.
Exhibited at the Salon Privé Concours d'Elégance motor show, the Owl is claimed by its maker to be "the fastest-accelerating car in the world," following tests at the Misano World Circuit, where it clocked a 0-60mph sprint time of 1.72sec.
Just 50 examples are set to be produced, with deliveries due to begin this autumn. Aspark says the Owl, which made its public debut in Dubai last year, is actually able to go even faster, with a 0-60mph target of under 1.7sec. This makes it the fastest-accelerating road-legal production car in the world, slashing 0.6sec off the 0-60mph time of the Tesla Model S.
The Owl generates 1985bhp from four electric motors - almost twice the power of a Formula 1 car - coupled with a "unique" battery pack for a claimed range of up to 280 miles. The powertrain also generates around 1475lb ft of torque, with the motors rotating at up to 15,000rpm. Top speed is quoted as 249mph.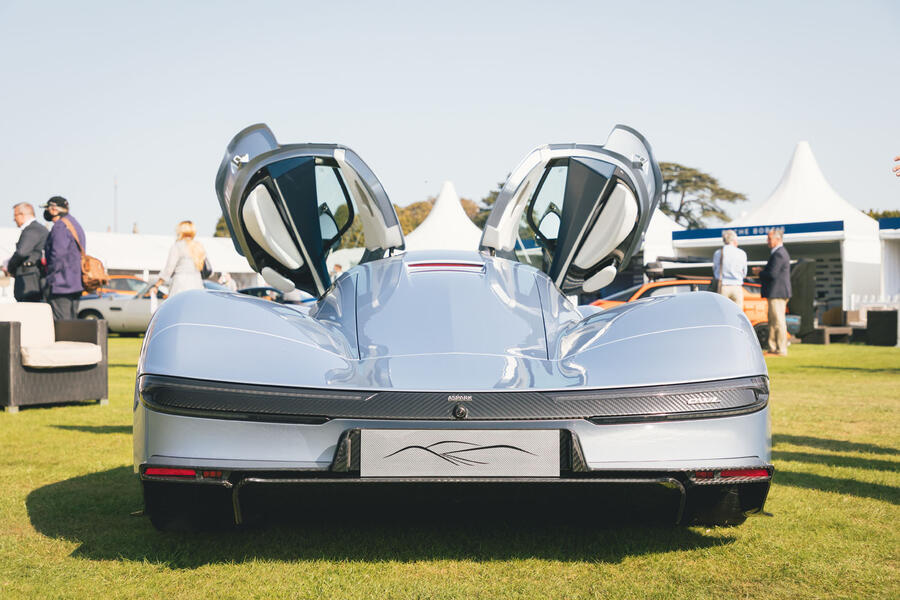 The Owl's 64kWh lithium ion battery is of a much smaller capacity than those in competing electric hypercars from the likes of Rivian and Lotus, with the aim of reducing weight. The car's chassis is made from carbonfibre, as are most of its other components, contributing to a claimed dry weight of 1900kg.
The Owl was originally announced as a concept at the 2017 Frankfurt motor show. The production version will gain an automatically extending spoiler, digital cameras integrated into the wing mirrors and an interior redesign that moves controls and switches to the ceiling.
Aspark CEO Mansanori Yoshida told reporters: "It's a great honour for Aspark to be the first to announce this achievement, reached in a record time. When we first announced this project, no one believed it could have been done. It is true that we do not have a long history, but we are now completing what is the first Japanese electric hypercar."