All-new Rolls-Royce models will arrive exclusively with battery power as the firm plans to go electric-only by the end of 2030.
The Rolls-Royce Spectre is the brand's first electric car, and will go into production later this year. Company boss Torsten Muller-Otvos confirmed that revised Series 2 versions of the firm's current range of models - Rolls-Royce Phantom, Rolls-Royce Ghost and Rolls-Royce Cullinan - would remain as V12s, but after that the brand would switch to electric power.
"By the end of 2030, there will be no more V12," he said. "Series 2 cars will be V12, brand new Rolls-Royces always be electric."
Read more: Rolls-Royce Spectre review
Muller-Otvos also reconfirmed the company would not launch hybrid models, and the company would move from V12 petrol power straight to EVs. "We're not going to have everything, we're a small company," he said.
"We've not fallen out of love with V12, and we'll invest in it to meet new requirements. It's a lovely transformation from V12 to EV."
No launch dates are being put on new models, nor are any standard production lengths being committed to. "It's 10 years or even more," said Muller-Otvos. "The first Phantom was 14 years. The Phantom is 10% of our volume, they go for over €1 million, so I wouldn't be surprised to see it go on and on [as a V12]."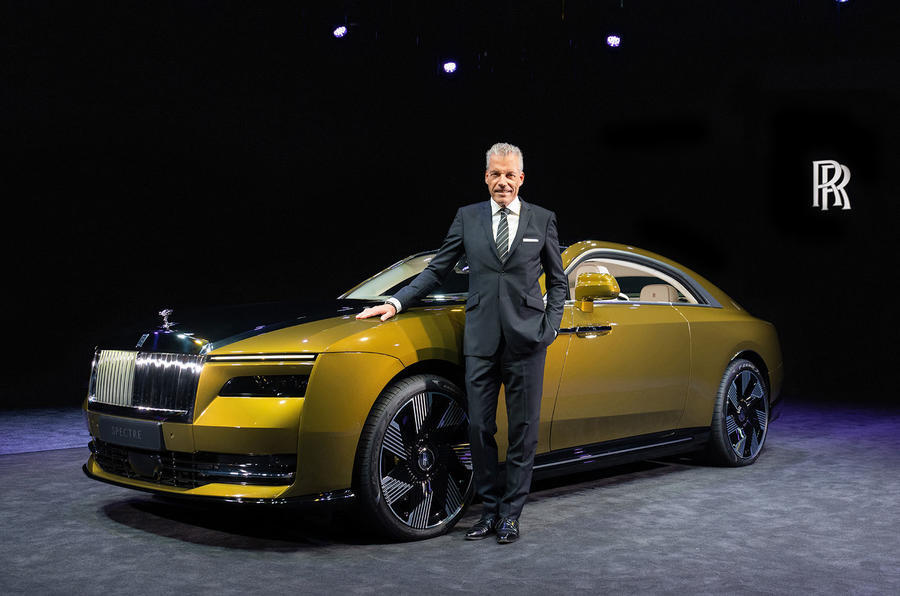 The Spectre, a spiritual successor to the Phantom Coupe, has been created as a Roll-Royce first, and an EV second, and the firm is keen to position it that way. "People tell us would have bought Rolls-Royce Spectre with a V12," he said, "this shows it is the right car."
Rolls-Royce recently announced record sales of just over 6000 cars sold in 2022, and the average price of a car went above €500,000 for the first time thanks to an ever-greater amount of bespoke personalisation. Muller-Otvos said the firm is not chasing a volume target and is led only by demand, and has seen a change in mindset from buyers looking to spend money and enjoy life rather than save it for the future.