The next-generation Audi Audi A8 will be built on a new, brand-exclusive platform to make it the company's most high-tech road car.
Set to be revealed on 11 July, the range-topping saloon will use the most advanced active suspension system yet fitted to an Audi.
2017 Audi A8 revealed as brand's most high-tech model yet
The so-called electromechanically actuated suspension system is part of the car's 48-volt electrical architecture and MLB Evo underpinnings. It uses a front-mounted camera to analyse the road ahead 18 times per second and then prepares the suspension accordingly.
Each wheel has an electric motor that's linked to a gearbox, a rotating tube with an internal titanium tube and a lever, which then adjusts the suspension with up to 811lb ft of torque. The system reduces body roll during cornering and pitch during acceleration and braking.
Audi claims that this technology can also improve passive safety in the event of a crash, by lifting the side of the impending impact. It says this concentrates the impact on the strongest parts of the car, such as the side sills.
The car will also use electromechanical rear-axle steering, another component of its 48V architecture. The system improves stability at speed by steering in the same direction as the front wheels or improves manoeuvrability by turning in the opposite direction in tight situations. It's also claimed to improve steering feel, and give the A8 a tighter turning circle than the A4 executive saloon.
Full front and rear styling shots have been shown in earlier footage of the upcoming BMW 7 Series rival (see below), which draws heavily from the design of Audi's Prologue concept of 2014, with a large central grille, geometric headlights and a light bar spanning the width of the car's rear. The large, intricate wheels also appear to be smaller, more production-friendly versions of the Prologue's 22in wheels.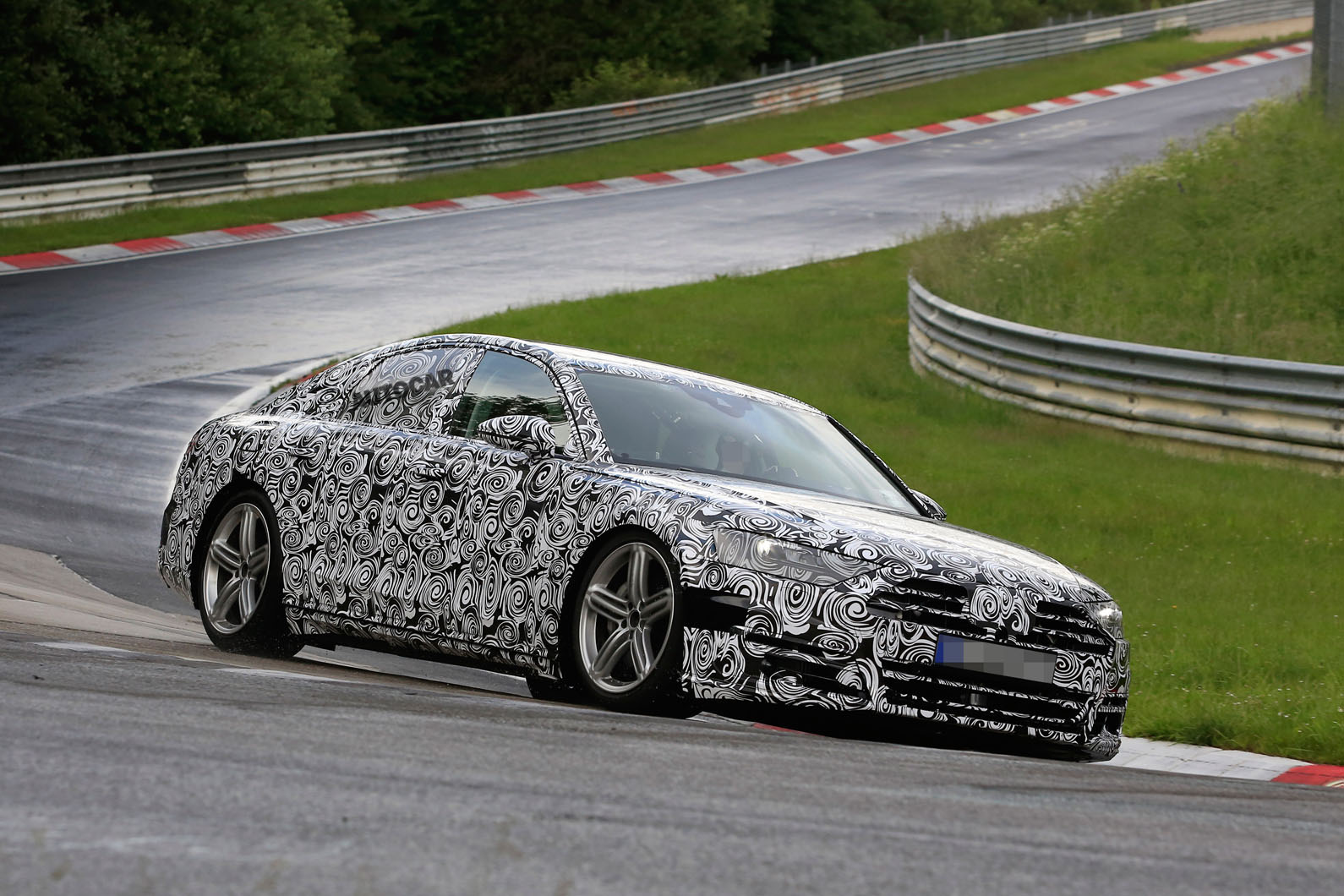 Also like the Prologue concept, the A8 will receive electrified powertrains from the entry-level model up, Audi has confirmed. Another preview also demonstrates the car's hands-off driverless technology, with an 'Audi AI' button activating the system, which prompts the driver to let go of the steering wheel.
The A8 will be the first in the brand's line-up to be available only as a hybrid, as Audi looks to electrify its entire line-up in the coming years. Entry-level cars will be mild hybrids, although it's likely that plug-in hybrid versions will appear higher up in the range, with greater electric-only driving capability.