The Alfa Romeo Giulia is now on sale in Britain, priced from £29,180.
The entry-level model costs £4020 more than the base version of its key rival, the BMW 3 Series, but the Alfa comes with a larger, more potent engine than the BMW and a generous list of standard features, ensuring it should be a strong contender against its established rivals.
British buyers can choose from five trim levels for Alfa's new saloon: Giulia, Giulia Super, Giulia Tecnica, Giulia Speciale and the range-topping Giulia Quadrifoglio. More details for each can be found below. The range-topping Quadrifoglio version of the car, which features a Ferrari-derived 3.0-litre V6 with 503bhp, costs from £59,000.
Besides the Quadrifoglio model, three engines will be available in the Giulia. These include a 197bhp, 243lb ft, turbocharged 2.0-litre petrol, which is coupled to an eight-speed automatic transmission. Compare that with the entry-level BMW engine, a 1.5-litre three-cylinder unit, and even the base Alfa looks suitably well endowed.
Next are two 2.2-litre diesels, the most powerful of which produces 178bhp and 332lb ft of torque. It's capable of emitting less than 100g/km of CO2 in Eco specification. The other diesel comes with 148bhp and 280lb ft.
Both engines can be had with either a six-speed manual transmission or the eight-speed automatic gearbox.
Read our review of the Alfa Romeo Giulia 2.0 Multiair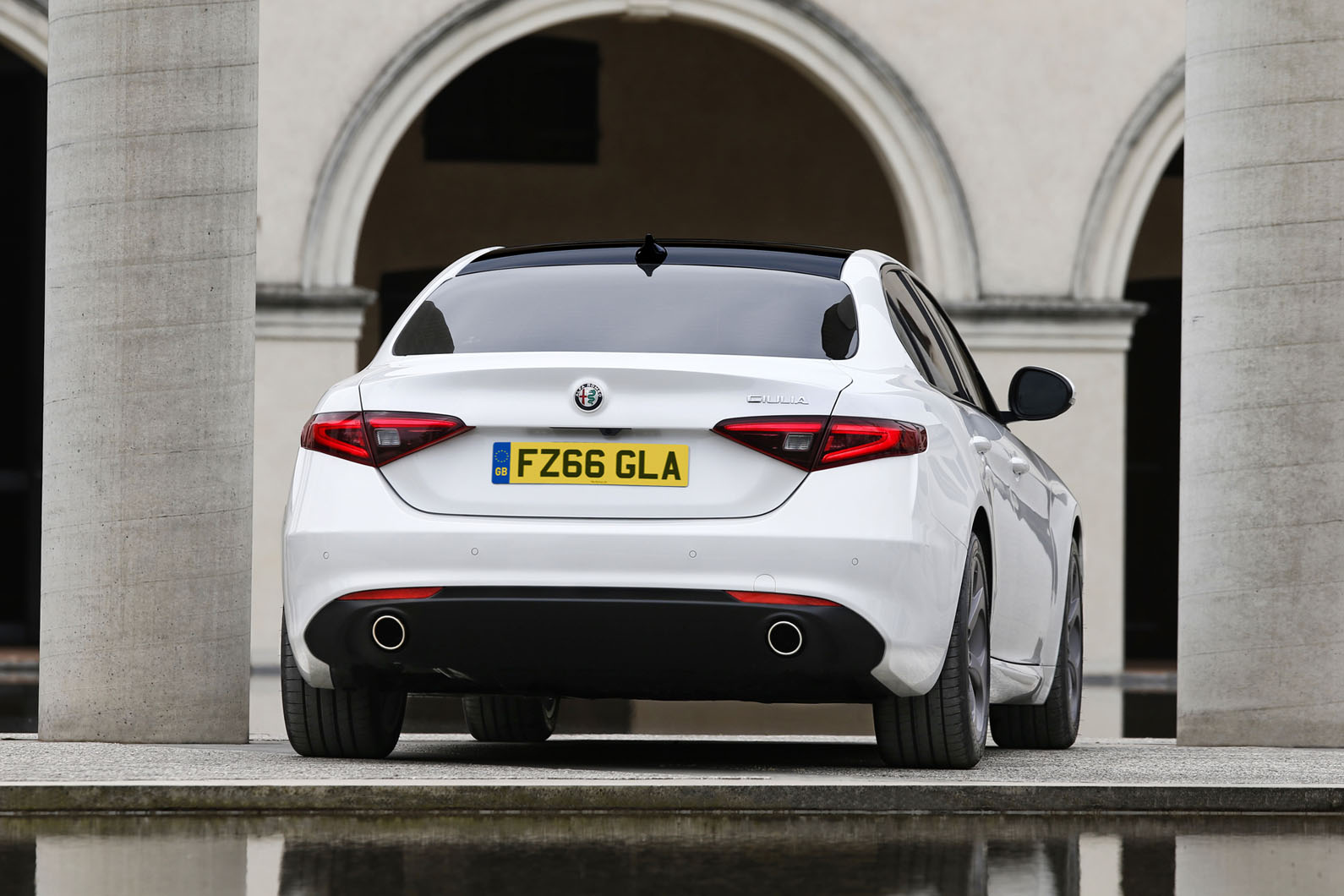 Technical specs
All models will have rear-wheel drive as standard, but all-wheel drive will be available on some versions. Alfa Romeo says the car has a perfect 50/50 front-to-rear weight distribution and it features multi-link suspension at the rear and double wishbones at the front.
The Giulia has an unladen weight of 1374kg in 178bhp 2.2-litre diesel form.
Alfa Romeo says electronic aids on the Giulia are used only to make the driving experience more exciting. For example, the new integrated braking system mixes the traditional stability control set-up with a servo brake, reducing weight and vibrations through the pedal.