Mitsubishi's new Mi-Tech compact SUV concept for the Tokyo motor show previews a new type of plug-in hybrid drivetrain that goes without a conventional petrol or diesel engine, as well as giving hints at the design of the next ASX due in 2021.
The roofless concept's downsized plug-in hybrid range-extender system replaces the petrol engine used in Mitsubishi's existing plug-in hybrid drivetrain with a gas-turbine engine-generator. 
All the news from the 2019 Tokyo motor show
Mitsubishi claims the lightweight, compact generator is around half the size of a conventional combustion engine but just as powerful and is able to run on a variety of fuels including alcohol, kerosene and diesel to allow it to be adapted to suit different regional requirements. 
The generator powers four electric motors, two on each axle in what Mitsubishi calls its Quad Motor 4WD System. Mitsubishi has not revealed any specific performance, range or output figures for the new plug-in hybrid drivetrain in the Mi-Tech, but it is understood to be intended as a high-performance system. The system is a development of that seen on the e-Evolution concept from 2017, which used three motors, and demonstrates Mitsubishi's desire to continue to offer high-performance drivetrains having killed off the Evo as a seperate model.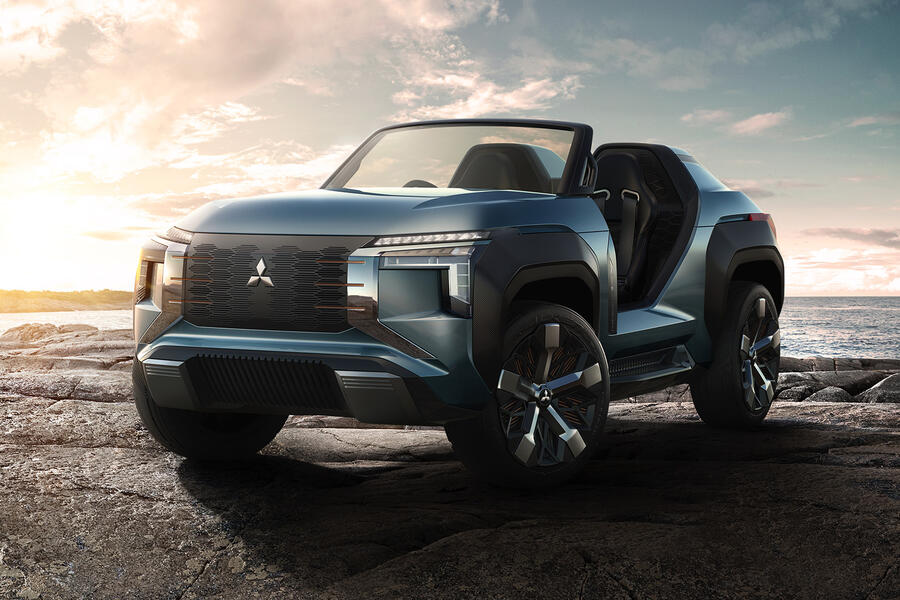 Presenting the buggy-style Mi-Tech concept at the Tokyo motor show, the company's CEO Takao Kato said that the firm remained "dedicated to electrification, particularly plug-in hybrids".
Mitsubishi has been a pioneer of plug-in hybrid technology through its Outlander PHEV SUV, which mixes a 2.4-litre petrol engine with a 13.8kWh battery and twin electric motors. 
The Mi-Tech's new system is intended to preview an application for plug-in hybrid technology for smaller SUVs, although such a radical switch towards gas-turbine technology is not something as yet with serious production intent.