It is fair to say that there was considerable debate as to whether to call Ford's first full EV a Mustang.
Actually, I understand there was something closer to a massive punch up over the issue, figuratively if not literally speaking. And you can see why: here is a high and heavy five door electric SUV. And they choose this as the first Mustang to depart from Electric the two door sports coupe script in the 55 year history of the original pony car.
UPDATE: The Ford Mustang Mach-E has been revealed - full story here
The calculation is clear: while the 'proper' Mustang continues in the production it is Ford's estimate that the number of additional EV early adopters who will be seduced by the name will be greater than the number of die-hard traditionalists who'll spit their coffee over their cornflakes while reading this and vow never to buy another Ford again.
So what can I tell you after a very short ride in its passenger seat? In the way of such things, nothing like as much as I would wish. But some things are clear, nevertheless. The car feels like a real departure for Ford, and not just because it lacks an internal combustion engine. It has a sense of genuine quality and clearly quite enormous efforts have been made creating a state of the art interior, especially so far as the massive and rather Tesla-like central infotainment screen is concerned. It works really well.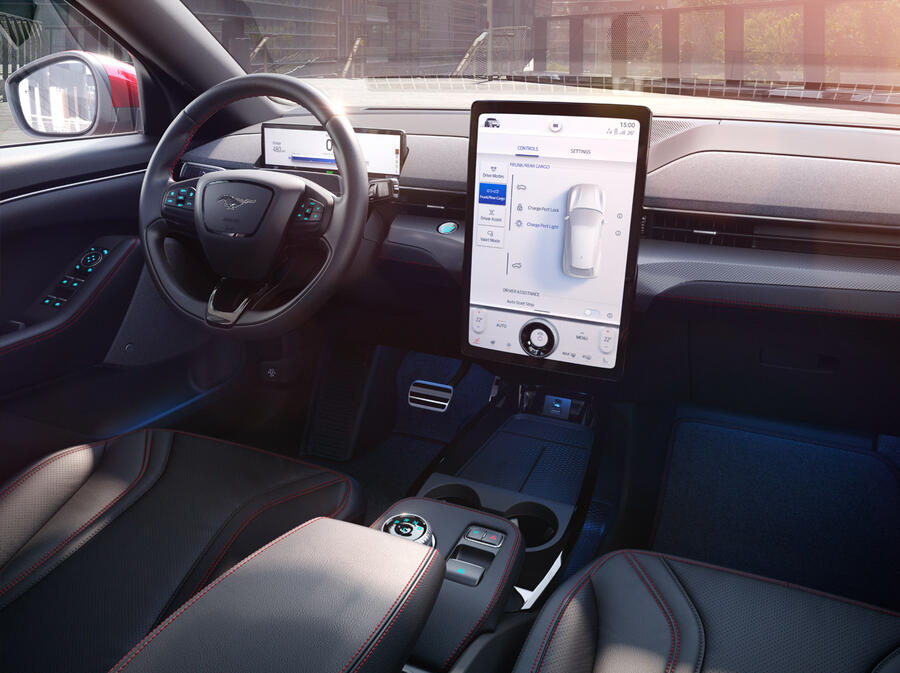 The car is exceptionally spacious too: four six footers could easily go on holiday together, there's a decent boot and a quite brilliant 'frunk' (front trunk) lined in hard plastic with drain holes. The idea is you can fill it with ice and beer, transport anything from raw fish to hot curry without the smell reaching the cabin and, of course, dump the kids' filthy games gear and then just hose it out afterwards.
There's a standard and long range battery, rear or four wheel drive and choice of 254 or 332bhp power outputs, and that's before the 465bhp 'GT' version comes along some time after sales begin in around a year's time. Prices will range from somewhere around £40,000 to £65,000 for a fully loaded 'First Edition'. The GT will cost over £70k. With the big battery its WLTP range is up to an impressive 370 miles.