Lotus has shown the GT4 race variant of its Evora GT430 hardcore sports car at the Goodwood Festival of Speed.
Developed and built at Lotus' headquarters in Hethel, Norfolk, the track-prepped Evora GT4 concept is finished in a distinctive green and gold livery that pays tribute to two-time F1 championship winner Jim Clark
A decal on the side of the Evora displays the Goodwood circuit lap record achieved by Jim Clark in 1965 - 1m20.4sec. The Type 25 racer in which he achieved this time is also on display. 
The 1200kg model's 3.5-litre petrol V6 has been tuned to produce 444bhp and 376lb ft at 4000rpm, resulting in a power-to-weight ratio of 370bhp per tonne and a claimed top speed of 170mph.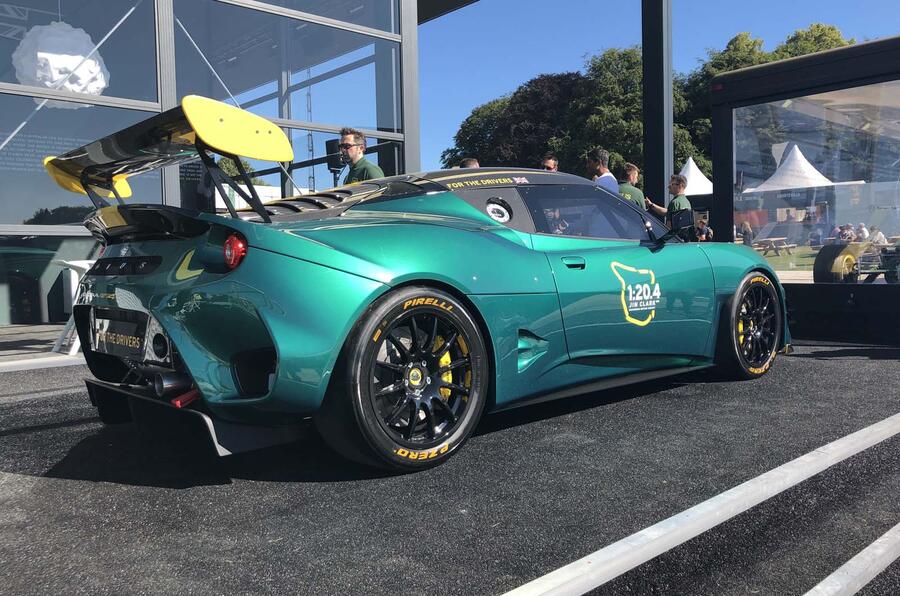 Sitting on race-spec centre-lock wheels shod with slick tyres, the Evora GT4 sports an adjustable rear wing, a roof-mounted carbonfibre air intake and aerodynamics-enhancing louvres on the front wings.