What appears to be Porsche's flagship 911, the upcoming Turbo S, has leaked online in production form via a social media post.
NOW IT'S OFFICIAL: New Porsche 911 Turbo S packs 641bhp for 205mph
Published on the Turbo and Turbo S variants of the 992-generation 911 at the Geneva motor show next month.
The Turbo models will retain the standard car's 3.0-litre flat-six engine, but a pair of substantial turbochargers and additional hardware taken from Weissach's GT2 RS flagship will boost output significantly - up to at least 620bhp in the Turbo S.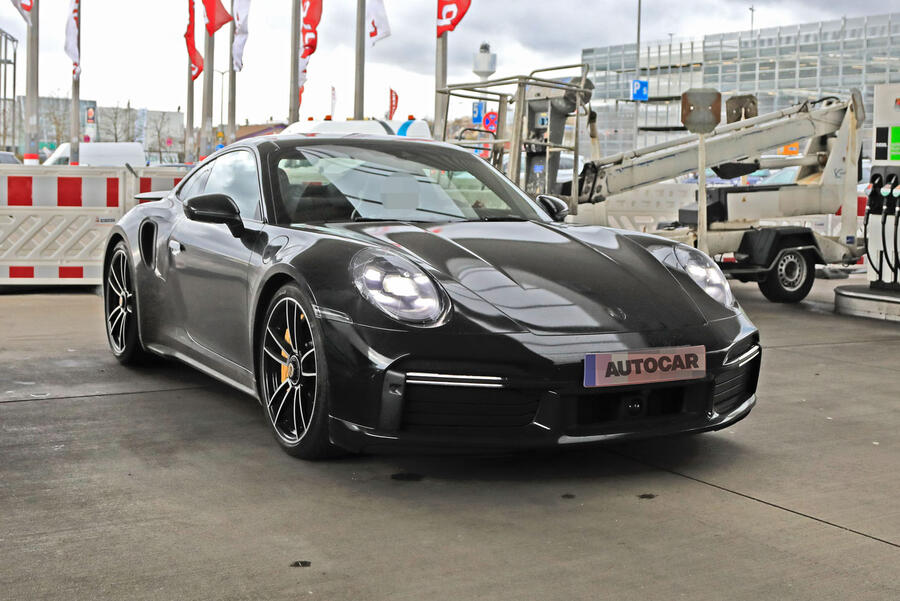 The Turbo will receive the same forced-induction treatment but will produce around 50bhp less. Its expected 570bhp output represents a 30bhp increase over the outgoing 991 equivalent. It should be enough to push the Honda NSX rival from 0-62mph in less than three seconds and on to a top speed north of 200mph.
Both models will be distinguished from the standard 911 by a downforce-enhancing bodywork package that includes widened rear wheel arches, a fixed rear spoiler, side air intakes and model-specific front and rear bumpers. They will likely also be available with unique wheel designs and paint scheme options.
Although the 992's mixed-metal bodyshell is lighter than that of the 991, a heavier powertrain and mandatory petrol particulate filters mean the 911 Turbo is set to weigh slightly more than its predecessor overall.
Porsche will confirm official pricing and specifications for the new model at its launch, but it's likely that prices will start from around £130,000 for the Turbo coupé and rise to roughly £160,000 for the Turbo S in Cabriolet guise.
Joining the 911 Turbo on Porsche's Geneva stand will be the new six-cylinder GTS versions of the 718 Cayman and 718 Boxster.