Electric car maker NanoFlowcell says its innovative flow cell-powered Quantino could make production this year, the car having successfully passed pre-production tests.
NanoFlowcell will be displaying the near-finished model at the Geneva motor show in March, one year on from when the first Quantino concept was revealed. The firm says the 2016 car is completely revised, and that it is weighing up the option to produce a small-batch production run.
The Quantino has grabbed industry attention because it is powered by flow cell technology, which enables it to travel farther than (a claimed) 600 miles on one fill. It is driven by four electric motors - one on each wheel - and uses two fuel tanks of electrolytic fluids, one positively charged and one negatively charged.
The flow cell is split into two halves by a membrane, with positively charged electrolyte flowing through one side and negatively charged through the other. Ion exchange takes place through the membrane, generating an electric current.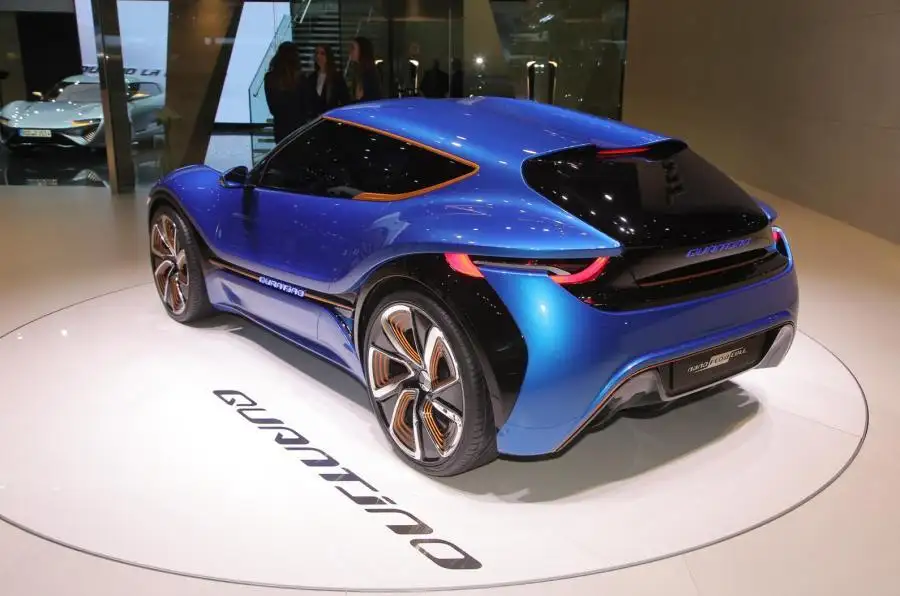 Normally, flow cells can be replenished by recharging like any other battery, or simply by replacing the fluid. The NanoFlowcell works differently. As it discharges, the water-based 'ionic' fluid electrolyte evaporates, leaving the storage tanks empty and ready for refilling. Quant cars can be refuelled at a pump using a two-pronged nozzle to fill both the 'positive' and 'negative' tanks at the same time.
Chief technical officer and inventor of the NanoFlowcell Nunzio La Vecchia says: "The ionic fluid is non-flammable and non-toxic, and there are no emissions or high pressures involved. As a result, he adds, on-board storage is straightforward and establishing a filling station network simple and relatively cheap.
When the Quantino concept was revealed in 2015, it used a low-voltage system of just 48V but "more than 200A". In real terms, that meant the system could deliver enough electrical energy to power four 25kW, 134bhp electric motors and deliver a quoted top speed of more than 125mph. But while the near-production-ready car of 2016 also uses a 48V system, its combined power output is rated at 108bhp.