The new Huracán Performante Spyder, revealed at the Geneva motor show, is the most track-focused drop-top supercar to leave the gates of Lamborghini's Sant'Agata Bolognese factory yet.
The new model adds a folding fabric soft top to the circuit-honed chassis of the Performante, mixing its sharpened handling with the more visceral experience of open-top motoring.
The car retains the unique bodykit of the Performante, with forged carbonfibre used for the front spoiler and rear wing, as well as the car's prominent rear diffuser, but chopping off the roof has encouraged the fitment of two rear buttresses, which are identical to those fitted to the regular Spyder and give the car a unique silhouette whether the roof is up or down.
It takes 17sec for the Huracán's soft top to fold away and it can be done at speeds of up to 31mph.
Top five Lamborghini videos from Autocar
Power comes form the same mid-mounted atmospheric 5.2-litre V10 as the Performante coupé, so it sends 631bhp at 8000rpm and 443lb ft of torque at 6500rpm to all four wheels. But the Performante Spyder's new roof and electrohydraulic mechanism adds 125kg to the car's mass, pushing dry weight up to 1507kg. Weight distribution does remain 43/57, however.
The car's weight gain has a knock-on effect for acceleration, bringing the 0-62mph sprint up to 3.1sec and 0-124mph dash to 9.3sec – although these are gains of just two- and four-tenths respectively. Top speed remains 202mph in the drop-top Performante.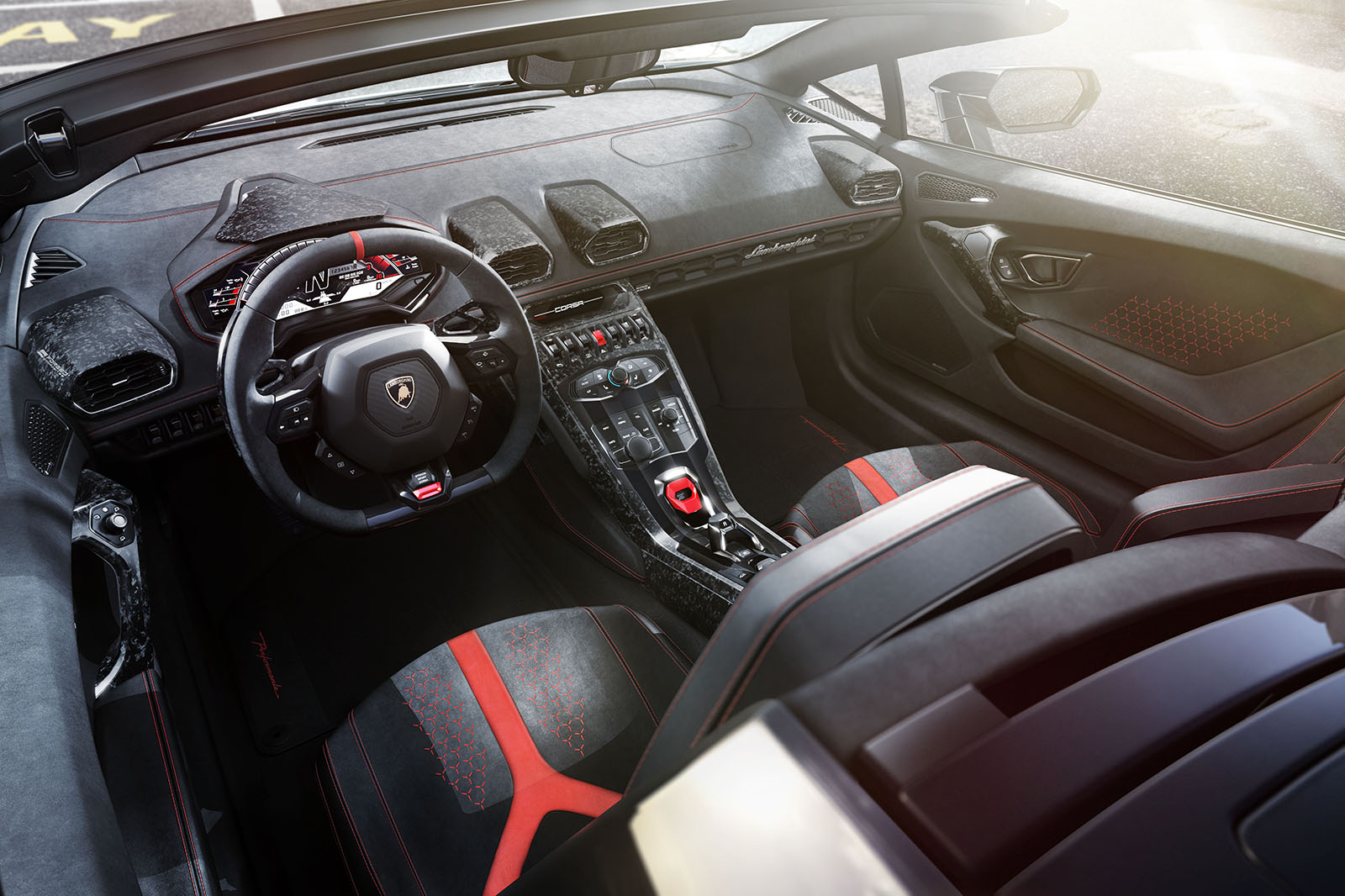 Lamborghini's so-called Aerodinamica Lamborghini Attiva active aerodynamic system is included without modification. It works the air over the cockpit so effectively that Lamborghini claims the soft-top can adjust the flow of atmospheric particles over the car as well as its hard-top sibling - enabling that unchanged terminal velocity.