The new £2.4 million Mercedes-AMG hypercar, known under the internal working name Project One, will be powered by an advanced petrol-electric plug in hybrid drivetrain based around an Formula One derived petrol engine that operates in combination with four electric motors to deliver an overall output of over 736kW in its most performance orientated driving mode, AMG boss Tobias Moers has confirmed.
The Mercedes-AMG One has now been fully revealed - click the link to read the full story
The hi-tech driveline, unveiled at a media event at the Nürburgring 24 Hour race in Germany, uses a heavily revised version of the electrically turbocharged 1.6-litre V6 housed in the Mercedes-AMG W08 EQ Power+ race car, as driven by Lewis Hamilton and Valtteri Bottas in the 2017 F1 World Championship.
Like the German car maker's latest F1 race car, the upcoming four-wheel drive AMG road car also features both an MGU-K (motor generation unit – kinetic) and MGU-H (motor generation unit-heat) functions as part of a complex Energy Recovery System (ERS) mounted around the mid-mounted petrol engine at the rear.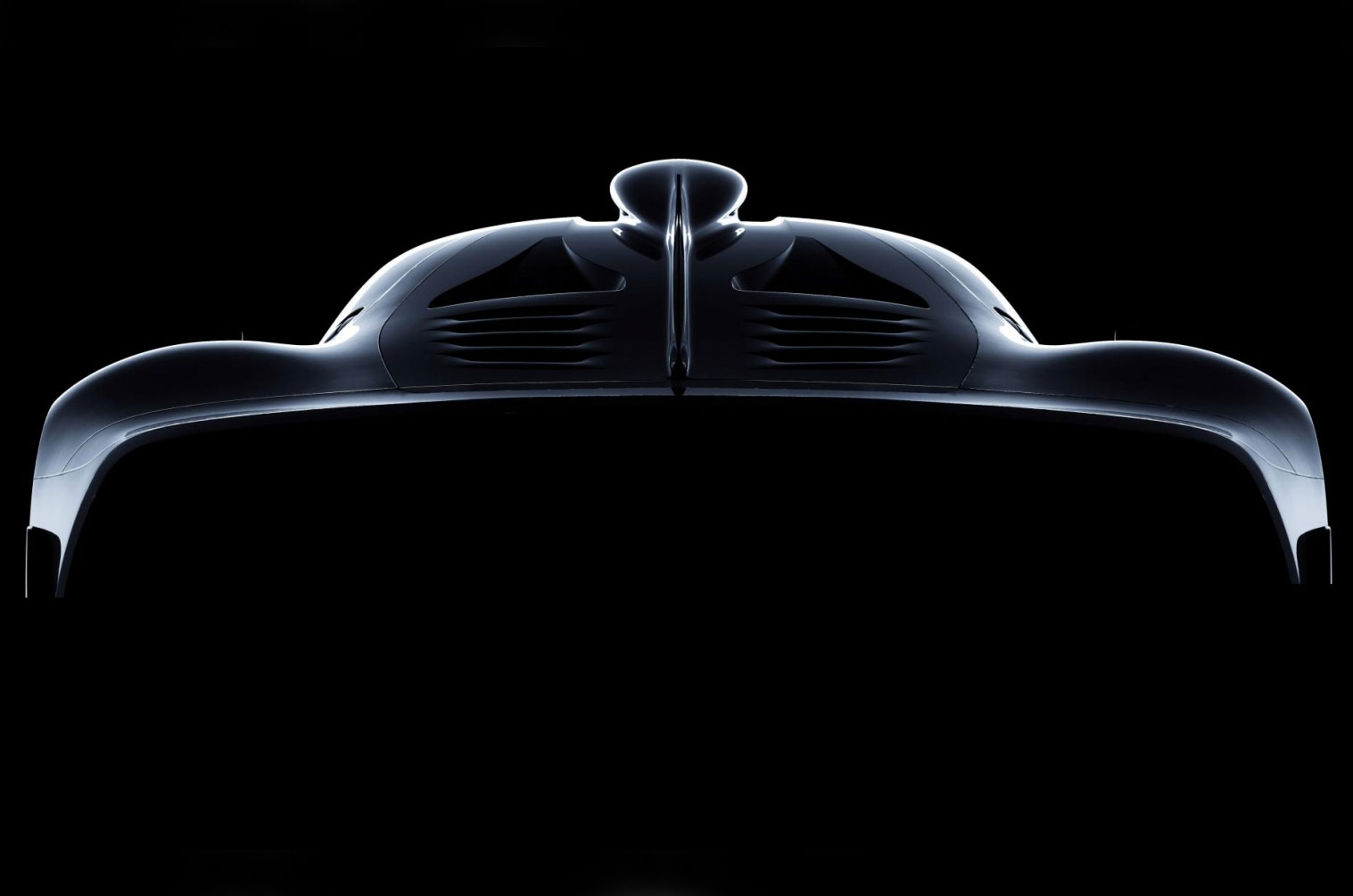 The former, developing 100kW, acts as an electric motor under acceleration and a generator to recuperate kinetic energy under braking, with the latter rated at 80kW used to electrically power the petrol engine's turbocharger for instant response as well as to convert heat from the turbocharger into electrical energy for storage in the new car's sophisticated battery.
Together, the combustion engine and the rear-mounted electric motors provide drive exclusively to the rear wheels.
Channelling the Project One's heady reserves is a an eight speed automated manual gearbox that acts as a structural bearing element within the driveline at the rear of the engine, where it supports an intricate five-link rear suspension featuring pushrod style spring and damper units.
In a departure from the German car maker's rear-wheel drive F1 race car, the new headlining AMG model's front wheels can be driven individually by two electric motors and a pair of fixed ratio gearboxes mounted within the front axle assembly with torque distributed selectively to the wheel with the most grip – a layout mirroring that of the earlier pure electric Mercedes-AMG SLS Electric Drive to provide the Project One four-wheel drive capability. Called AMG Toque Dynamics, the electronically control system mimics the rear wheel torque vectoring effect seen on other less extreme four-wheel drive AMG models.