If there's one thing Leavers and Remainers can agree on, it is surely this: although everyone knows we are on a path to somewhere, the prospect of Brexit raises so many more questions than it answers that we don't know exactly how we'll get to a conclusion or what it is.
So it is with the automotive industry's own Brexit-style dilemma, autonomous driving: we know it's coming, but despite legislation and timelines being forged, the path to achieving it remains shrouded in fog and the final solutions – and complications arising from them – are far from certain. Little wonder that car buyers are confused.
To discover the depth of just how confused, plus to delve deeper into the expectations of customers and opportunities for car makers, Autocar teamed up with renowned survey research advisor Simpson Carpenter, which has been working in the automotive sector for more than 20 years, most frequently advising car makers on the thoughts of customers and potential customers. Led by Tom Simpson, managing director of the firm, we contacted more than 2500 people (consisting of 411 future car buyers, 1000 new car buyers and 1266 car enthusiasts) who had recently bought a car, were thinking of buying a car or classed themselves as car enthusiasts to poll their thoughts, which are laid out in the gallery above.
"The conclusions are broadly summed up by some simple statements," says Simpson. "Chiefly, right now, confusion reigns. Opinions on the subject are polarised. The majority of people believe autonomous cars might be safer and might make life easier, but they have doubts that the technology will really work. Older people are the most resistant – and they are the ones that buy the cars – and there's an underlying message from many people that they love driving cars, pure and simple, and they don't want to lose that.
What are the main advantages of autonomous cars?
Orange - New car buyers, Pink - Car enthusiasts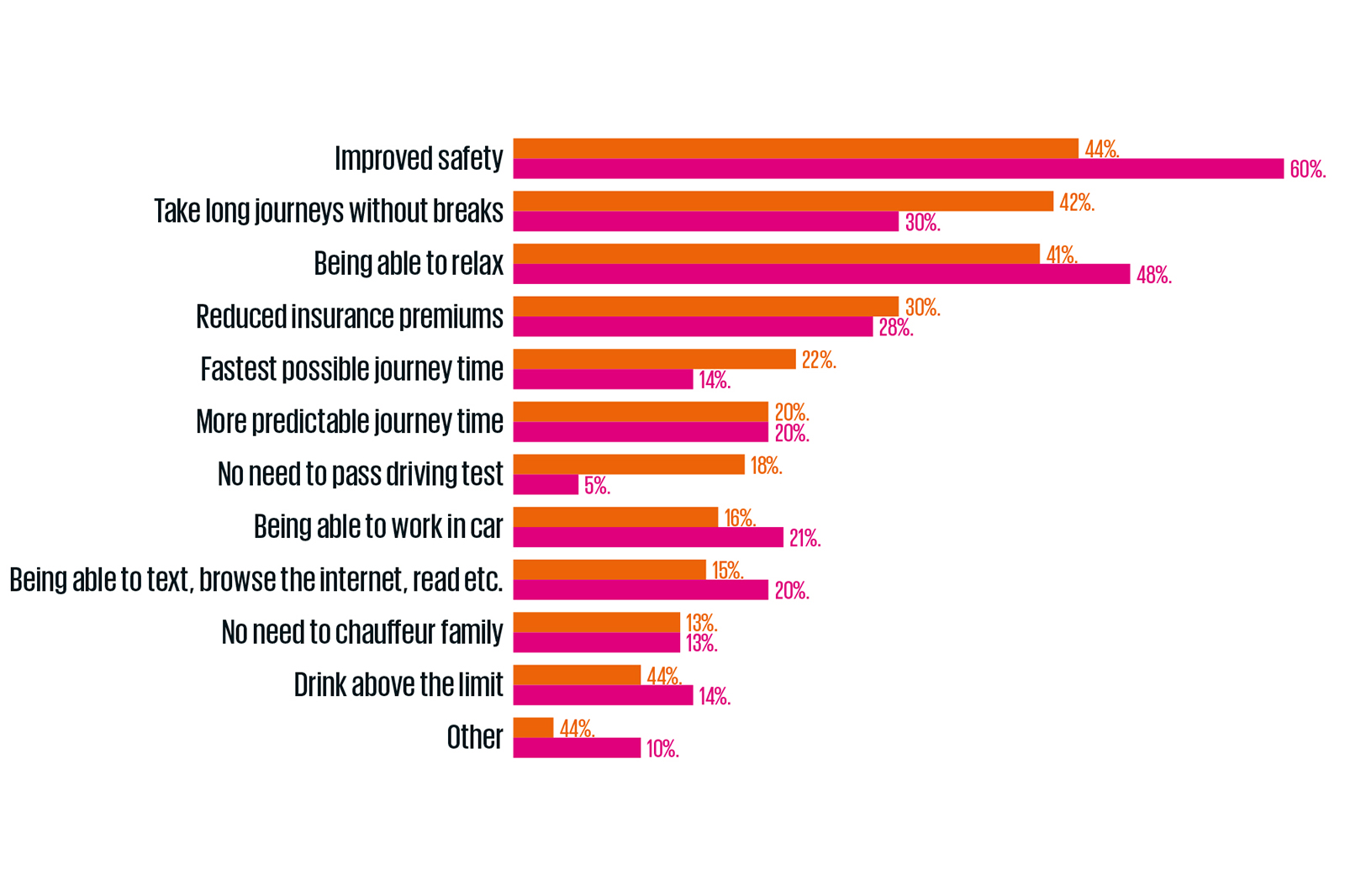 "Our results suggest the death of the car industry is much exaggerated and the shift to autonomy offers some real potential for major opportunities. There's an underlying trend, too, that while buyers largely expect to buy their future cars from traditional car makers, they like the idea of car companies partnering with tech giants to make them. It's that 'Intel Inside' philosophy that gives reassurance. There's also evidence that some of the trends being pushed hard now – car sharing, for instance – are struggling for acceptance."