What can you do in 32 minutes? Mow the lawn, perhaps, or make a carbonara? Maybe even squeeze in a couple of episodes of Friends if you skip the credits and fast-forward through the adverts.
If you're one of the 600 people employed on Rolls-Royce's Goodwood production line, you know exactly what you can achieve in 32 minutes.
That's the 'takt time' afforded to each of the 42 production stations between the shutter door of the paint shop and the pre-delivery inspection pen, and meeting that rigid deadline – whatever your team's specific task may be – 14 times per shift is utterly crucial to avoiding costly hold-ups and delays to the delivery of cars that have cost their VIP customers (who probably ordered around two years ago) an average of £440,000 each.
In reality, each station is allocated a rigid 28 minutes' worth of work, with four minutes of contingency time built into the schedule at each stage to allow staff to sort out those rare tricky bolts and kinked wires.
Over the course of two daily shifts, the Goodwood line must paint, assemble, furnish and propel 28 entire cars, ready for inspection, road testing and finally shipping.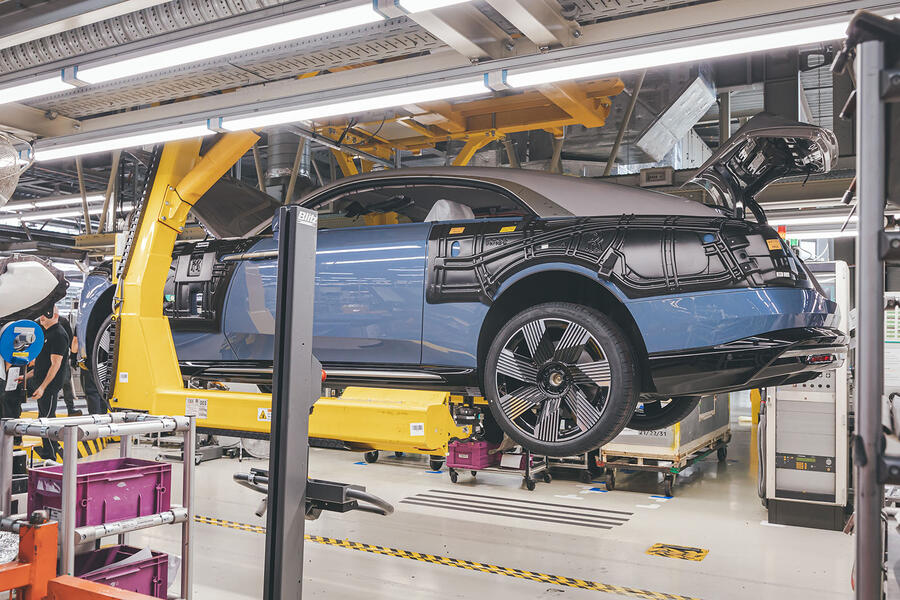 That's small fry compared with the output of Toyota's, Nissan's and even Bentley's UK factories, but remember: these are not normal cars. Instead, these are painstakingly specified celebrations of their owners' personalities, and as such are referred to as 'commissions' rather than orders, each wildly different from the last and subject to post-production quality control processes that would make Nasa wince.
It is into this rigid, time-honoured framework that the new electric Rolls-Royce Spectre must slot, seamlessly, sensibly and with minimal concession to the somewhat glaringly obvious fact that it swaps Rolls's mammoth 6.75-litre V12 for an electric motor at each end and a whopping 102kWh slab of lithium ion battery betwixt.
Compounding the complexity is that Rolls-Royce cars remain predominantly hand-built, with little scope for the simple reprogramming of robots and adjusting of conveyor belts.