Last year, a newly remixed version of The Beatles' White Album was released to mark the 50th anniversary of one of the greatest records ever made. It was the same wonderful, mixed-up double album, but now it had been refreshed by a new stereo mix. There were copious demos and previously unreleased versions of songs, making up a monster seven-CD box set – for £120. If it was thought a rambling cacophony by some in 1968, this was something else again.
Many of us who've owned copies of the original for years were cynical. After all, how and why would you mess with something so beloved, so perfect in its imperfections? This was The White Album, for Chrisssake! Leave it alone.
The same thought occurred as Autocar set off for west London to drive David Brown Automotive's production version of the aptly named Mini Remastered. Alec Issigonis's original city car was never perfect, but from the start, exactly 60 years ago, it was a little star: stunningly original, brilliantly conceived and bubbling over with character. Enzo Ferrari had one. So did The Beatles. Something about it encapsulated Swinging London, yet unlike the Fab Four, it survived the 1960s to enjoy a production life spanning four decades. And we, like millions around the world, still have a massive soft spot for it.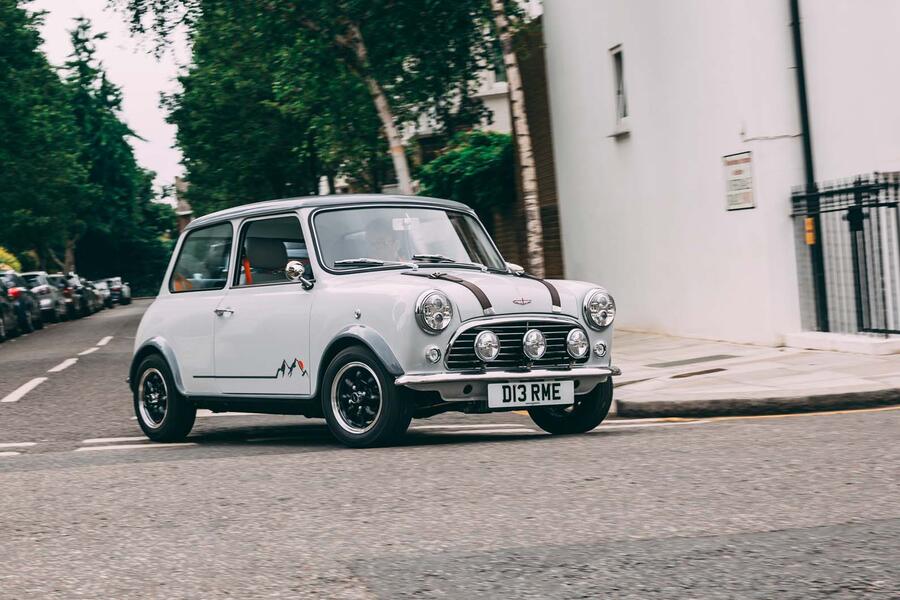 We've driven an early prototype version of the Remastered before, but a chance to try a production car around Chelsea in the big anniversary year was too good to refuse. The premise is simple: it's an Issigonis Mini as we've always known it, but with all mod cons: remote central locking and keyless stop/start; modern dials in retro Smiths styling; and even a 7.0in touchscreen with Bluetooth connectivity, Apple CarPlay and Android Auto, all presented in a cabin made of the finest and most tactile materials. It's retro, it's modern, it's fresh – and kind of wonderful.