This is not a twin test. There will be no winner or loser, the cars featured merely illustrative of a point I thought I wanted to make.
The McLaren Senna seen here could as easily have been any other hypercar or, indeed, top-flight supercar like a Ferrari 812 Superfast or Lamborghini Aventador SVJ. Similarly, although the Alpine A110 is undeniably well suited to the task in hand, a Lotus Elise would have sufficed.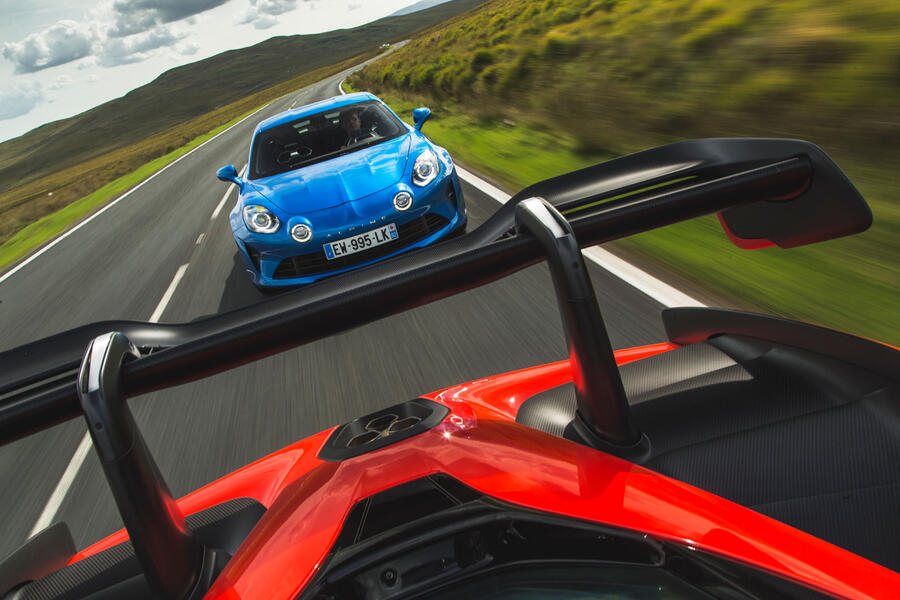 So those hoping for a David and Goliath contest where the little £50k sports car fells three-quarters of a million quid's worth of carbonfibre-bodied hypercar are going to be sorely disappointed. There are some architectural and conceptual similarities between them – mid-engine configurations, seven-speed paddle-shift transmissions, an admirable focus on lightweight construction and so on – but probably the most significant thing they share, and what puts them in one of the most exclusive of automotive clubs, is that both come complete with five-star Autocar road test ratings. And nothing you're about to read changes that in any way.
Instead, we're here in the Welsh mountains to ask a question and, hopefully, provide an answer. The question is simple: what is 'enough'? I don't really want to be more precise than that, because the moment I say 'enough power', then that has to be tempered with considerations of weight, torque and delivery. It would be better to call it 'enough performance', but to most people, that is simply a straight-line measure. Hold a gun to my head and I'd define the question as this: how much dynamic ability of all kinds can be used on even world-class public roads like these, and are those that provide more just wasting it, or is there a delicious pleasure in the simple knowledge that it's there, which, in a very real way, adds further to the enjoyment of such cars?