Triple British Touring Car champion Matt Neal has spent most of his career racing machines built and run by his family's Team Dynamics operation – but there's one he's glad he's unable to drive: Mean Mower V2.
A Honda mower fitted with a 190bhp superbike engine, it can top 150mph and is recognised by Guinness World Records as the world's fastest grass cutter. It was built for a 5ft-tall driver, so 6ft 6in Neal doesn't fit – much to his relief.
Still, Neal is hugely proud of the fact that it exists, showcasing the firm's engineering prowess and its ability to work with a manufacturer. It's just one example of how Team Dynamics – founded by Neal's father, Steve, in 1993 – is applying expertise built from decades of BTCC competition in a whole host of different areas.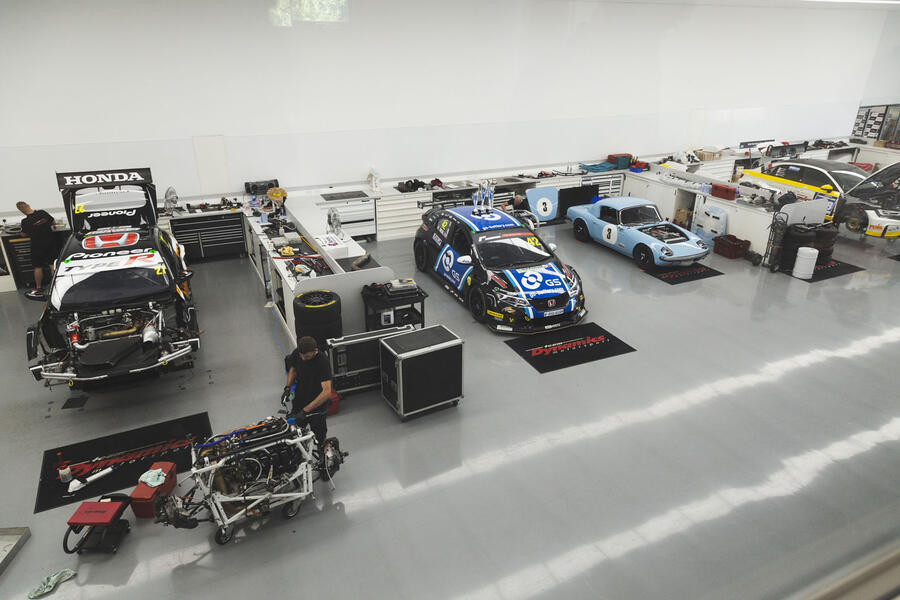 That is reflected inside Team Dynamics' 26,000 square foot Droitwich factory, which it moved into in September 2017 (replacing an old post-war unit that Neal admits "we did everything we could" to keep people away from). In the workshop are the centrepieces of the Dynamics operation: the two black and orange Halfords Yuasa Racing Honda Civic Type Rs. The team has run Hondas in the BTCC since 2004, becoming Honda UK's factory outfit in 2010.
The machines are completely manufactured in-house, using FK8 shells taken from the Swindon production line. They're acid-dipped to ungalvanise the metal and remove glue from the mounting joints, then taken to the fabricators to be strengthened and fitted with a new rear end and roll cage. Around 1000 hours of work goes into each car before the shell is painted. An on-site machine shop makes parts and spares, based on CAD data direct from Honda, and the team is increasingly 3D printing parts to save time and costs.
Two full-time mechanics are assigned to each BTCC car, with the vehicles stripped down, checked, cleaned and rebuilt after every race. That process takes around two weeks, accounting for around 20 weeks' work – and that, according to team manager James Rodgers, leaves 32 weeks of time for other projects.