British Touring Car Championship organiser TOCA has announced that Cosworth Electronics will supply hybrid powertrains for the race series from 2022.
The new technology will be integrated into the competing cars' existing 2.0-litre turbocharged powertrains, to keep costs down, and will be used primarily for passing and defending manoeuvres on track. But cars will also operate in full-electric mode in the pitlane.
The system will allow the BTCC to forego its current 'success ballast' system from 2022. Instead of race winners carrying more weight in their next outing, their hybrid usage will be more tightly restricted.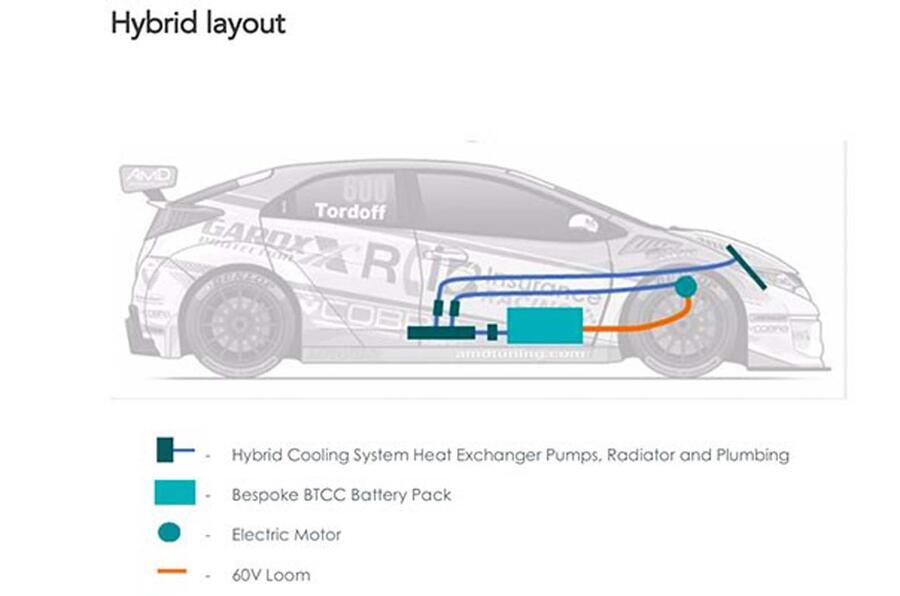 Cosworth Electronics, a subsidiary of renowned engineering firm Cosworth, won the tender having demonstrated it could meet the packaging, performance and cost requirements outlined by TOCA.
The compact 60-volt system comprises a gearbox-mounted electric motor and separate cooling unit. A bespoke battery and its associated hardware, alongside modifications to the gearbox and ancillaries, entails an estimated 64kg weight gain for each car.
Early tests have shown that the most significant performance boost comes at the bottom of the rev range. The BTCC claims "the hybrid power burst will bring the engine up into the turbo 'window' more quickly". Activating hybrid mode will temporarily add approximately 40bhp to a car's power output, claims the BTCC.
A simulation based on Silverstone revealed that a hybrid-equipped racer would accelerate faster out of Copse Corner than a conventionally-fuelled current model.
Drivers can control how much energy they recuperate and deploy throughout the race, with a steering wheel-mounted button that engages and disengages the hybrid motor. The system will also deactivate under braking, when the pre-determined time limit has been reached or when throttle input changes suddenly.