In its short existence, the all-electric Jeep Avenger has already garnered a staggering collection of silverware – most notably winning the European Car of the Year award before the car was even launched. And in April, it was bestowed yet another trophy for the cabinet when it was named Best Small Car at the 2023 Autocar Awards.
Our panel of discerning judges praised the Avenger for its rugged character, compact yet spacious design and mature handling. But to find out exactly what makes this family SUV the best small car you can buy in 2023, we asked two of our editors to give more detail on what makes it so good. Watch the video below and read on to find out more.
Made in Europe, for Europe
The Jeep Avenger isn't just Jeep's first all-electric car, but the first to be created outside of America. In fact, the Avenger was designed in Italy and is manufactured in Tychy, Poland. It's truly a car made in Europe, for European drivers.
This, explains Mark, is key to the Avenger's success: "We'd heard similar from Jeep in the past about having designed its latest small model with Europe in mind. Yet there's a big distinction between creating a car to that more general brief and creating a car designed, engineered and manufactured in Europe and for European buyers, as it has done with the Jeep Avenger.
"The former had always yielded forgettable results, yet the latter approach has made for something more spectacular. To that end, the Jeep Avenger is our Best Small Car for 2023."
But it's not just European DNA that has helped the Avenger find success – the people behind this all-electric SUV are equally as important, says Mark: "Spend time with the team involved in making the Avenger and you'll be aware just how 'all-in' these passionate individuals have been in the project, and how they have worked hard to create a car that brings something truly different to the small SUV class, a part of the market hardly flush with must-own products given how inherently compromised such models are. Not so with the Avenger, which finds a truly unique place in the market."
---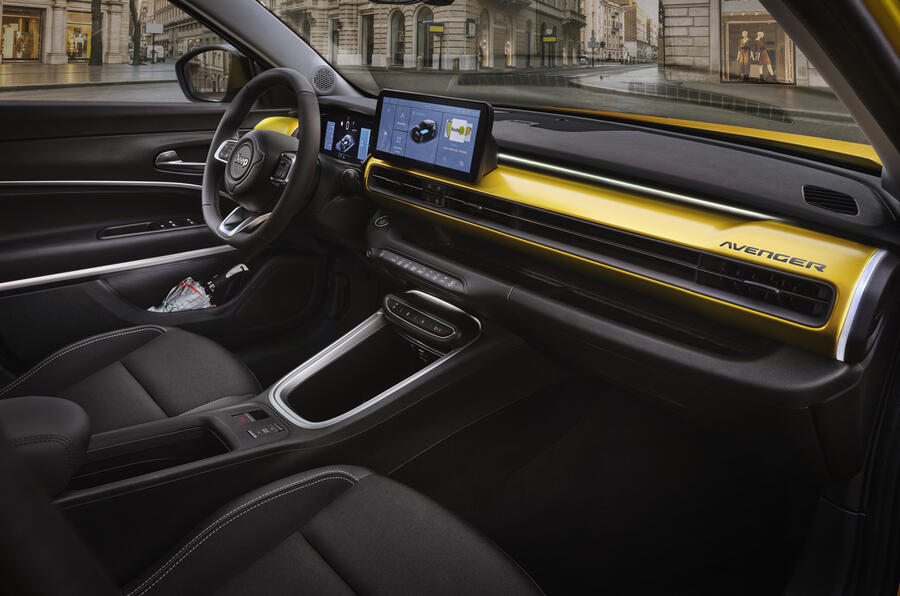 Compact design, spacious interior
At just 4.08m long and 1.78m wide, the Jeep Avenger is the most compact B-segment electric SUV on the market. But despite its small stature, the lack of an internal combustion engine and gearbox has allowed Jeep's engineers to maximise the interior space offered by the eCMP platform beneath.
There's plenty of space for five, while a modified H-point yields greater leg and head room for rear passengers, says Jeep. There's also 34 litres of storage space throughout the interior, including a large cubby in the front covered by a magnetic lid. The boot boasts 355 litres of room, while the 60:40 split folding rear seats can open up even more space if you need it. In fact, Jeep claims that with the rear seats folded down, the Avenger has enough room for 2443 rubber ducks…