Never before had there been, and in all likelihood never again will there be, an engine like the DFV.
Designed in 1965 by the youthful Cosworth company, its birth was down to Lotus's Colin Chapman, who both commissioned the project and brought in the crucial backing from Ford.
The DFV made a winning debut at the 1967 Dutch Grand Prix and, continually evolving, took 12 Formula 1 drivers' championships and 10 constructors' championships, taking its last win in 1983 and making its last appearance in 1985. At times during the 1970s, nearly the entire grid had the cheap, reliable and competitive DFV bolted in the back.
And it's that reliability part we're looking back on today, because on 2 August 1975, Autocar's Michael Scarlett paid a visit to see how the DFVs were maintained at Nicholson McLaren Engines Ltd, run by racer-cum-engine preparer John Nicholson.
At that time, the DFV was a 3.0-litre, overhead-camshaft, 32-valve lightweight V8 outputting around 475bhp at 10,250rpm.
"One is so blasé about engine speeds... that one forgets how incredible it is that such a device should work so powerfully," Autocar began.
"The power figures quoted for production engines rarely exceed 66bhp/litre. The specific output of the DFV amount to nearly thrice that, at 158bhp/litre.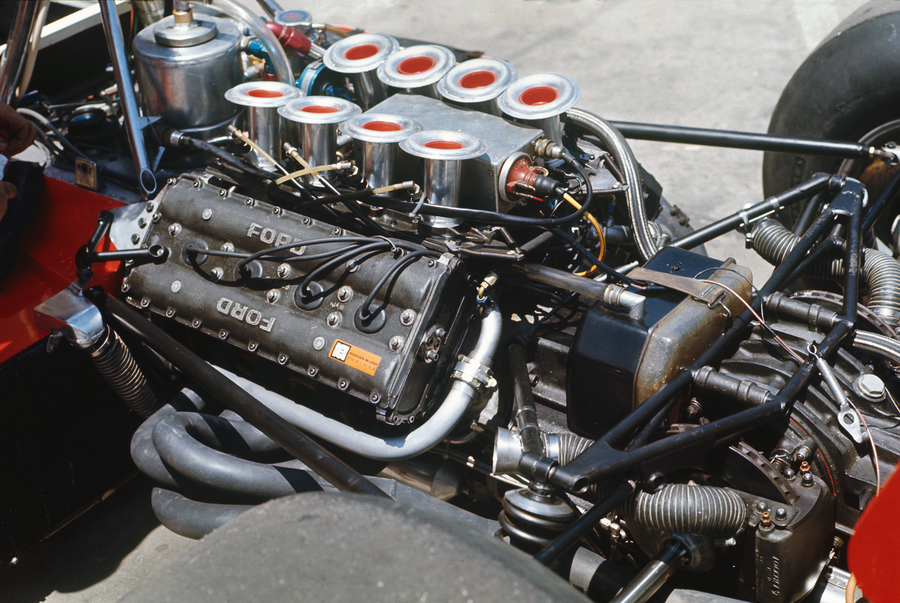 "Basically it achieves that by persuading enough fuel-air mixture into cylinders and burning it efficiently enough at the highest possible crankshaft speed. At that moment, from what John told us, with the latest cylinder heads and larger exhaust pipes and recently introduced taper intake trumpets (plain cylindrical for most of their length), it still doesn't reach peak power at 10,750rpm, proving that it isn't breathing that restricts but the mechanical limits of the unit."
"The normal working range is between 8500 and 10,500rpm. An electronic ignition cut-out is fitted which nominally stops the engine being revved beyond about 10,600rpm. Firstly because even these relatively sophisticated rev-limiters gradually lower the limit during their life, and secondly a rev-limiter cut-out switch is provided because a few hundred more rpm can be allowed to the driver desperate for that little bit extra. Drivers do go to 11,000rpm, but it isn't recommended.