If you were to ask a petrolhead which defunct car manufacturer they missed most sorely, their list would probably include the likes of Saab, Rover, Triumph, Lancia, and Fabryka Samochodów Osobowych.
Well, maybe not that last one. Communist Poland's FSO made some well-known family cars back in the 1970s, but it wasn't quality, drive, or looks they were known for.
FSO started producing the Polski Fiat 125P in 1968, which were Fiat 125s with running gear from the older Fiat 1500s underneath. Ten years later, it got hold of the mechanics for the 125 and put its own body on top, giving us the Polonez 1500.
On 17 March 1979, Autocar gave it the famed Autotest to see how it fared against its illustrious rivals: the Chrysler Sunbeam, Ford Escort, Lada 1600, Morris Marina and Skoda 120L Estelle.
"It is not political propaganda to point out that Russian-influenced states are not good at making cars (so far at any rate)," Autocar began.
"Interestingly and surprisingly, the understandable spark of Polish engineering pride seems to have been allowed to smoulder – Poles have a name for stubbornness – into work on FSO's own, relatively, up-to-date hatchback body for the 125P, announced last year, and now on sale at of course the bargain price of £2,999."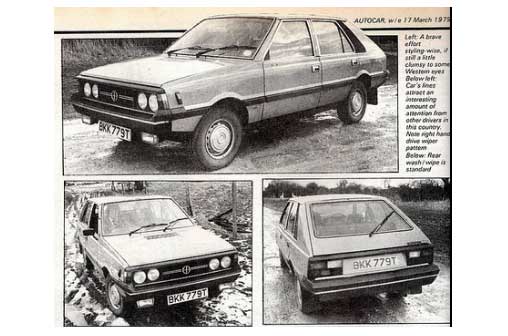 Performance form the 76bhp engine, we lamented, was: "Slower than the 125P, especially in acceleration.
"The new car managed a marginally quicker start but thereafter fell behind. It achieved 30mph in 4.2sec, and 80 in 39.1sec.
"It is a sadly noisy car. On starting up, you cannot help feeling that the starter motor is more inside the passenger compartment than under the bonnet.