Britain's race tracks have a wealth of stats when it comes to lap records: ranging from Formula Ford to Formula 1. But, thanks to the fact that all-electric race series are still in their relative infancy, there aren't that many benchmarks for an electric hot lap. Well, not yet. We wanted to change that.
That's why we took the game-changing Audi RS e-tron GT to the Goodwood race circuit to see if we could set the new all-electric standard for its iconic 2.37-mile layout, while also letting us experience how amazing this halo Audi e-tron model is to drive. What all-electric lap time did we ultimately post? Watch the video to find out, and then read on to get a taste of what it felt like in-car.
Learn more about the game-changing all-electric Audi RS e-tron GT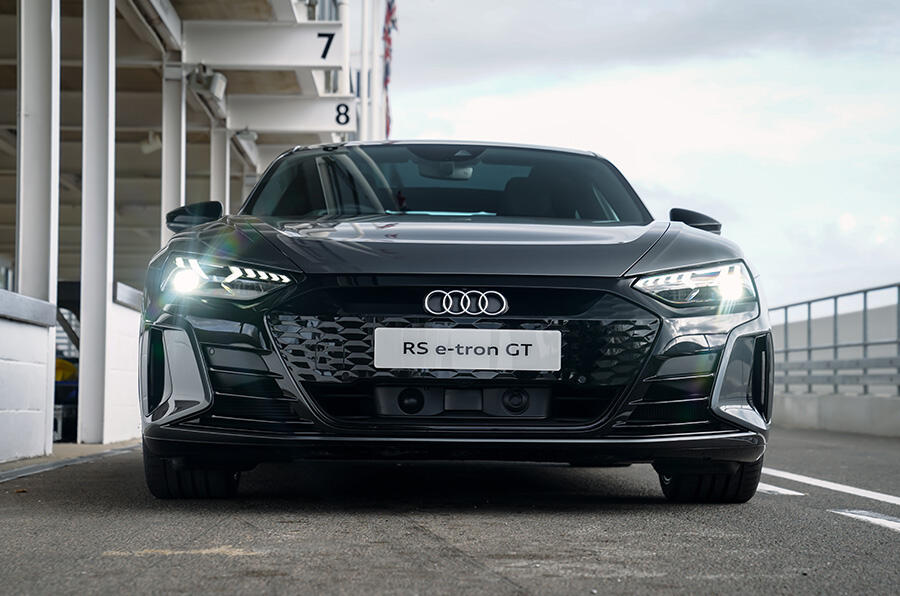 A shared reputation for making history
So, why Goodwood? It's simple, really. The pinnacle of modern all-electric automotive technology in Audi's RS e-tron GT, perfectly juxtaposed against the backdrop of one of the UK's most celebrated circuits. Who wouldn't want to see that?
With a storied history dating back to 1948, and an uncompromising old-school layout that uses the fast sweeping perimeter roads of the airfield, Goodwood has helped a wealth of driving icons cement their status in the annals of racing legend.
Its sparsity of tyre walls is equalled only by minimal run-offs that offer little room for recovery if things go wrong. As a result, it presents a fine line between a heroic lap-time and a catastrophic off. Be in no question: this quirky historic track is a true test of driver skill and a car's outright performance.
Equally, Audi has its own legacy for redefining automotive benchmarks – especially when it comes to the quattro all-wheel-drive technology that has powered its Vorsprung Durch Technik philosophy of 'progress through technology' since 1980.