Ever since BMW won the Alpine Rally in 1929, racing success has been integral to the brand's ethos.
Engineering experience gleaned on the world's most challenging circuits, and from motorsport's most gruelling races and competitive rivalries has contuinually helped make the BMWs we drive on the road more performance driven, more engagingly precise, and – most importantly – even more thrilling to drive.
With the introduction of the iconic M badge on the mouth-watering M1 in 1978, that modus operandi become ever more deeply ingrained. No BMW has reinforced this track-to-road philosophy more than the legendary M3. Always a beauty to behold, it came packed with the benefits of BMW's motorsport involvement from the start, and so brought the M badge to a wider audience.
Today's BMW M3 Competition Saloon and the sleek BMW M4 Competition Coupé are the direct result of that 40+ years of knowledge.
Learn more about the BMW M3 Competition Saloon here. Find out more about the BMW M4 Competition Coupé here.
---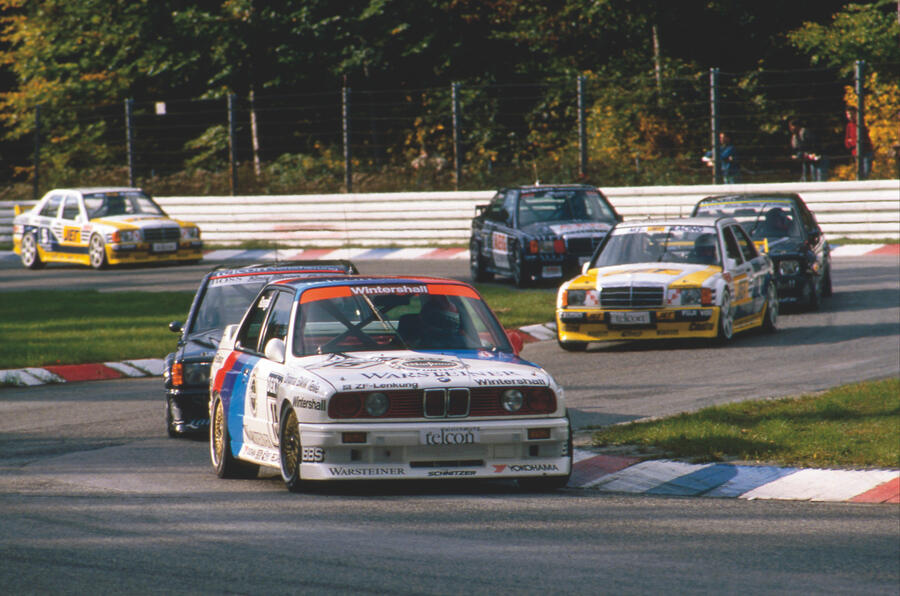 A successful start for the BMW M3
Developed with considerable input from BMW's in-house BMW Motorsport GmbH competition department, the BMW M3 was always a car designed for the keenest drivers, boosted by an incredible racing pedigree that has only got richer over the years.
Remarkably, the BMW M3 won the World, European, German and Italian touring car titles – plus the Silverstone Tourist Trophy and the Spa 24 Hours endurance events – in its first year of racing in 1987.
With BMW's offensive led by Roberto Ravaglia, Johnny Cecotto and Emanuele Pirro, the battles out on-track for the next few years were intense – the nimble M3s pitched against flame-spitting Ford Sierra Cosworths as they fought it out from Monza and the Nürburgring in Europe, all the way to Australia's motor racing mecca at Bathurst and the streets of Macau.
The BMW M3 also briefly competed in the World Rally Championship in 1987 – Bernard Beguin revelling in the astonishing grip and exquisite handling that the M3 delivered on sealed asphalt roads to win the Tour de Corse.
For British fans, the BMW M3 is best known as the car that won the British Touring Car Championship at the hands of Frank Sytner in 1988, with Will Hoy spearheading BMW's charge to secure both the drivers' and manufacturers' titles in 1991.