We're following British driver – and Mini UK brand ambassador – Harry Hunt on the Dakar Rally every day. Having made his mark on the World Rally Championship, 27-year-old Harry is trying something bigger for size: the epic 6000-mile Dakar Rally and the Mini ALL4 Racing.
Sunday 17 January 2016
Unbelievable. 10th overall. We actually did it. To say that it's beyond my dreams is an understatement: it's actually even better than anything I thought before coming here. What I'd hoped for was top 20 if we kept our noses clean, but this is such an unpredictable event that you never know exactly how things will turn out.
And it's not as if I came here with a shed load of experience either. But we did a top-10 result, after two weeks and 10,000 kilometres of driving. And someone said that it was the wettest Dakar in recent history.
It was hard, probably the hardest thing I've done. But incredibly it was actually quite a straightforward Dakar for us too, if such a thing exists. Nothing really went too badly wrong, we stuck to our pace, and as a result of all that we managed to finish the Dakar in the top 10!
It's a bit of a dream for me; in fact the whole thing still seems unreal – like it's happening to someone else. Driving to the finish, getting onto the ramp: the whole experience was actually quite emotional. There are crowds of people there cheering like mad and it's an unbelievable atmosphere. It suddenly just hits you: the enormity of the whole thing. And we got to the end, in 10th place.
The last stage went in a bit of a blur and then we had the road section to Rosario. There was a lot going through my head at that time, but mainly happiness and relief!
There are a lot of people to than, so apologies if I miss anyone out. Obviously there's Andy, my co-driver. He's just been a beacon of calm and wisdom throughout the whole event, and it's been fantastic to benefit from his experience.
Then I'd like to thank Mini UK for putting their faith in me as a brand ambassador and lending me their support. Last but certainly not least, all my family and friends who have given me so much encouragement throughout the whole adventure. It's been a privilege to share this amazing experience with them.
What's next? I'm not sure yet but it's going to start with a couple of weeks off just to recuperate and come down. It's going to take me a few days to grasp it. I'm going to stick around South America, because I've enjoyed seeing the countries and meeting all these amazing people. It's a fascinating, welcoming place. And it's always going to hold very special memories for me, from now. What an amazing day.
Saturday 16 January 2016
So that was the final proper day of the Dakar and for the first time we had an actual mechanical problem, which is something of a rarity as our car has been amazingly reliable.
Our power steering failed towards the end of the stage, which meant that the biceps got a workout. We did around 80 miles with that, but it wasn't too bad: it's like normal steering but much stiffer, so you really have to put a lot of effort into it. On a really twisty stage it would be a nuisance but it wasn't too bad in the end.
It's at times like that you feel quite grateful for all the hard work you put in at the gym: it's definitely paid off because physically I've not felt too bad at all throughout the event. And now I'm going to keep this level of training up throughout the year.
Because of that problem we dropped a bit of time today, but not a lot in the end. It didn't really matter anyway because we've got a big gap behind us to 11th place.
Tomorrow is the final day of the rally and it's just 100 miles to the finish in Rosario. It's funny how 100 miles feels like absolutely nothing these days. But it still forms a competitive part of the rally, so keeping total concentration is an absolute must. You're never going to win the rally on a stage like that. But you can certainly lose it.
Friday 15 January 2016
My co-driver Andy Schulz and I have had some really good stages and I'm feeling very comfortable with the Mini ALL4 Racing now.
I was 13th fastest on the stage between La Rioja and San Juan, which was 267 miles long, but it wasn't actually one of my favourite stages.
There were a lot of rocks and riverbeds, and stuff that wasn't particularly technical: just long and lots of it. Still, the whole point of the Dakar is that everything is massively diverse.
It's incredible that in just the last few days, for example, we've experienced temperatures that have ranged from 47deg C to close to zero! I don't think there's any other event in the world where you get that.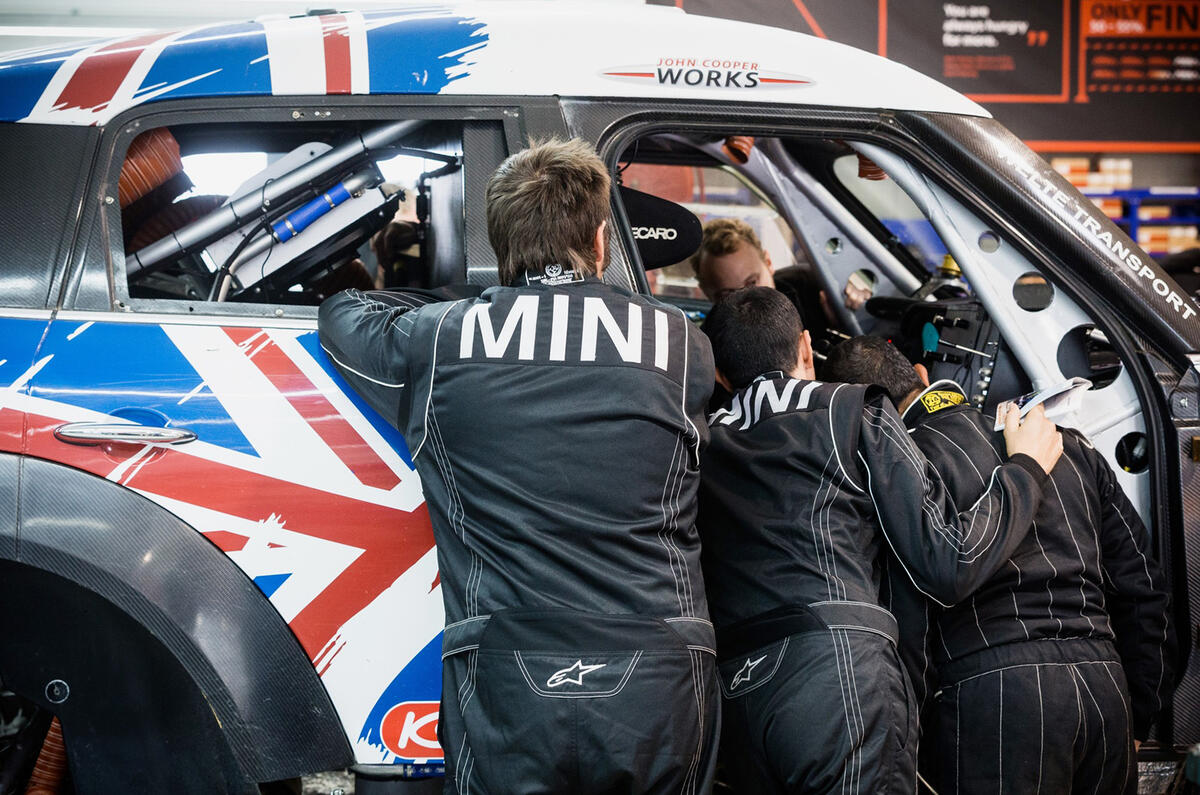 We've hung on to tenth place overall so far, which is what we hoped to do. There's a bit of a gap in front of us and behind us, so we need to try and manage everything now. The fact that we're here at all, running in the top ten of the Dakar, is pretty amazing. It's the stuff that dreams are made of: I still can't actually believe that it's happening to me.
Everyone in the team has been great. Nasser Al-Attiyah, who is currently second in the standings and has won the Dakar twice, is one of my team mates – that's pretty cool – and he's given me plenty of advice. He's a bit of an encyclopaedia when it comes to desert driving.
It's also been great to spend a bit of time with Mikko Hirvonen. He's new to the Dakar like me, but he's been at the sharp end of the World Rally Championship for many years: in fact, he came within one point of taking the world rally title away from Sébastien Loeb not so long ago.
Mikko's been amazing: he's fourth at the moment, and he may even get a podium – you never know. It would be awesome to have two Minis on the podium, but the Peugeots have been so quick this year, so hats off to them.
As for me, we've got one more long stage to go on Friday, then just a short 112-mile run to the finish ramp on Saturday. And I really, really want to make sure we're on it…
Thursday 14 January 2016
We rallied through the Fiambala dunes stage on Wednesday, and I can honestly say that was probably the hardest rally stage I've completed in my life.
To give you an idea of just how tough it was, Nasser Al-Attiyah rolled within five kilometres and Carlos Sainz retired from the lead.
It wasn't just the driving that was tricky; it was the navigation as well. Finding the waypoints was a massively tough job and that stage was simply everything that a Dakar stage should be: hugely demanding – physically, mentally and mechanically.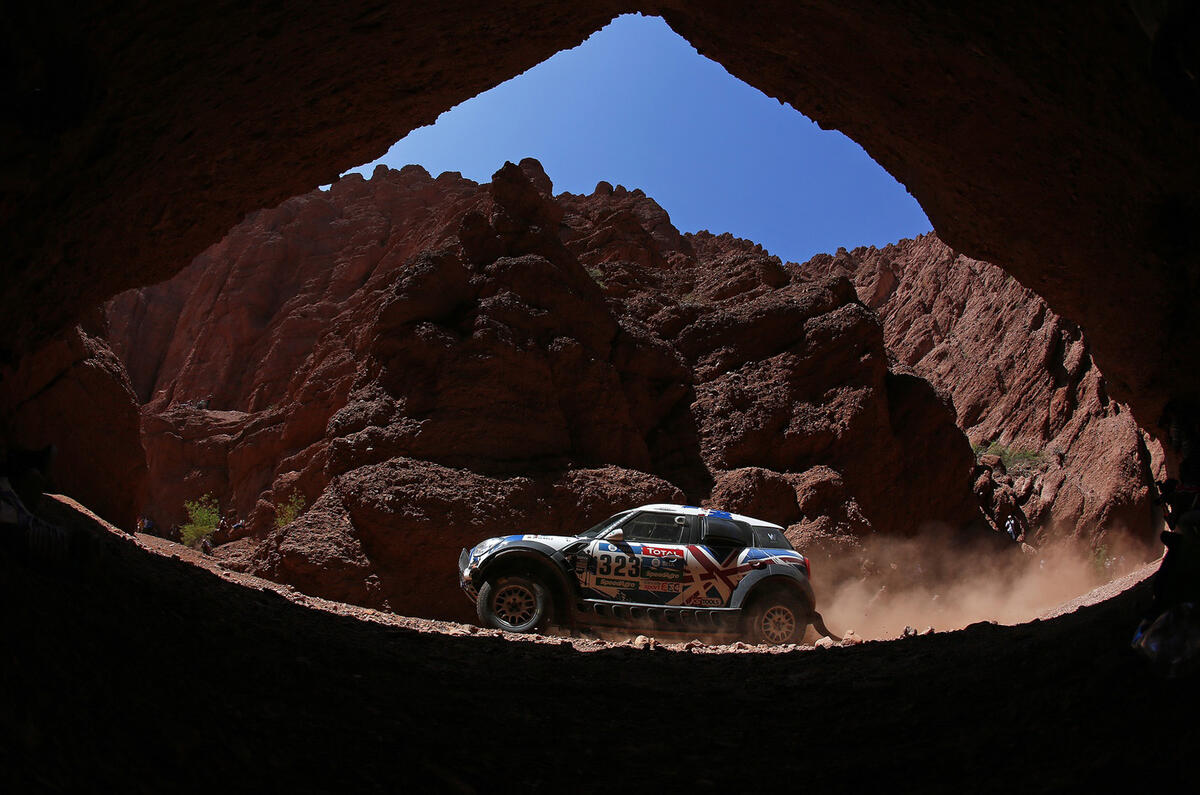 Although the stage was utter chaos, we managed to stay really focused and set eighth-fastest stage time, which meant that we were actually the second-fastest Mini through the stage, after Mikko Hirvonen. I'm so pleased with that, as I think that was our best performance on what was certainly the toughest stage of the rally. Beyond tricky, in fact.
It just all came together though, and as usual a massive thanks to my co-driver Andy, whose wisdom and experience really came into its own on that stage. You pick your way through the obstacles and you can't be too hard on the car, as it still has three days to go.
Judging that balance – between speed and safety – is the biggest challenge the Dakar presents you with. But we've already seen that the Mini is pretty strong. We saw Nani Roma on his side on the stage, so we stopped to help him get back on his wheels, and we also got a little bit lost looking for a waypoint and slightly.
We're 10th overall now, which means that these are probably going to be the longest three days of my life. Part of you thinks 'wouldn't it be great if the rally stopped now?' but to be honest I'm enjoying it too much to want to stop.
At the same time, I've got to stay concentrated. You can't even begin to get into the mentality of thinking that the rally is nearly over, as then you start to relax a bit. And that's the last thing I need right now. The stages may be hundreds of miles long, but you can't afford to relax for a second on any of them.
Wednesday 13 January 2016
Over the past couple of days we've been trying to master the sand dunes, which are always the most difficult part of cross country rallying.
Basically, you can't cross them too quickly or too slowly. And you've also got to cross them at exactly the right angle. Get it wrong and you can get beached: that's even happened to people like Sébastien Loeb and Stéphane Peterhansel – and Stéphane has won it 11 times. It's a really complex art that relies on plenty of skill and experience, as well as a bit of luck.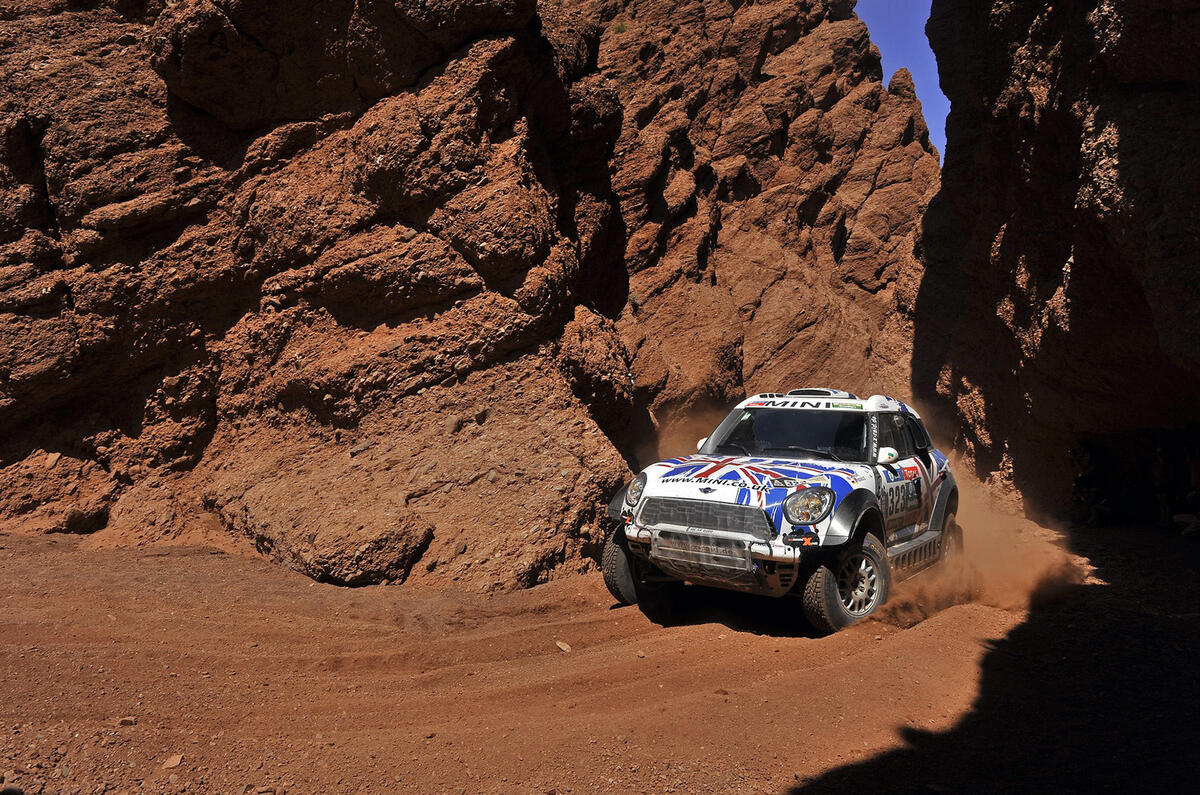 Touch wood, cross fingers – whatever superstition takes your fancy – it hasn't happened to us yet. And I've got my co-driver Andy to thank for a lot of that: he's got so much experience that he's able to offer some really useful advice. Most of it consists of the words 'slow down' – delivered in increasing levels of volume, depending on how close to the limit he thinks we are!
While we've not got stuck, what we've had to cope with quite a lot of are punctures. We had two of them yesterday – and getting out to change the wheel is no fun at all in 47deg C heat.
Yes, I didn't believe that either when I first heard it, but apparently that's what the temperature was on yesterday's stage. I saw somewhere that the hottest temperature ever recorded anywhere in the world was 56.7deg C, so it's amazing to think that we were driving in conditions that were less than 10deg C from the record!
Despite that, I didn't feel especially hot in the car – just deyhdrated! We carry about six litres of drink in the car and I got through that pretty quickly. Yesterday was probably the hardest stage I've ever driven in my life, but we got through it and Andy told me that had it not been for the punctures, we would actually have been seventh fastest overall, which is pretty amazing.
There are a few drivers who have had problems, so it's hard to tell where you are immediately after the stage, but we've moved up to 12th overall and it would be absolutely amazing to think about a top 10 finish.
I'm not going to put pressure on myself by forcing it, but so far the whole rally has gone beyond expectations. Massive thanks to Mini for giving me such an amazing car. But we're a very long way from completing the job yet.
Things can go wrong in just a fraction of a second so we have just one motto: stay concentrated, stay focused…
Sunday 10 January 2016
We've just had the rest day in Salta, Argentina, and that's given me a chance to stop and draw breath at the end of what's probably been the most intense week of my life.
It's gone really well so far: we're 13th overall behind Nani Roma – who has won the Dakar in the past – and we've even managed to set an 11th-fastest stage time: which at this level, against these sorts of competitors, I'm really pleased with.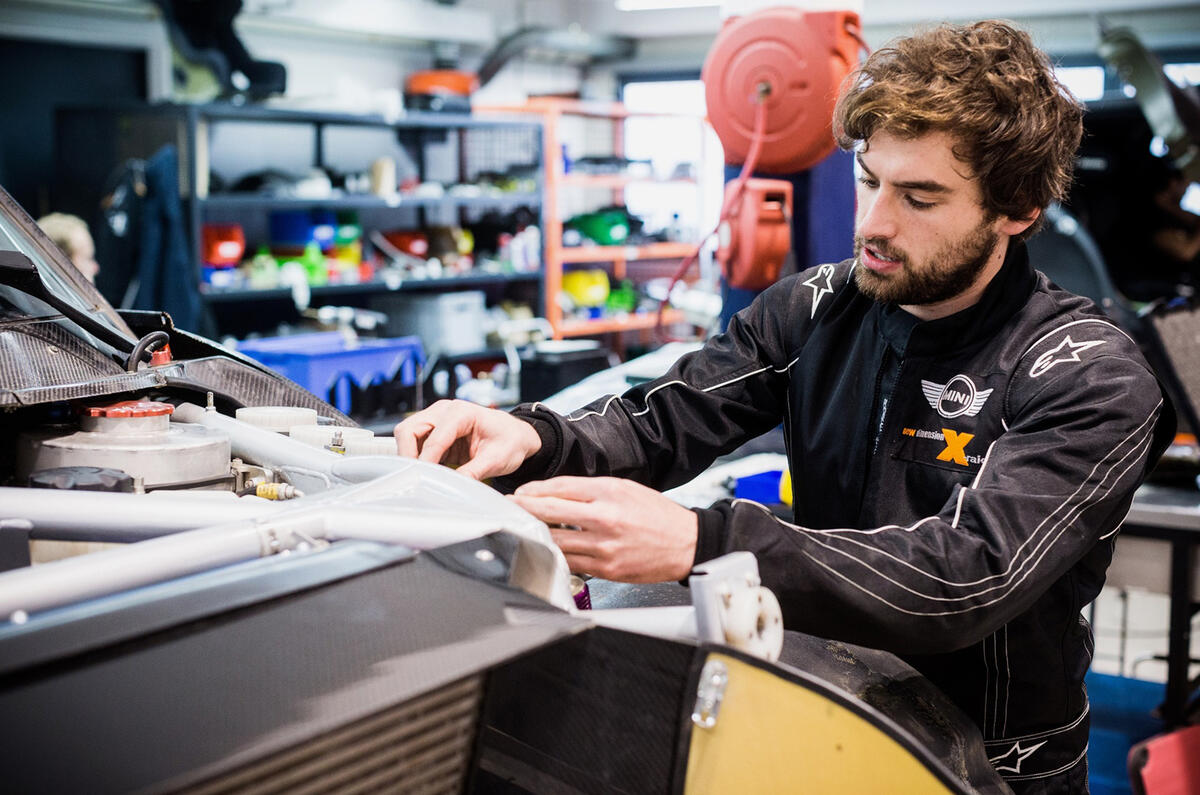 We've been going for a week now with a week still to go, but if you asked me I'd say that we've been going for weeks and weeks already – or at least that's how it feels. With the help of my co-driver Andy we've kept up a pace that I feel comfortable with, and our Mini All4 Racing has been rock solid reliable throughout the whole thing. Which is pretty incredible, as we've thrown a fair amount of punishment at it!
The rest day came at a good time, as this is such a long rally. That sounds obvious I know, but you really do need the break to recharge a bit. The good news is that the physical preparation I did before coming here seems to have worked well because I'm not struggling physically at all.
In fact, I probably didn't have to do as much heat training as I did, as the temperatures here haven't been outrageous; it's actually been a bit cooler than I expected. Still, let's see what next week brings and you can always guarantee one thing: if I hadn't done all that heat training, it definitely would have been roasting hot every single day!
The plan for next week is really to carry on in the same way as we have up to now. We've got a good rhythm and there's no need to do anything different. The character of the rally changes a bit over the next few days: we get more desert dunes and open spaces, which means that there's more navigation involved as well as a risk of getting stuck in the sand.
So I'm going to try and be even more concentrated and focussed than I have been up to now, as it's so easy to make a mistake here. We've worked really hard to get this far and the last thing I want is to undo all that good work.
After the rest day, we basically set off in what's almost a brand new car: the mechanics strip everything down and basically rebuild it. They do an awesome job, so a massive thanks to them all. So I know the car will be in top condition: now it's just down to me and Andy...
Friday 8 January 2016
Thursday's stage went really well: we were 12th overall, which was a fantastic result that moved us into the top 15!
I'm really pleased, because the level of competition here is immense and we all know the difficulty of the rally: people don't call it 'the toughest rally in the world' just for fun.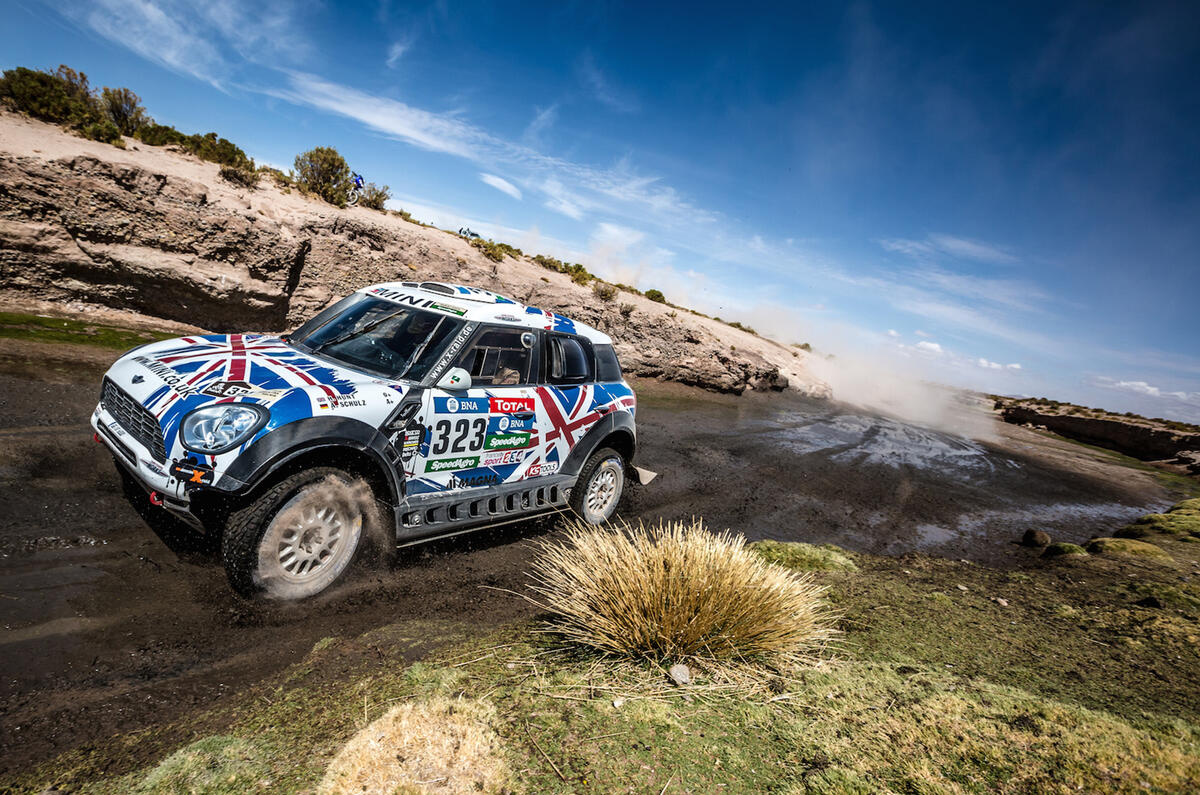 The biggest challenge for many people as we crossed into Bolivia was the altitude. This year, we reached 4600 metres, which is pretty high and there were a few people taking oxygen to help breathe better.
Luckily I felt fine: those altitude sickness pills obviously worked! And my Mini All4 Racing was bullet-proof as well, which is just what you needed after the marathon stage. I've been really pleased to see that I've not suffered too much physically, which is always a bit of a concern when you go into a rally that is as demanding as this one. But so far, I've been feeling OK as we start coming up to the halfway point.
And that's actually the craziest thing of all. We're not even at the halfway mark but it already feels like we've been driving for a very long time: we're probably at the point where we've covered about the equivalent of half of a World Rally Championship season.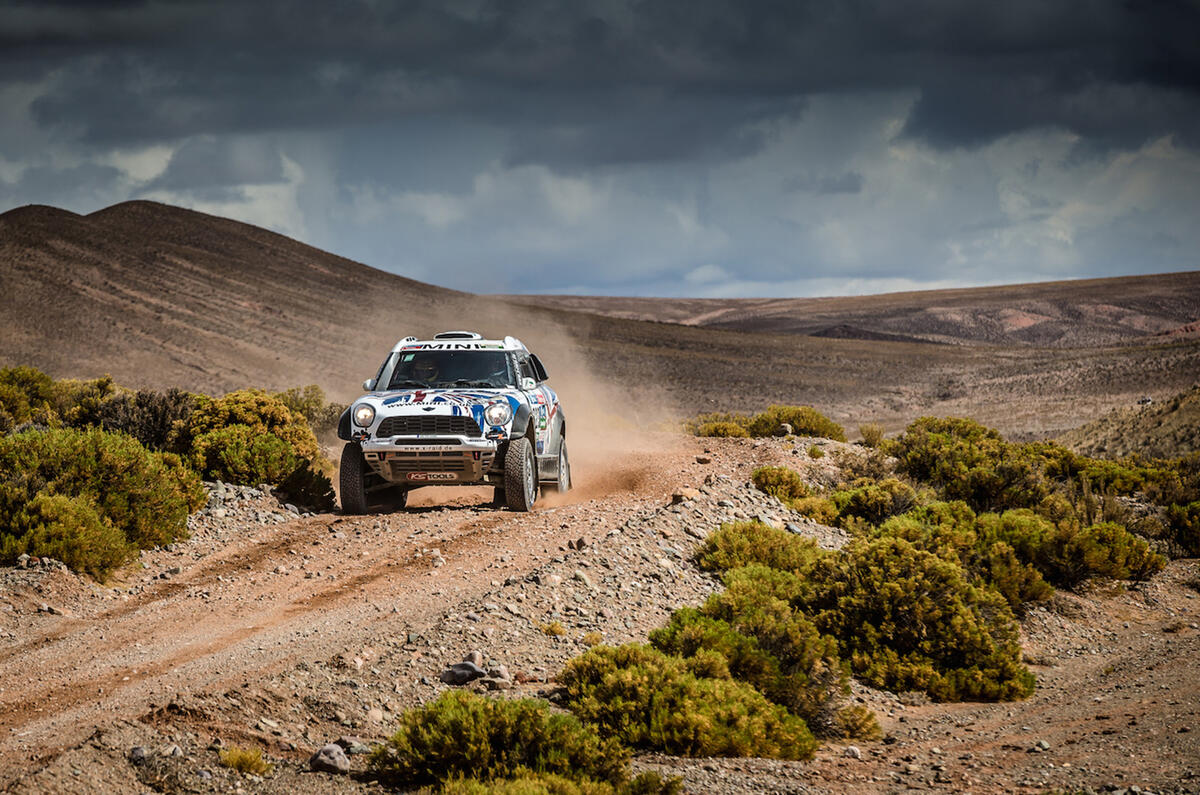 That's the most epic thing about this whole rally : the sheer scale of it all. I'm so impressed by the way that Mini and the X Raid team which prepares my car approach things – dealing with the logistics of an event like this one is a challenge in itself.
Saturday's stage is the longest of the entire rally, so I'm really looking forward to it. Without a doubt, this is the biggest adventure of my life so far. There aren't many motorsport events you can do where you have to look out for passing llamas…
Thursday 7 January 2016
So Wednesday actually turned out to be the first day when a complete full stage was run for every category: bike, car, truck and quad.
It was good to finally get going but unfortunately we picked up a puncture in our Mini All4 Racing: there were quite a few sharp rocks about and we weren't the only ones – Carlos Sainz had a puncture too, right at the start of the stage.
Actually it wasn't a big drama at all: we changed the tyre really quickly, as it's something we practise a lot, and then we were on our way again. The great thing about the Dakar Rally is that if you have a small problem like that, it doesn't massively matter because the stages are so long. In the WRC, if you have a puncture, it can be game over in terms of a meaningful result.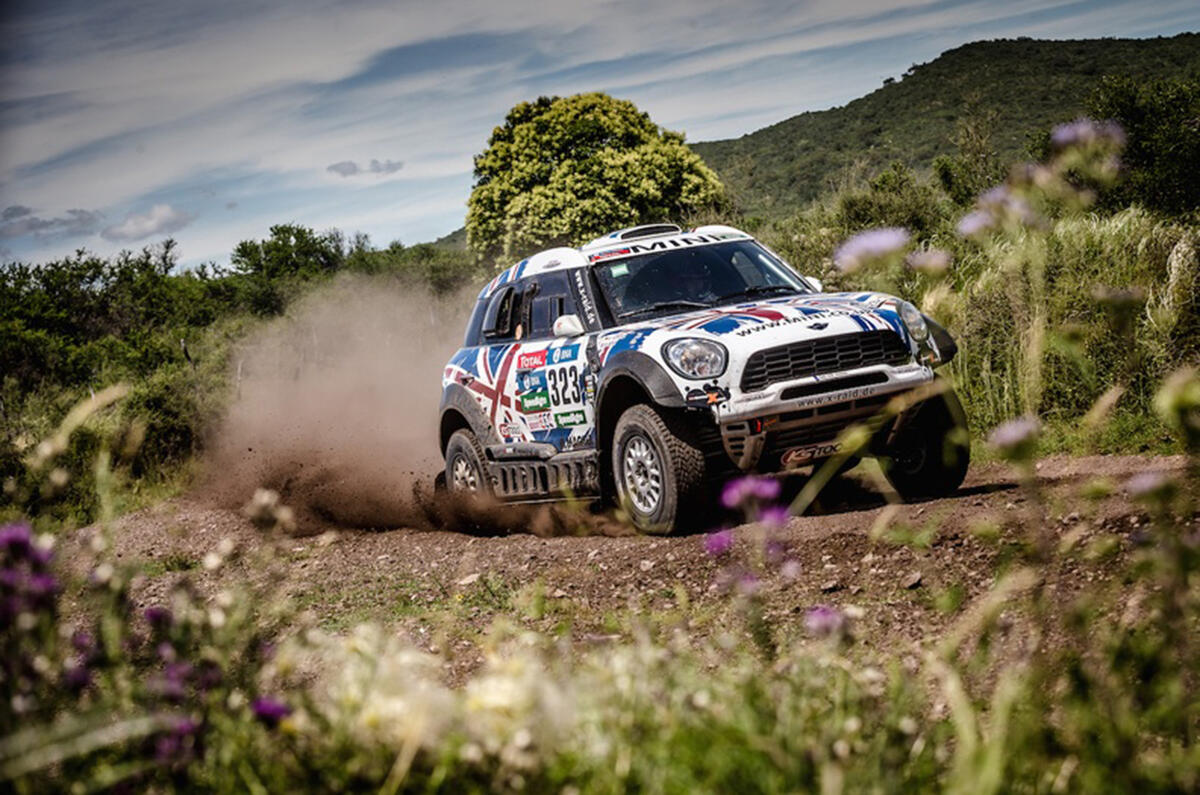 The only thing we need to be a bit careful of now is spare tyres: because this was the first part of the marathon stage – where the cars go straight into parc ferme without service – we can't take on any more spare tyres until we reach the bivouac at Uyuni – which obviously means that we have to be a bit careful not to pick up any more punctures, otherwise we'll have a problem.
We're still around 17th or so – you don't actually look at the overall results so much here: just a window of performance really. At this point we want to be running in the top 20 and learning as much as possible; that's the goal for my first Dakar.
And obviously we need to finish. So we're concentrating on that rather than seeing who is in front or behind us, although I've been told that our pace is pretty encouraging.
The stage was really quick: some massive flat-out sections. You really notice the effect of the altitude on the engine though, and that's going to become even more pronounced tomorrow as we climb to more than 4000 metres.
The event doctors give you some pills that are meant to combat altitude sickness, so I'll soon find out if they work or not!
Wednesday 6 January 2016
Well, I'm still loving it! And we're still keeping our place in the top 20. But yesterday's stage was a really tricky one. Again because of the weather, the stage was shorter than it was meant to be, which chopped it down to just under 120 miles in total.
When you go through villages and other areas there are sometimes a few speed-limited sections on the stage, with a maximum speed in place. But because Tuesday's stage was compacted, there were actually quite a few of those sections – every three miles or so – which made it very hard to find a rhythm in our Mini All4 Racing.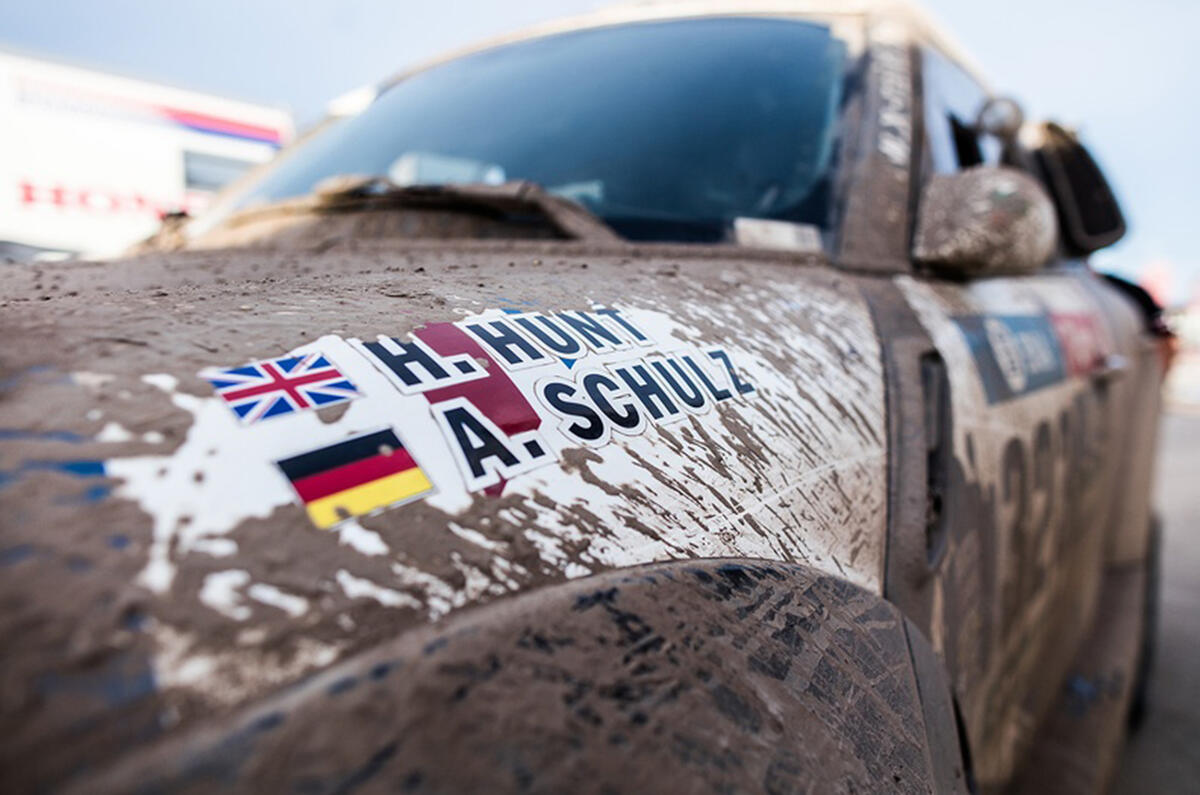 In total, around 20% of the stage was speed-limited, so it felt very stop-and-start. I thought that might just have been me, but then Stephane Peterhansel said exactly the same thing after the stage – and he's won the Dakar 11 times, so that's quite reassuring!
In any case, I'm here to learn so you just have to take the conditions as you find them. And on the Dakar this year, that can be summed up in one word: wet. We had a lot of mud and a lot of rain, which made things really difficult, but I think the worst part of the rain actually came when we arrived back in the bivouac at Jujuy, in northern Argentina.
As we were driving back to the hotel in the evening after the team briefing, it just tipped it down: I've hardly ever seen rain like it. There were people wandering around up to their knees in water and streets that just looked like rivers. The thing that I'm learning about Dakar, is that everything is huge. And that certainly applies to the rainstorms as well.
Tuesday 5 January 2016
At last! Yesterday brought our first full day of proper Dakar action – and it certainly didn't disappoint.
Originally it was going to be more than 300 miles of competitive stage, but that was chopped down by 75 miles because a lot of the roads ere still damaged from the rain yesterday.
Actually it wasn't too bad: there was only one really muddy place – where quite a few people got stuck – but the rest was just brilliant and really enjoyable. We went at our pace and finished in the top 20, which is just what we were after.
What I was really pleased by was the fact that we felt comfortable in the Mini ALL4 Racing: or as comfortable as you can be when it's about 50 degrees Centigrade or more inside! We took no real risks at all and we got the job done.
So far, the actual event is everything I thought it would be and more. What's been absolutely brilliant is having the possibility to meet the fans: they really make the event.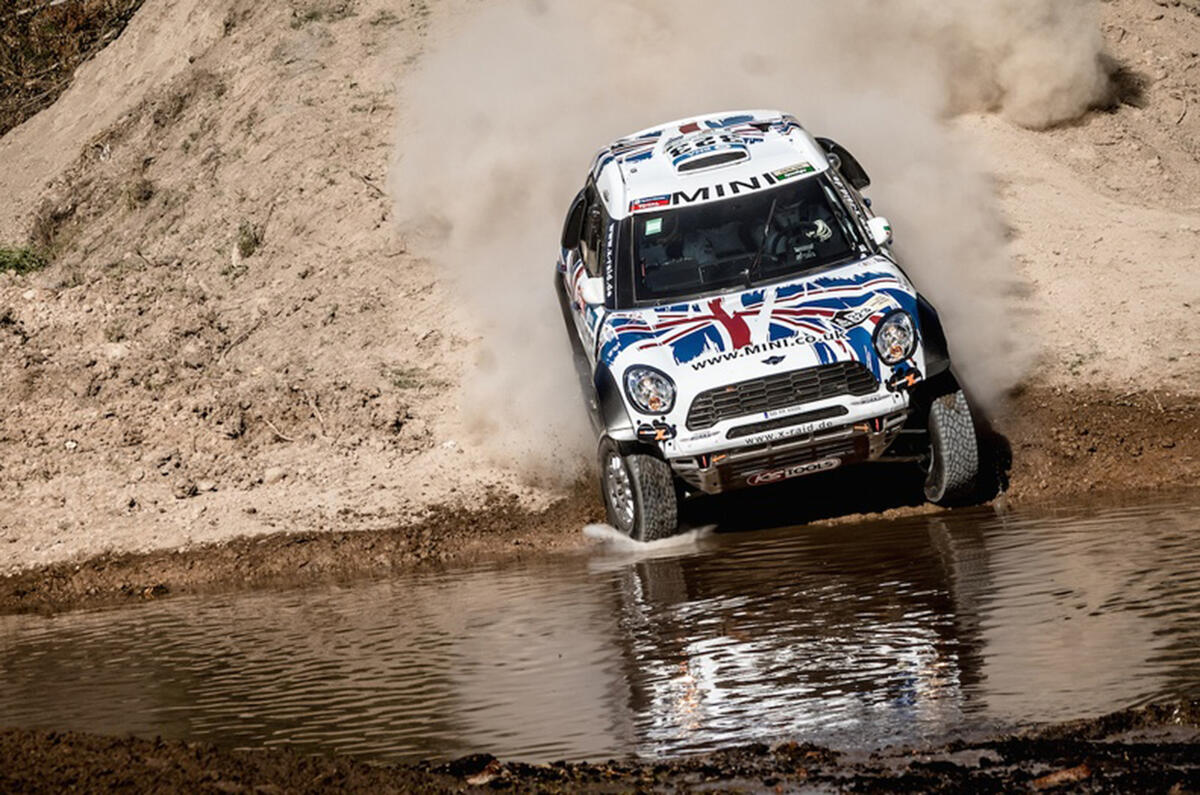 We stopped at a service station and straight away we had loads of people coming up to us: I did loads of interviews and photos and it's just great to see everybody enjoying themselves and the event so much. You really get the impression that it's more than just a race – it's all about the country and the people and experiencing something that's unique.
Although it's only been the first proper day, a few people have hit trouble: my Mini team-mate Nani Roma got stuck in the mud and by the time he'd got his car out, he was covered from head to foot in mud! It was like he'd been mud-wrestling or gone on an exotic beauty treatment or something.When I got back to service they were jet-washing his seat, which is not something I've seen before.
Still, there's a very long way to go, which is what I need to keep on telling myself. My co-driver Andy has been brilliant: all that experience really shows and he's helping me to pace myself.
One final thought: you've got to hand it to Sébastien Loeb, haven't you? To win your first proper Dakar stage is quite something: I'm not sure anyone has ever done that before.
You can see why he's had so much success at so many things throughout his career. Onwards now to Jujuy, close to the Bolivian border, where we're going to try to keep exactly the same sort of pace as we had yesterday.
Monday 4 January 2016
I didn't get the chance to write much yesterday because not a huge amount happened: the first stage was at first delayed, and then cancelled all together.
From what I was told it wasn't so much that the stage was impossible to drive; more that the clouds and storms meant the medical helicopter couldn't fly. When it's like that there's no choice for the organisers really: the only thing to do is to not run the stage.
A pity, because I was looking forward to getting my teeth into it, but that's just how it is. Still, we did a fair amount of driving and I could actually feel my Mini ALL4 Racing start to aquaplane even on the road section in some places, so that gives you an idea of how much water was about.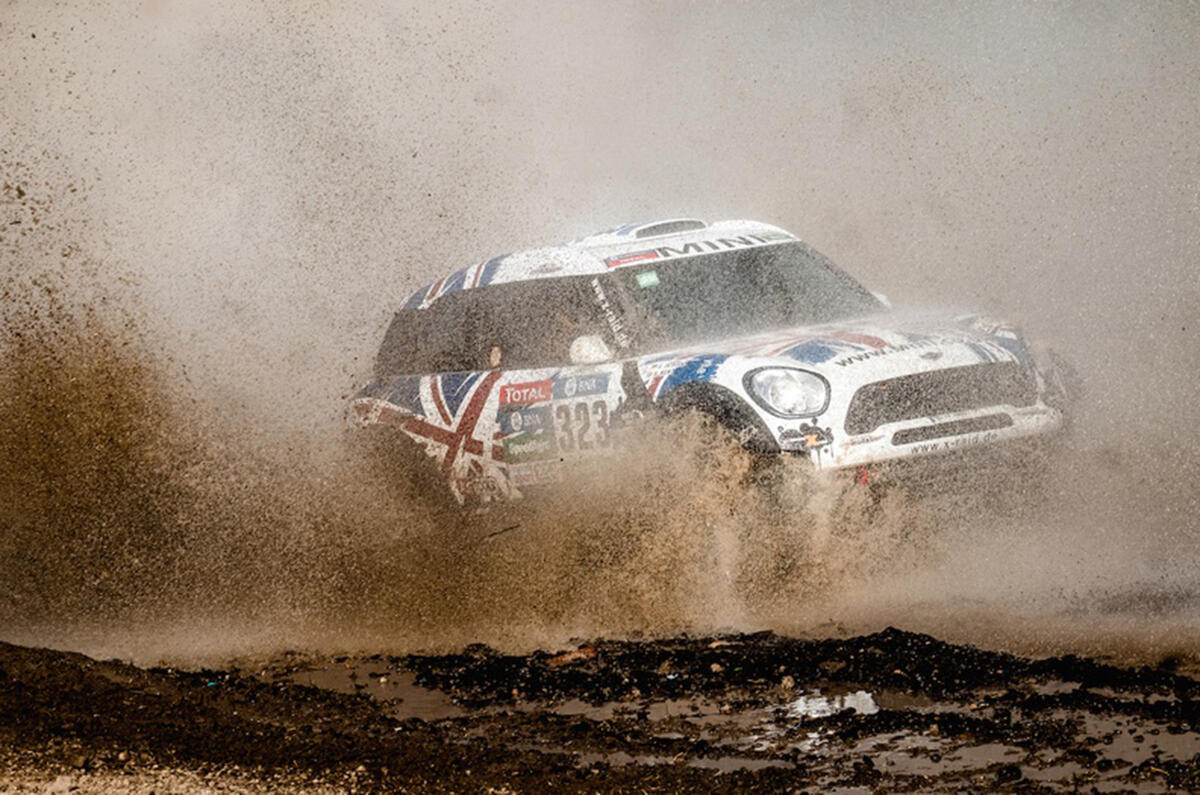 Time in the car is always useful; even if it's just driving around. It becomes more and more your environment, so it certainly wasn't a wasted day.
The bivouac overnight was at Villa Carlos Paz: a place I know quite well because it's the home of Rally Argentina on the World Rally Championship, where I've competed before. So it was good to be back there, even though the weather was pretty grim!
With an early finish and not too much to do at service, there was time for a rare treat: I managed to get out to dinner at La Volanta, which is a bit of a legendary steakhouse in rallying circles, right in the middle of Villa Carlos Paz.
There are photos of all the greats on the walls: Colin McRae, Carlos Sainz: you name them: they are there on the wall somewhere. The steak was pretty legendary too: I obviously have to be a bit careful about what I eat, but it was definitely a good protein hit that's going to give me plenty of energy over the next few days.
Just as we were leaving, another legend came in: Sébastien Loeb. So that's got to be a good recommendation, hasn't it?
Sunday 3 January 2016
The first full stage was cancelled due to thunderstorms.
Saturday 2 January 2016
So after all the waiting and anticipation, we're finally off! Or sort of, anyway. Today's stage was the prologue: just a short 6.8-mile stage that's a warm-up for the main rally, although the overall times still count towards the final score. Not that 6.8 miles make much difference in a total route that's about 6000 miles long!
I guess the prologue is a bit like the superspecial stage on a rally, although it's not something that's been held on the Dakar recently. I was told that they used to have a prologue stage all the time when the rally started in Paris, and that in 1987 Ari Vatanen managed to crash on it, before the rally had even properly started.
So there's a cautionary tale! In the end, we just took it nice and steadily, finishing in the top 20, which is sort of where we wanted to be: it doesn't really matter. Then it was onto a 93-mile road section to the overnight bivouac in Rosario, which is northwest of Buenos Aires. By Dakar standards, that's really not much driving at all.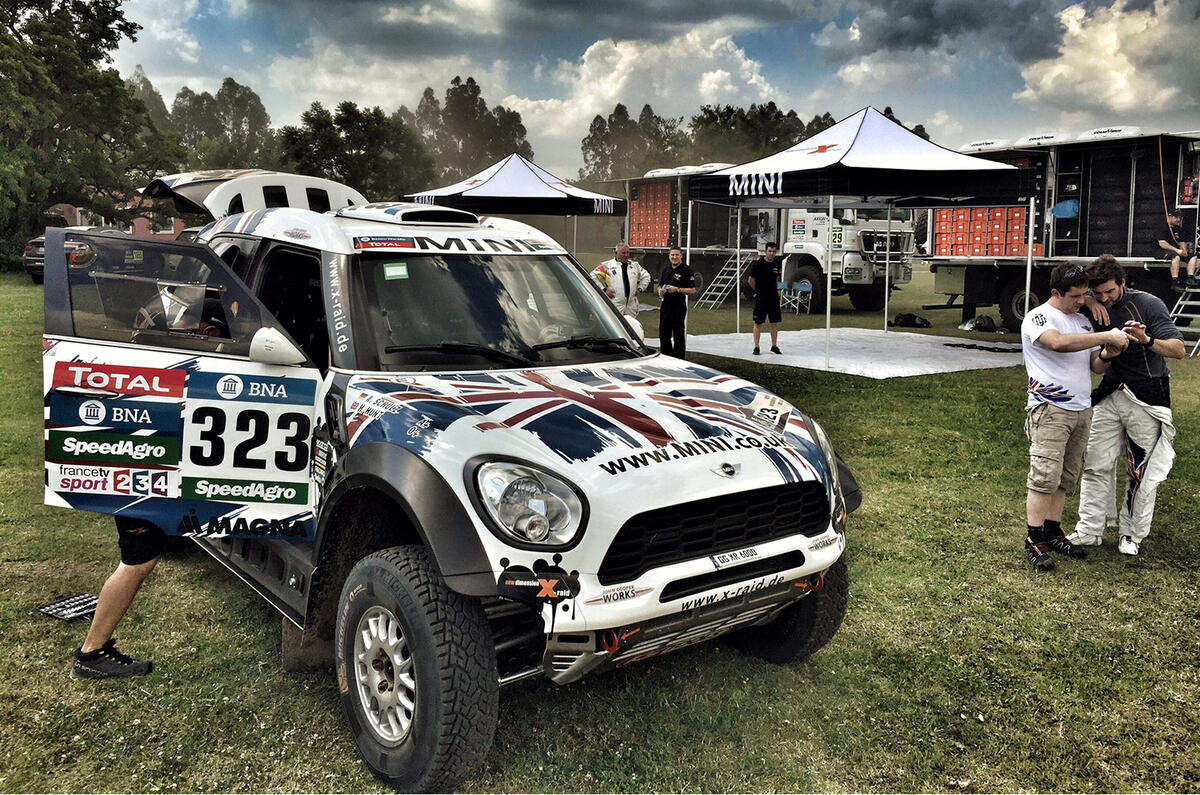 It was actually quite nice for me to have the prologue stage today though, because while a large part of you just wants to get on and get stuck in, this is still my first Dakar, so having a taste of the competition before it all gets really serious is quite a good way in.
As we drove out of Buenos Aires, I was amazed by the crowds: everyone comes out to watch and really gets behind the event – which is great to see. It's feels like a proper adventure: you're very aware that you're doing something quite special.
As soon as we got to the bivouac, the hard work really started for my co-driver Andy: he gets the road books for the following day from the organisers and has to go through them. And if you bear in mind that it's a 160-mile stage tomorrow (which is still actually the third-shortest one of the rally) you can imagine that it's a lot of road book to get through. It's just as well that he likes road books…
For me, I'm still just taking it all in at the moment. It's amazing to be here, representing Mini UK, but it's also a bit surreal. As the days go by, I'm sure everything will start to feel a bit more normal.
Follow Harry on Twitter: @harryhuntdakar
Friday 1 January 2016
It's only when you actually get to Buenos Aires in Argentina that the nerves kick in, but it's a good excitement: the feeling that you just want to get on with it and start driving rather than waiting around.
The bit that people don't really see about the Dakar Rally is all the logistics and administration that goes on beforehand. There's literally a ton of documentation and our team handbook is 100 pages long.
Luckily, my co-driver Andy Schulz takes care of most of that, so I just have to follow his advice. And given that he's got about 30 Dakars behind him now – he's actually one of the most experienced co-drivers on the whole event – that advice tends to be spot on.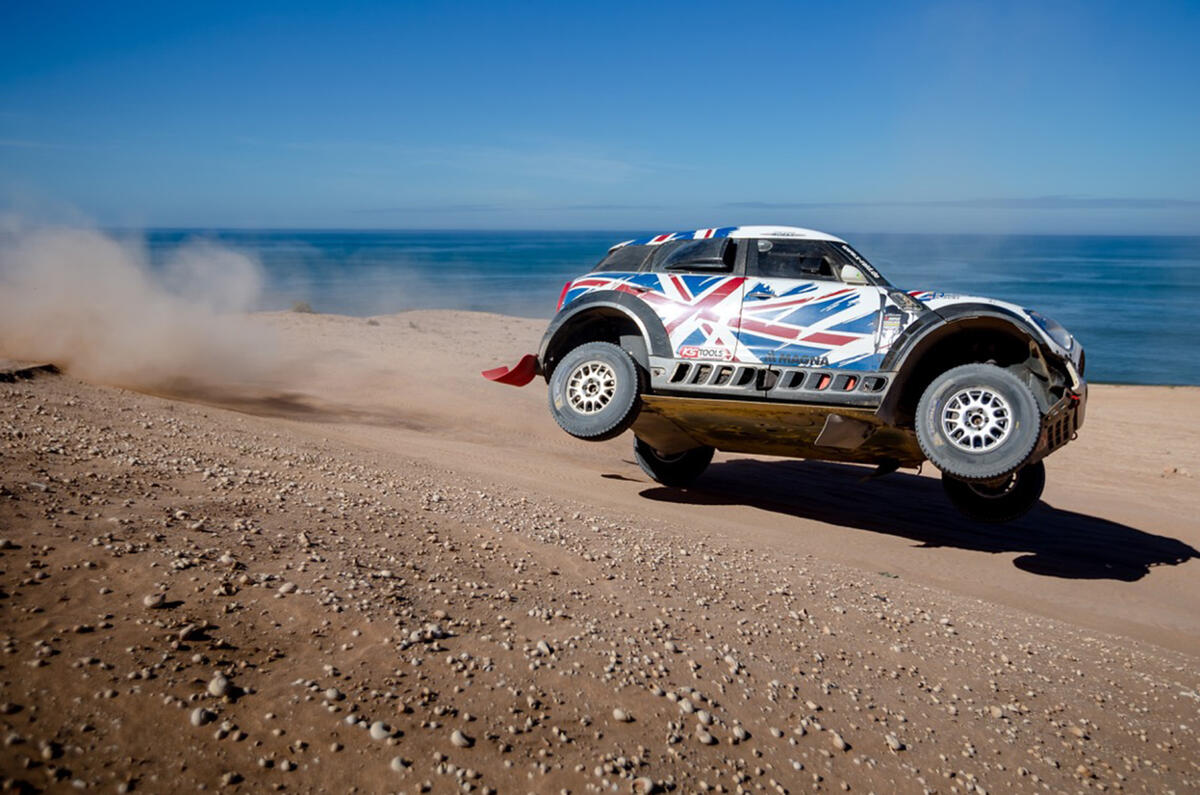 We completed a short test around 30 miles outside of Buenos Aires, which was the first opportunity I had to drive the Mini since the Rallye du Maroc in October. On that occasion, we were the second-placed Dakar rookie after Mikko Hirvonen, whose reputation speaks for itself, so that was an encouraging result. More importantly, it gave us a good idea of the pace we needed to drive at for the actual event.
We completed around 20 miles at the test yesterday, which was really all about getting back into the groove of driving the car again before the ceremonial start in the evening of 2 January in Buenos Aires.
The test went really well, it felt very natural to be back in the car again and it was good to see that the results of all the fitness training I've done over the last few months are paying off. I even spent a lot of time in a heat chamber, so although the temperature has reached up to 38 degrees centigrade in Buenos Aires recently, I'm hoping not to notice it too much...