A very helpful marshal stepped back from the car, looked at it and shook his head.
"Mmm, you might struggle."
Chalk Lane: just outside Goodwood, just outside Lavant, just outside Chichester. In all honesty, you probably don't know it. Why would you? It's nothing but an overgrown bike track that's used for folk walking their dogs and running up. And down.
It's not made for a Porsche Cayenne GTS.  Certainly not one on gorgeous 21-inch wheels, super low-profile tyres and a sheep-worrying lime-green paint job. But a horrible road accident on the way into Goodwood left me with two choices, re-routing back into Chichester and waiting in line for the next two hours.
Or Chalk Lane.
My wife wasn't convinced.
"Are you mad?"
I promised we'd take it steady. Not far in, with the road still resembling a road, we passed an Audi S3 coming towards us.
"Good luck," said the driver as our windows passed, "it's not for us…"
Round a slight corner and the road went mental. Mrs E followed.
The rain had carved a deep channel into the middle of the track. I raised the Cayenne into WRC-spec and tip-toed across. With just three of our four wheels in touch with West Sussex for much of the time, we continued our ascent.
It was about now that I was starting to question our decision (the rougher it got, the more I shared responsibility for our current, precarious position).
Then we saw the top of the hill and tarmac. Gorgeous, glorious tarmac.
I was astonished. Undoubtedly, a knobblie-booted Land Rover Defender would have legged it up there in no time, but the Cayenne was awesome. Not once did we bottom out or lose traction. We didn't even have to deploy the off-road mode. That would have been the last resort.
There's no doubting the Cayenne GTS' towering speed, epic poise and fabulously weighted steering, it's everything and more you could ever want from a performance SUV on a B-road. The real surprise came on Chalk Lane.
Having made it through the gates to Goodwood a little later than expected, the family and – thermos – flask were unloaded for a weekend of full-bore fever.
This is an annual pilgrimage for the Evans family (World Rally Championship calendar permitting). The cars bring us, but it's the atmosphere and ever-increasing awareness from manufacturers that this really is a family weekend.
Keen to congratulate Porsche on its Cayenne's capabilities, we headed straight for last week's Le Mans winner – stopping so Oliver could get a pic with the fly-slaughtering #19 car.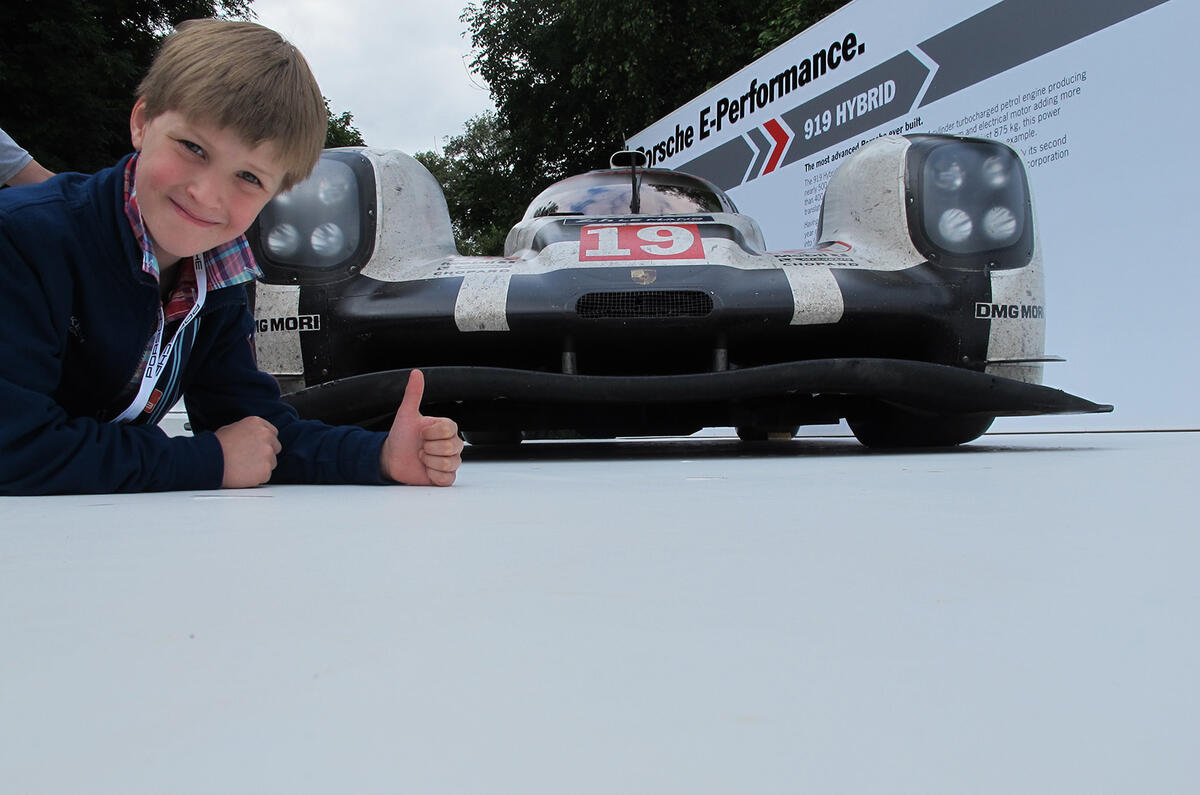 Not content with my tales of fearless off-road-ness, Porsche men Rob Punshon and Ali McCall packed us off to plough one of Lord March's meadows with a Porsche Cayenne S.
I'm fortunate that my work takes me off-road and sideways quite a lot. I was sure the Porsche in a muddy field would be entertaining, but I wasn't expecting much. Obviously, the speed wasn't high, but the mechanical grip – let's face it with summer tyres inch-deep in mud, the only sort of grip – was astonishing.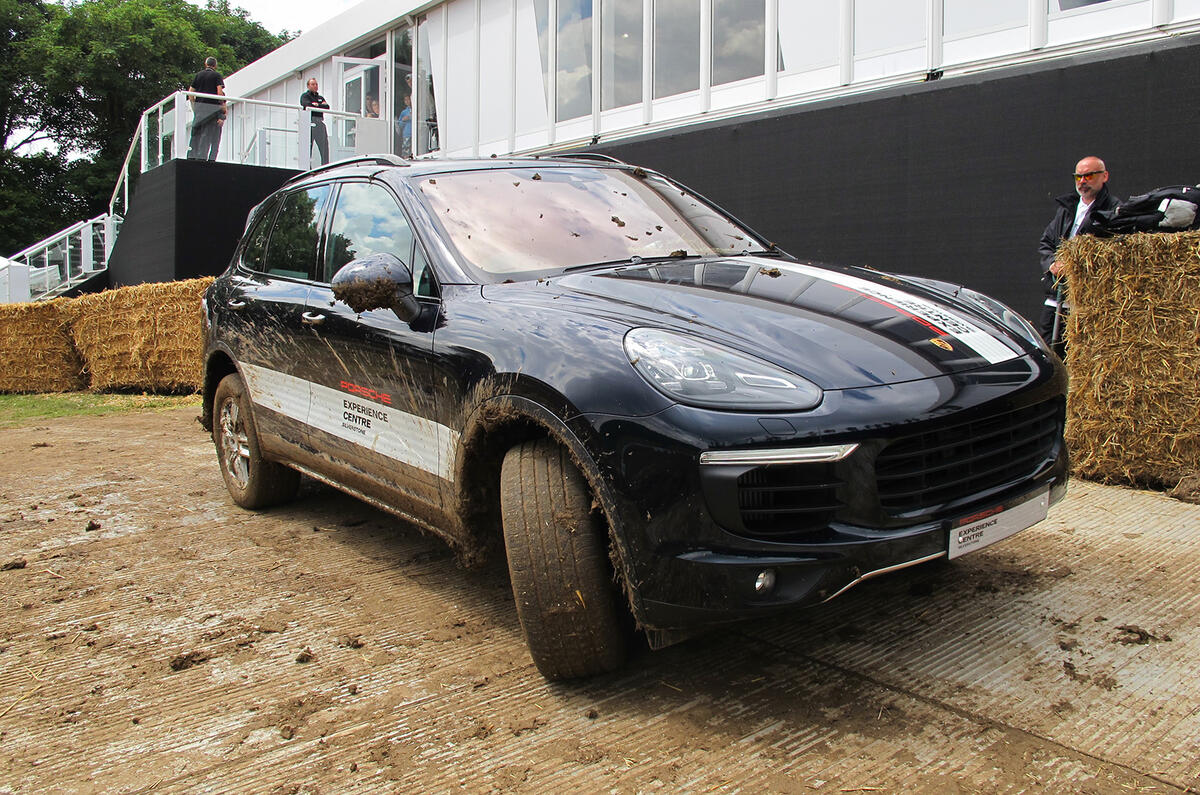 Running with the dampers in sport mode and traction control off, the car was sublime. Using weight transfer to drift from one corner of the field to the next, it was an absolute hoot. And the perfect start to the weekend.
Porsche's family offering didn't end there, with Hot Wheels races and the chance for the children to lap Silverstone in a Porsche 911. Both were taken and thoroughly enjoyed.
The only moment of discontent at Porsche came with the realisation that I was joking: actually we weren't going to buy Oliver and his sister Georgia a 718 Boxster. Offering one 43 times smaller than the real thing helped. Until that went south when I baulked at £37 pounds…
Time to go.
In recent years, Vauxhall has been the class-leader in Festival family entertainment. It was bang on it again this year, with football-golf, which involved kicking the ball through a variety of Vauxhall wagons, and face painting. That's how Georgia ended up looking like a dolphin and Ollie a snow leopard (in case you were wondering…).
But the real deal from Vauxhall was a zip-wire. The children loved it so much we queued three times. I didn't mind: Big Bertha and an original Lotus Carlton were both close enough to kill some time.
Having got a taste of feet-off-the-floor action, Ford had to be next. The Leap was calling.
The Leap involved, as you might imagine, a leap. Basically, you jumped off the second floor of the stand into one of those enormous air bag things. Ollie and Georgia were both straight into it. I tried to lose myself in a Mustang, but still somehow got dragged to the edge and kicked off. I'd show you the photo, but it's not exactly flattering… Or conducive to encouraging further participation in The Leap.
This year's Festival of Speed was one of the best yet. Sure, the weather was miserable at times, but the on-track action was typically brilliant, with the best of everything that makes our sport and industry the best in the world.
And away from it, there was a refreshing shift from the hardcore industry heavyweights looking to turn this into Geneva in a field. This was the world's finest festival of speed doing what it says on the tin.
The highlight of day two was a radio-controlled car race courtesy of Carwow and some serious BMX action from Goodwood Action Sports. Having lost Georgia to Harry Potter for Sunday's second run of Formula 1 cars, the time had come to head home.
The Saturday morning traffic man was wrong: the Cayenne conquered Chalk Lane. And regardless, Goodwood would always be, and will always be, worth the struggle.
David Evans