When you try out the features of Bosch's concept car for yourself, you get a sense of how different the car of the future could really be. 
Bosch demonstrates car technology of the future with CES concept
To be clear, this is a static technology demonstrator that I'm trying at CES, more of an interior concept than anything else, with the road projected on screens ahead.
The German supplier has no plans to build its own vehicle. But as automated driving technologies advance and the car's behaviour changes, the interior will be the place where drivers will notice the biggest physical differences. 
Bosch describes it as a "third living space" – after your home and workplace. For one of the concept's designers, Janine Schlink, who spends too much of her day stuck in Stuttgart traffic, that idea is all too real.
So what will we do in this space? To find out, I 'steer' onto an autobahn and hand control over to the car by using both thumbs to press touch-sensitive buttons on the wheel for three seconds. The seats then automatically slide backwards to create a lounge setting, with two large, central OLED touchscreens to provide the entertainment.
Relaxing in the 'back', all that's missing is a fridge for that cold after-work beverage. Thanks to its household appliance expertise and the Internet of Things, however, Bosch does provide the next best thing – a live video link to your fridge at home. Mad? Well, not entirely.
Bosch's new virtual kitchen assistant, Mykie (short for 'My kitchen elf'), can be called up and directed through a mixture of voice commands, touchscreen controls that use NeoSense haptic (touch) technology to provide the feel of three-dimensional buttons, and an ultrasonic gesture control system. That latter is at an early innovation stage and proved resistant to my ham-fisted attempts to swipe and grab.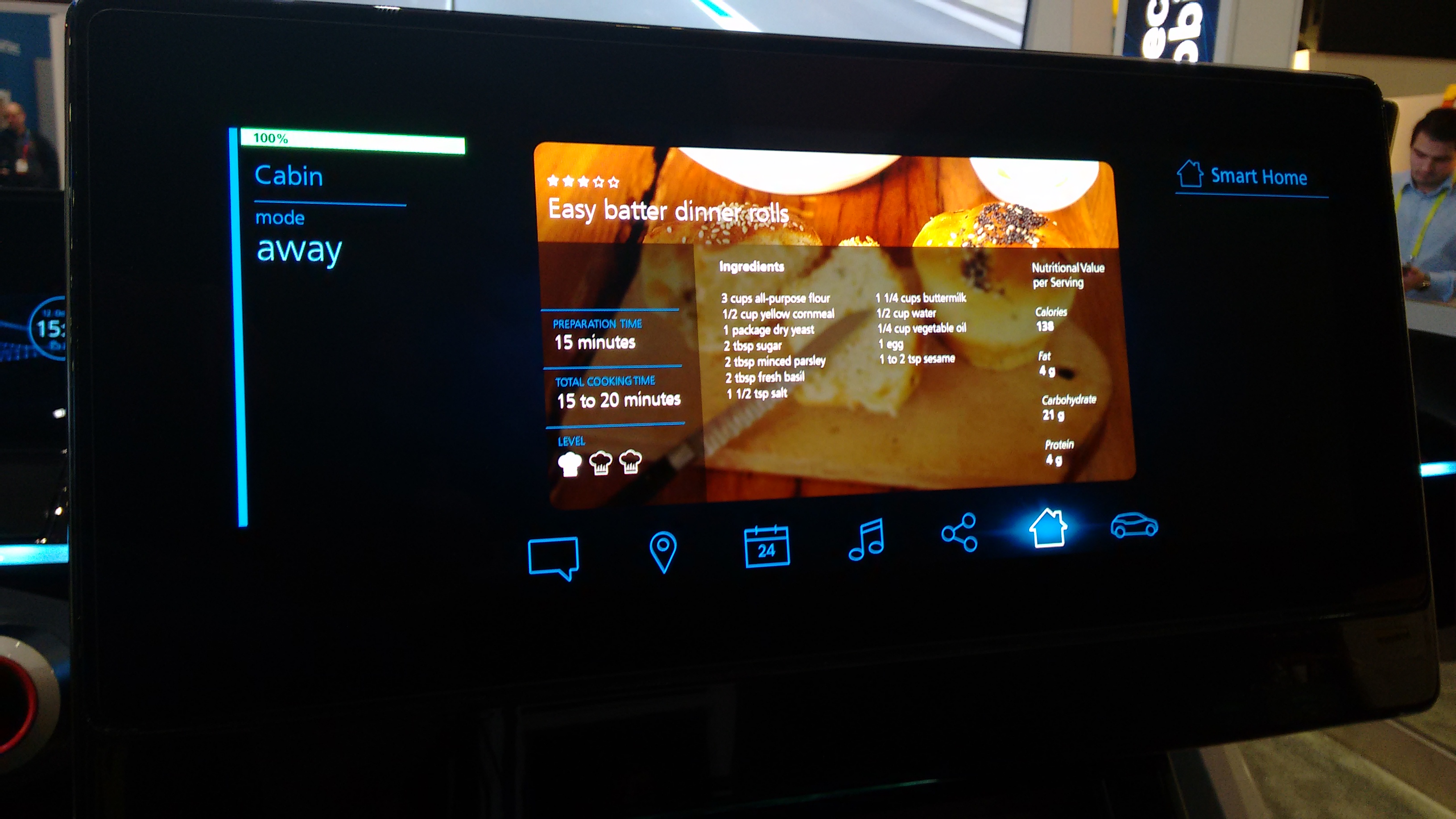 "Show me some seasonal recipes," Schlink tells Mykie, which brings up a selection to choose from. Thanks to two cameras in your Bosch fridge back home (or in this case, elsewhere on the show stand), we can then see whether we have the necessary ingredients to make that beef bourguignon. If all that's in your fridge is a half-empty jar of Dolmio, then you can use the in-car grocery shopping app to get the missing items delivered to your house.
Schlink says that features like NeoSense and Mykie could be on cars within a few years, and that the IOT connectivity options won't stop there. "Bosch has so many products and we have the opportunity to connect everything together," she adds.
Shopping done, we head for home. We pretend I've nodded off in my comfy lounge, and when the time comes for the car to hand control back to the sleeping driver, it tries hard to rouse me with visual and audible warnings. Having been unable to do so, it pulls off the autobahn at the next junction and finds a safe place to stop.
How cars deal with the handover of control to and from the driver will be one of the most important aspects of making autonomous vehicles viable. Enabling you to check your fridge will be less vital, but it's fun all the same.
Graham Heeps