Our Verdict
The reborn Toyota Prius may be the world's most popular hybrid, but it faces stiffening competition from Hyundai, Volkswagen and Audi
First Drive

Does running a plug-in hybrid really make sense as a 500-mile-a-week driver? Six months with a Toyota Prius Plug-in should give a conclusive answer

First Drive

Second-generation Toyota Prius Plug-in hybrid gets a bigger battery with new 39-mile electric range, more tech and styling updates, but it's expensive
Why we're running it: Is it a logical next step towards full electrification or an expensive distraction? Few cars intrigue more than the Toyota Prius PHEV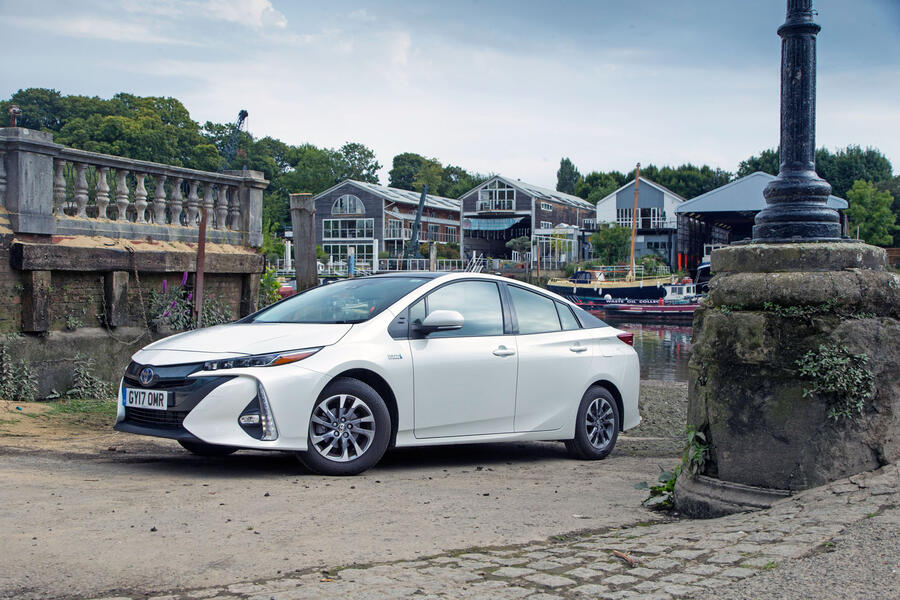 Life with a Toyota Prius Plug-in: Month 3
The Prius's seasonal range changes – 06 December 2017​
Having come to depend on the car's battery-only capability for my city commute, I've begun noticing how battery range changes with temperature.
On 18-20deg C days, the full-charge cruising range of the Prius PHEV was about 30 miles.
Now winter has bitten, it's 26-27 miles, enough to knock the overall average back to 95.1mpg. Still impressive, I'd say.
Mileage: 6859
Life with a Toyota Prius Plug-in: Month 2
The perks of driving a plug-in hybrid – 15 November 2017
One of the best things about running a car that needs charging points is that said sockets tend to be in prime parking spots, such as in the big bosses' car park where we work.
No security man dares protest when the Toyota glides in every morning, but if it were a petrol BMW, they'd kick it out, sharpish.
Running petrol consumption still at 96mpg.
Mileage: 5480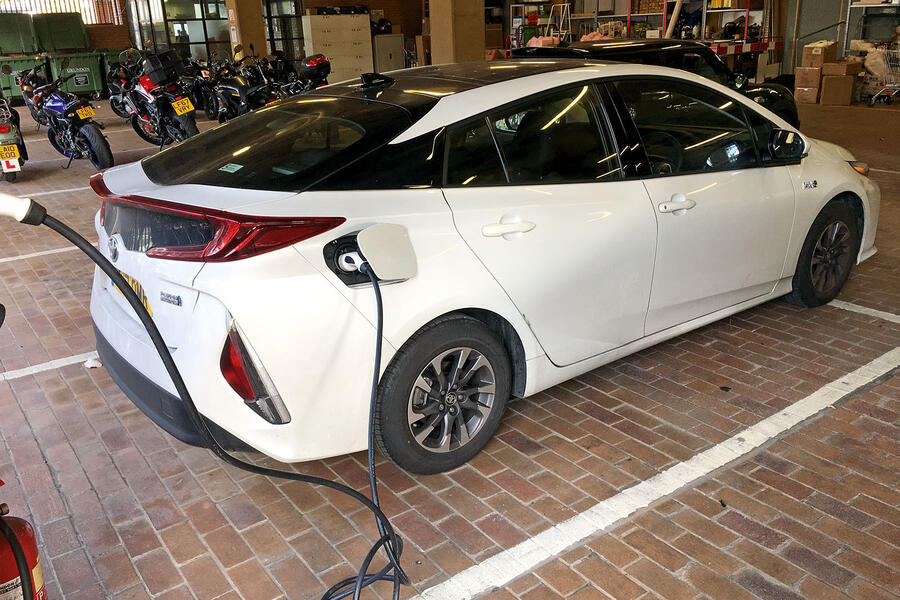 Driving the Prius without economy in mind – 25 October 2017​
There are only two things I honestly dislike about our Toyota Prius plug-in, and both are located on the carbonfibre tailgate. They're the badges that prominently read PRIUS PHV (on the left) and PLUG-IN HYBRID (on the right).
I guess they're there because Toyota is determined to stress its increasingly famous environmental credentials.
Trouble is, other drivers take these things the wrong way. There's a growing body who know exactly how the plug-in hybrid functions, and associate it – and the person behind the wheel – with an economy-chasing driving style that casts the driver as someone who will impede the progress of the driver behind, perhaps for fun.
This is wrong. The Prius plug-in can lay down a perfectly reasonable 0-60mph acceleration time of 10.3sec, enhanced by the instant response from standstill of its electric motor, and the ability of its continuously variable transmission to provide the perfect gear ratio for every occasion.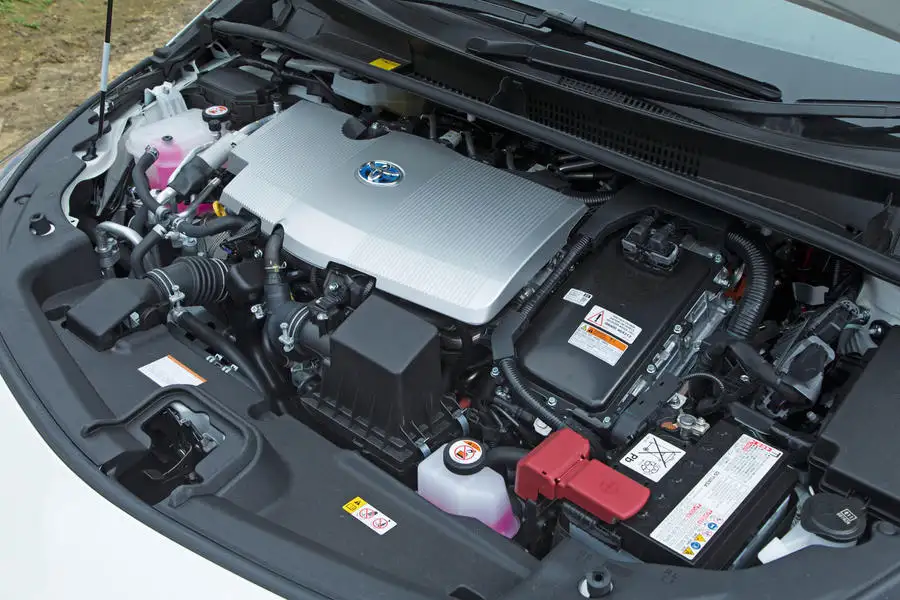 It's true that you're inclined at times to adopt an unhurried driving style – because the main purpose of this car is low fuel consumption and ultra-low emissions output – but I resent the presumption that this is a slower car.
It's not slow, either in a straight line or around corners. The handling may not be sporty, but the car has a very low centre of gravity, its weight distribution is much closer to 50:50 than any conventional front-drive hatchback, it has quick, uncorrupted steering and a small wheel, and given its modest tyre size it grips very well in bends, which it negotiates neutrally.
I've surprised plenty of ordinary repmobile drivers in roundabouts with both the step-off and the grip, which makes it galling to be cast as a member of the Anti-Destination League. If I could magic those badges away, I'd do it.
Ironically, I'm discovering that the Prius PHEV is an economy car, whatever driving style you adopt. At first, I always drove for economy, fearing that if I didn't, I'd discover fuel-drinking foibles I didn't want to know about.
My policy is to recharge the car whenever I have a decent opportunity (these exist both at home and at work) and the result, at 4984 miles driven, is an average consumption of 101.6mpg – plus (as someone is bound to point out) the electric power I've used. A handy read-out tells me that, despite the fact that I've done lots of motorway driving, the car has spent 42 percent of its time in electric drive.
More important is my experience when the car's operating beyond its electric range, which I've discovered is a dependable 33 miles in town, 25 miles on the motorway.
Cruising with the rest of the motorway traffic (with only an occasional tickle from the battery reserves to aid resumption of cruising speed after an obstacle), you can get 65mpg – courtesy of design and technical features such as the small frontal area and the fuel-saving Atkinson cycle engine – without trying. With effort, you can push it to the high 70s.
Such things may not provide the rush of conventional high performance, but they can definitely afford you a lot of satisfaction. If this is the future there's nothing to fear, and plenty ahead to enjoy.
Mileage: 4984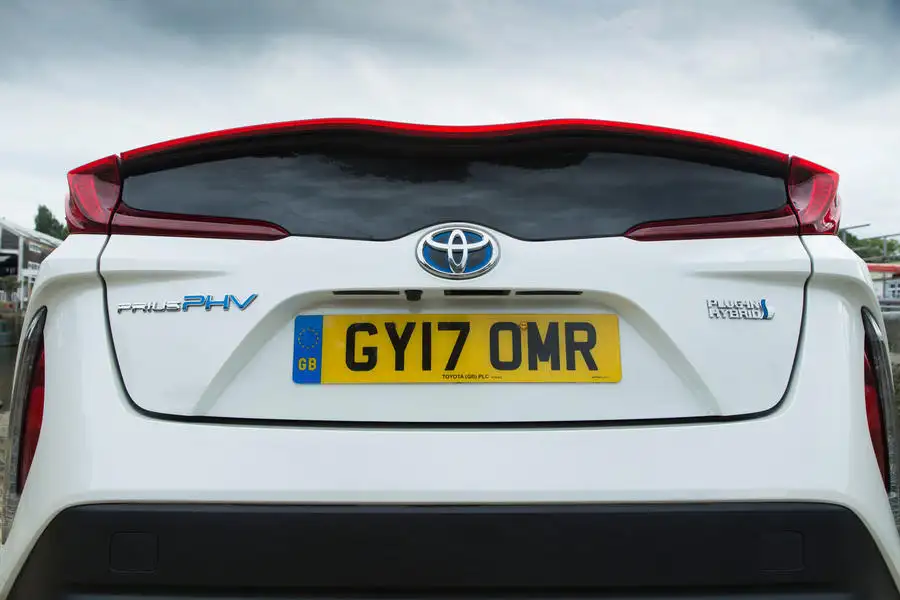 Life with a Toyota Prius Plug-in: Month 1
Getting in a tangle with Prius PHEV's cables – 04 October 2017
For a car that is so logically thought out in nearly every other way, the Prius's cable storage arrangements are annoyingly hard to use.
The compartment provided is too small, which means you simply resort to coiling the cables and chucking them in the boot as neatly as you can, compromising the shallow space even more than it already is.
Mileage: 3105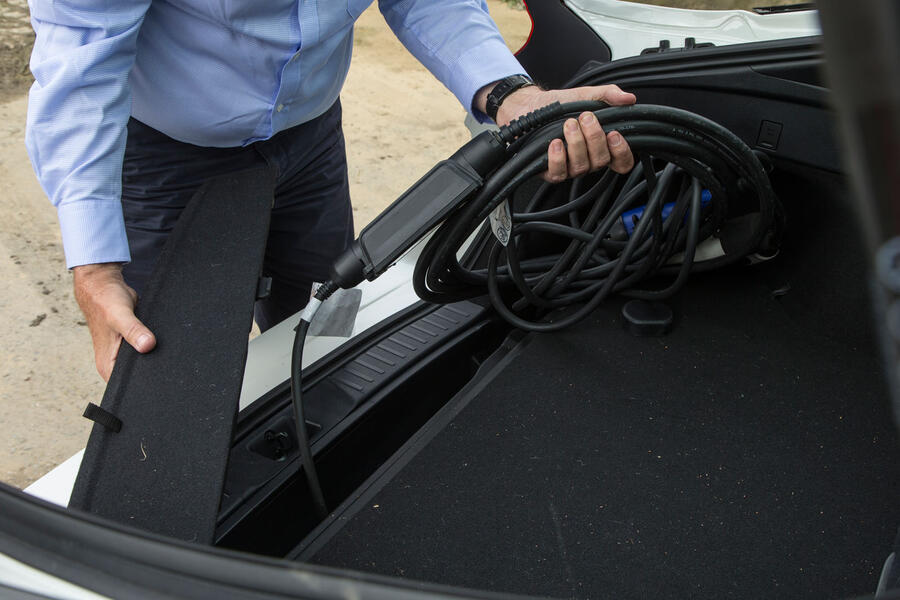 Welcoming the Prius Plug-in to our fleet – 06 September 2017​
Funny how friends, usually those who don't care much about cars, get straight to the heart of car matters.
"This thing's all about fuel economy, isn't it?" said someone who's never bought a decent car in his life, on first clapping eyes on my Toyota Prius PHEV.
I'd not have put it so baldly. To me, the plug-in Prius is a bundle of intriguing new technology. It is built on Toyota's bold, better-packaged TGNA architecture, has its electric-only top speed lifted from 53mph to 84mph, boasts a remarkably low aero coefficient of 0.25 and packs 50 percent more battery power, which it can replenish nearly twice as fast.
Its 97bhp Atkinson-cycle 1.8-litre four-pot petrol engine reaches 40 percent efficiency (30-35 percent is usual) and there's even a ventilation gizmo that knows when there's only one occupant and avoids wasting energy cooling the rest of the cabin.
Yet the plain truth is that when my friend spoke, I'd been boasting for five minutes solid about how the new Prius's trip computer was showing 100mpg for 1200 miles, even though half the driving had been on longish motorway journeys. Economy is indeed the Toyota PHEV's purpose and party trick.
I'm not sure what we wrote about this car a year ago is quite what we'd write now.
In recent months, diesels have started looking less enticing whereas plug-in hybrids (if you interpret the government's plans correctly) have been green-lighted until 2050. It's an important signal. These are cars we'd better get used to.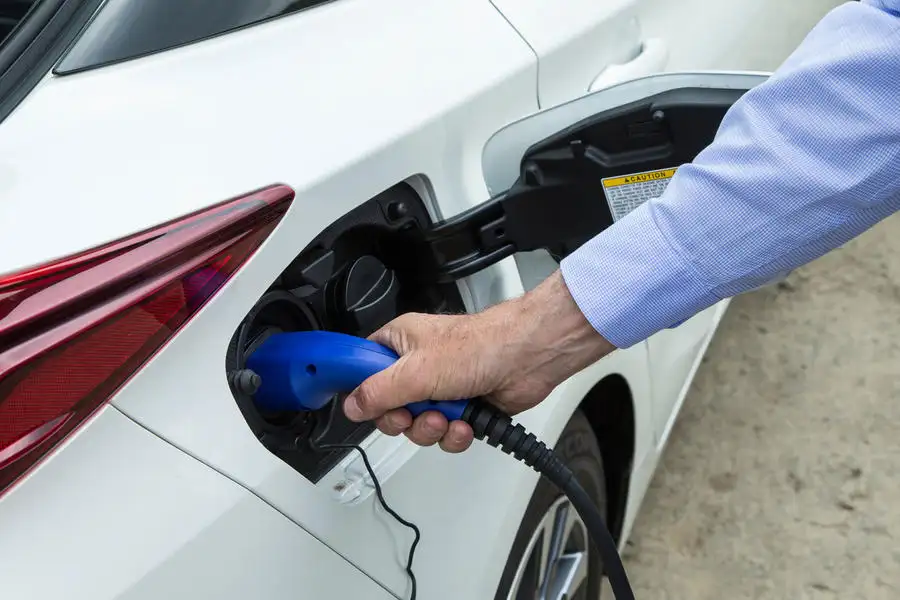 Our new Prius PHEV Business Edition relates closely in looks and function to a standard non-plug Prius.
It has the same reasonably spacious four-seat cabin trimmed in shiny, black, durability-conscious materials; same centrally located instrument pack full of fascinating functions and efficiency info; and much the same styling (apart from 11cm of extra body length to accommodate the battery under the boot floor) and a swoopily styled carbonfibre tailgate that helps reclaim some of the battery's weight.
There's quite a story around that new battery. At 8.8kWh, it has twice the capacity of the previous unit, increasing electric-only range from 15 to more than 30 miles. Despite that, it charges nearly twice as quickly, yet it's only 50 percent heavier (at 120kg) and 66 percent bulkier than its predecessor. The bad news is that the boot is now 16cm shallower than a standard Prius's, so carrying holiday luggage is now this family car's most serious challenge.
At £33,195, our Prius Business Edition Plus costs £7200 more than a similar-spec non-PHEV Prius.
However, for that difference, you get a roof-mounted solar panel (which contributes two to three miles' city driving a day in full sun, or more than 400 miles in a year) plus the 30-mile all-electric capability. There's an extra filler flap at the driver's side for the charging cable, plus all the gadgetry you need for a full charge from a Type 2 plug in two hours.
When you start driving, the first things you notice are silence, smoothness, easy step-off and the fact that this is no performance car. You can choose from four powertrain modes (HV hybrid, EV only, EV City and Battery Charge) that govern how the car's two electric motors and petrol engine work together.
With everything going as hard as systems will allow, you get 120bhp to work with. The performance figures are modest (101mph flat out, 11.1sec 0-62mph) but are kept respectable by a well-contained kerb weight of 1550kg, and the innate low-end response of the electric motors allows you a quicker step-off in roundabouts than the bald power figure leads you to expect.
What I've learned from 1200 miles' use is that how individual drivers cope with the Prius PHEV depends very much on the use the car is put to.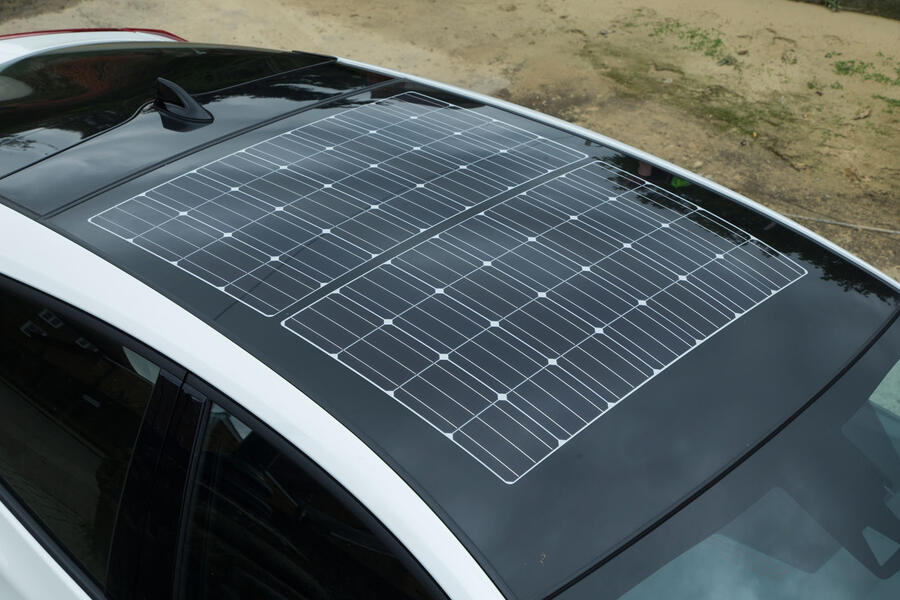 Station-and-school users may rarely need anything but electric power. But if, like me, you do 500-plus miles a week, about 100 miles of it at slow speeds in the city, charging the car as often as possible, your bottom-line petrol economy will hit the high 90s and sometimes reach three figures. You'll discover that 70-80mph is the viable cruising speed and that, with reasonable care, you can get an impressive 65-75mpg even without electric assistance. So yes, it's all about economy.
However, the chassis ability is a surprise. The all-independent suspension (struts in front, double wishbones behind) has relaxed spring rates and the car rolls on 15in wheels with squishy sidewalls so the low-speed ride is absorbent. There's a bit of a tendency to bounce at middle-range speeds, but the car is quiet and comfortable over suburban bumps.
Which makes the steering and grip a major surprise. The car corners neatly, grips well, doesn't roll much and has quick, uncorrupted steering.
It's never going threaten the GTIs, but it grows increasingly enjoyable and accurate to drive as you explore what it can do. The underbits may be exotic but the Prius PHEV is fitting my average-busy business life very well.
Second opinion
For many, the Prius's Achilles heel may be the asking price, but if the maths do work (and for some they will), then the car itself is supreme: economical, refined, spacious and more. It is yet another example of why there is no reason to fear the onset of electrification
Jim Holder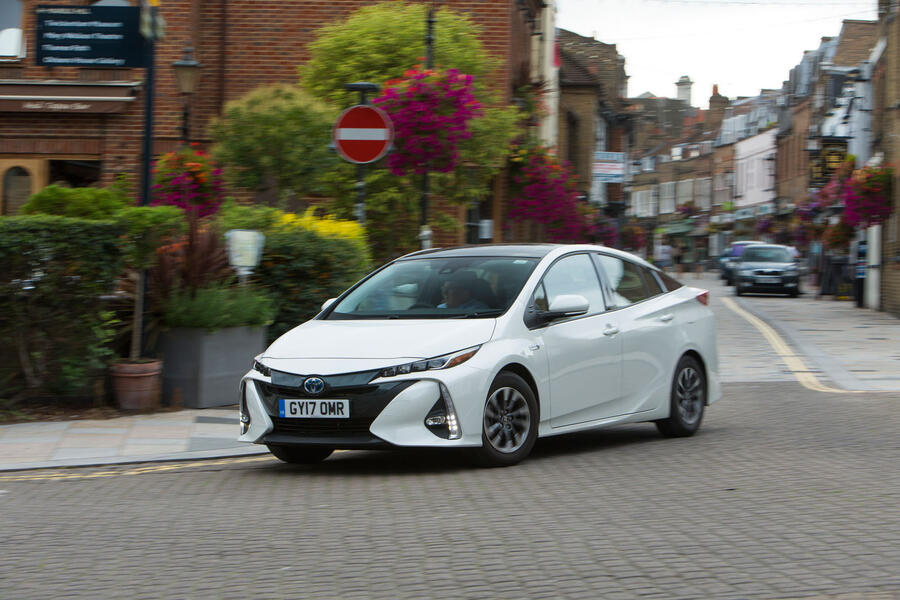 Toyota Prius Plug-in Business Edition Plus specification
Specs: Price New £33,195; Price as tested £33,990; Options Pearlescent paint (£795)
Test Data: Engine 1798cc, petrol, plus dual-motor hybrid assist; Power 120bhp; Torque 105lb ft; Top speed 101mph; 0-62mph 11.1sec; Claimed fuel economy 283mpg; Test fuel economy 96mpg; CO2 22g/km; Faults None; Expenses None