What is it?
The new Toyota Prius Plug-in, christened variously as the Prius PHV or the Prius Prime depending on where in the world you live, is a car sprung from a daydream had almost ten years ago, by a group of Toyota engineers looking to come up with the next giant leap in hybrid car technology.
"The idea that inspired us," explains Chief Engineer Shoichi Kaneko, who worked on the original Prius Plug-in before leading his team to produce this replacement, "was to come up with an electric vehicle that charged itself."
Two decades earlier, a similarly simple idea had become the driving force behind the original Prius hybrid: 'the EV you could drive like a normal car'. Only a Japanese car maker, surely, could pioneer a powertrain so complex that it would take the rest of the car industry decades to catch up, and then use it to deliver on such a beautifully pure vision as that one.
Twenty years on from the introduction of the hybrid hatchback that changed the world, though, Toyota's Prius sub-brand is under attack. It needs another reinvention: another light bulb moment. So is the Prius Plug-in that spark? Not quite, I fear.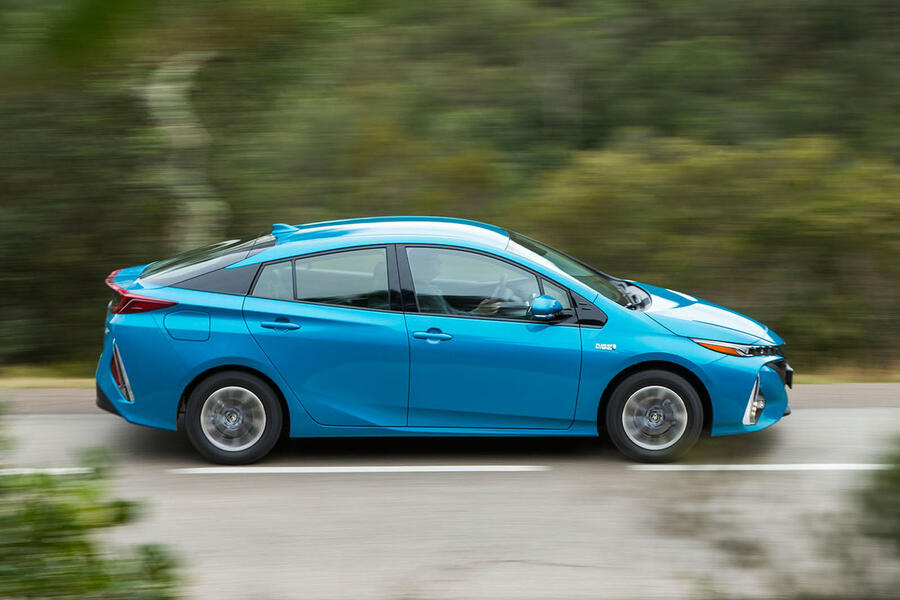 This is a clever car with some very neat features – chief among them an optional solar panel roof that can put enough power into its drive battery for a 90% charge in little more than a week. But it quite plainly isn't the car to restore Toyota's reputation as rightful owner and keeper of the petrol-electric playbook.
What the Prius Plug-in is, under the softened, massaged styling that moves it discretely away from the more visually arresting regular Toyota Prius and Toyota Mirai, is a fourth-generation Prius with a quite widely overhauled electric powertrain. An 8.8kWh lithium ion battery is accommodated under the boot floor in place of the standard Prius' much smaller nickel-metal-hydride one, alongside a more sophisticated high-voltage electrical system to shuffle power in and out of it.
Toyota claims a big gain in real-world performance and driveability for the car by virtue of fitting its first ever 'dual motor' hybrid powertrain. In fact, the company has simply made the Prius' existing motor hardware work harder. A new one-way gear between the car's 1.8-litre Atkinson Cycle petrol engine and the smaller motor-generator of the Prius' two-motor hybrid drive set-up allows both of the Prius Plug-in's electric motors to work together to drive the car when it's running in 'EV' mode, upping electric-only power from 71 to a combined 102bhp.