Why we ran it: To evaluate Jaguar's under-appreciated entry saloon and discover whether some of the UK's BMW 3 Series and Audi A4 buyers need to think a little deeper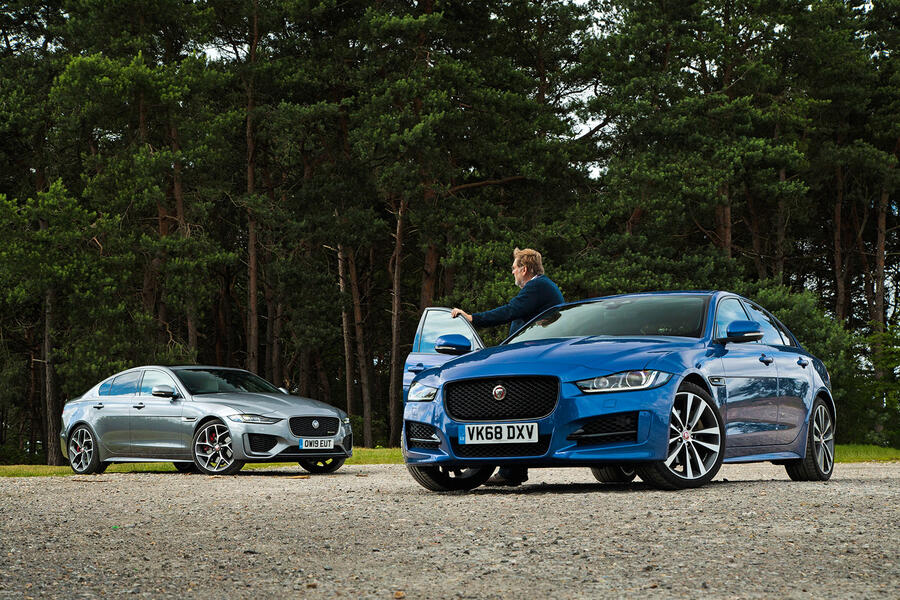 Life with a Jaguar XE: Month 4
Quality time spent in an original XE and a facelifted version has let us get under the skin of Jaguar's compact exec saloon - 31st July 2019
It was always an odd idea, running an original-spec Jaguar XE R-Sport on long-term test when the mid-life refresh was just around the corner. We did it for a couple of reasons.
The XE is a car we've always liked but hadn't written much about. And given that the mid-cycle revision was close, we reckoned it'd be interesting to see how our criticisms of the original XE matched the changes Jaguar had cooked up for the model's second life. We arranged to borrow a new-spec XE to run alongside our trusty blue 68-plater for its last month in our care.
First things first: nobody denies that the original XE has been a decent but somewhat disappointing car. It is well proportioned and sporty. Its suspension design is sophisticated, combining sure handling with impressive refinement. It drives nicely, but original models look drab outside, with an absence of exterior impact, and have a fascia layout that is nothing special. The XE situation has been further complicated by a worldwide decline in demand for compact premium saloons, just at the moment Jaguar was setting out to challenge the Audi A4, Mercedes-Benz C-Class and BMW 3 Series. The upshot has been sales that have never looked like reaching their target.
Yet my own experience with the original R-Sport – in which I amassed most of the car's quick and easy 9000 miles in what seems a flash – has been almost entirely positive. The XE has turned out to be one of those cars you quickly grab when there's a job to be done, because it's fast enough, convenient enough, economical enough, compact enough and easy to park. Aside from drabness, for us the car has two major faults: road noise and ride.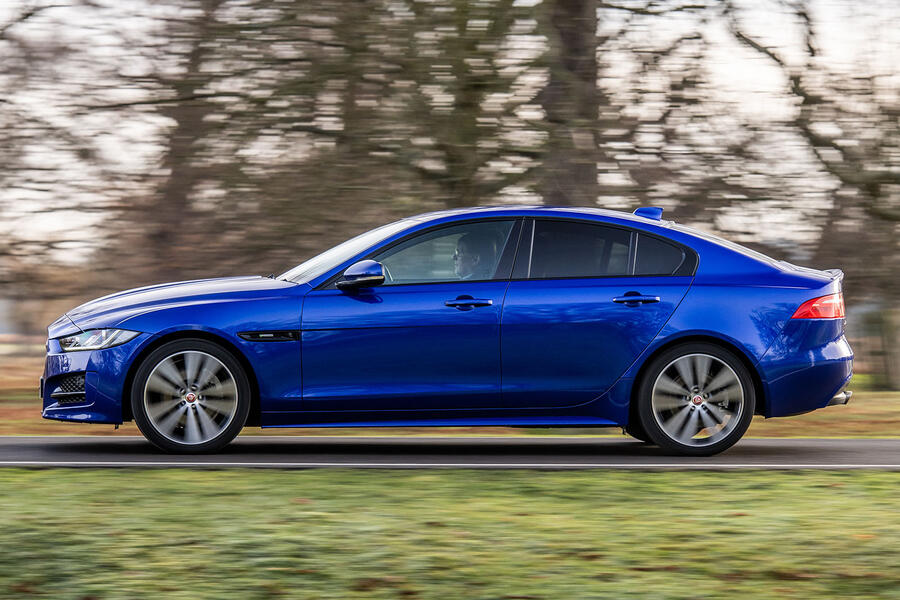 Surface noise has dogged the recent strain of Jaguars too much. I can remember shortening a UK F-Type holiday to Yorkshire with my wife simply because the road noise was too intrusive. I even remember Norman Dewis, the famous Jaguar test driver who was an instinctive road tester until the day he died, complaining about road noise while riding in one of his company's creations well past his 90th birthday. On its optional 19in wheels, our blue XE R-Sport is noisy, and no mistake. The ride issue is less clear cut.
The R-Sport is a tautly suspended car, brilliant in roundabouts or for neat, quick changes of direction. Also great in long fast corners, where stability is paramount. The low driving position of the car, in contrast with all the SUVs we now drive, is mostly very enjoyable: the car feels efficient and sure-footed.
However, our original XE is also one of those cars in which your fellow occupants' comfort becomes a serious issue: you notice the person beside you is affected by bumps more than you'd like and has to talk over the surface noise. It's not relaxing and at times it's downright destabilising: I'm not sure I'd have been quite as enthusiastic about this car if my miles had comprised more family motoring and fewer one-up dashes around the country.
When the mileage on our original XE was nudging 9000, the second-series XE arrived. It wasn't a matter of like for like. Our 197bhp version of the 2.0-litre engine had been dropped, and along with it the R-Sport trim. The replacement is an all-wheel-drive R-Dynamic XE in Eiger Grey with the 296bhp (thus 50% more powerful) version of Jaguar's 2.0-litre Ingenium petrol engine.
Jaguar's launch of its revised XE – which was going on at the time of our second car's arrival – boils down to two major things: better looks and "more plushness". From outside, the car now looks a lot more sporty and rakish than its predecessor, following improvements to its body, exhausts, side skirts and fitment of impressive 20in, 10-spoke, diamond-cut alloys.
Inside, the car is much brighter, now using light-catching metallic brightwork and better-quality trim materials. But its most striking feature is the adoption of a stylishly simple lower info screen just ahead of the newly adopted gearlever, now favoured over the twist selector.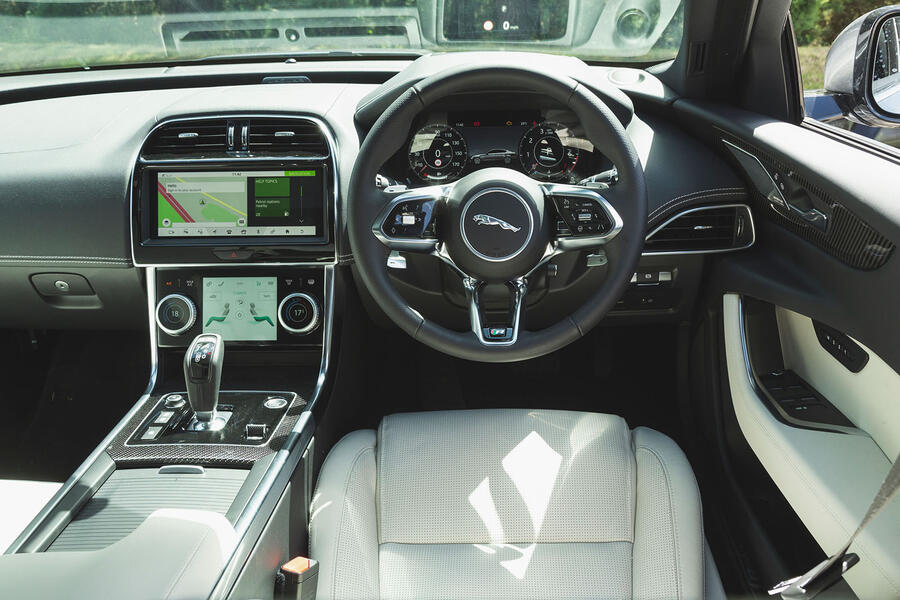 There are similarly welcome changes to the dynamics. The road noise is now average to low for the class, and thus quite acceptable. You can travel 100 miles in our grey XE and never think about it. But the biggest step forward has been in the ride: the car remains sporty, but it handles ruts and road craters much better without conceding anything to speak of in steering or body control. A long-distance driver-only sprinter has become comfortable transport for two adults and whatever-sized kids can be comfortable in the back: let's say 10 to 12-year-olds.
The ride seems flatter, perhaps because the (modest) extra 50kg added by the all-wheel-drive kit helps with weight distribution. The blue, rear-drive car's propensity to wheelspin during half-quick departures from roadsides is simply non-existent, and when you're parked in a damp British field – for a Goodwood meeting or similar – you are now certain there will be traction enough to get back to the road.
There's plenty of poke (a self-shifting 0-60mph time of 5.4sec is surely quick enough for anyone) yet fuel consumption is similar for both cars: 32-34mpg day to day. The revised XE now feels and looks considerably more complete and capable than the original edition. It's probably a cheap observation, given the huge Jaguar effort required to build a 3 Series chaser in the first place, to suggest that this is the XE Jaguar should have built in the first place. But that is about the size of it.
Second Opinion
So many new cars are SUVs or other body types pursuing an elevated driving position. Yet the XE makes you fall in love with saloon cars all over again. I love the way it hugs the road and makes you feel so involved in the drive. And, at last, the cabin has caught up with the joy of the driving experience.
Mark Tisshaw
Love it:
Proportions If you like the notion of a shrinkwrapped sports saloon, this is it — low, sleek, compact and muscular.
Steering There's no beating a small, MikeCross-developed rear-drive Jag for precise, uncorrupted steering.
Handling R-Sport chassis settings will seem a bit firm for some, but the payback is superb grip and handling balance.
Loathe it:
Rear room The designers told us at launch the XE couldn't have Jag lines with a roomy rear. They were right.
Engine It has decent low-end torque and smoothness but work is needed on noise and transient responses.
Final mileage: 9668
Life with a Jaguar XE: Month 3
A fresher-faced youngster arrives - 24th July 2019
My outgoing-spec 2WD XE 200 has been joined by a 2020-spec 300, for comparison. The 300 doesn't feel madly quicker (same engine, more turbo puff, 50kg heavier) but it's better looking inside and out, better balanced in corners, never spins its wheels on verges and has a much plusher ride. Importantly, lots of road noise has been killed, too.
Mileage: 9600
Treats its tyres well - 5th June 2019
For a car you tend to drive with a bit of commitment, our 197bhp XE seems to be doing well on tyre wear. There's still plenty of meat both back and front, not least because my one obsession with car preparation is keeping tyre pressures spot on. I'm estimating the Jag will pass 20,000 miles before it needs new rear tyres and should get to 25,000 on the fronts. Good going.
Mileage: 10,904
How similar is our XE to a Tesla Model 3? You might be surprised - 15th May 2019
A fascinating recent episode with the Jaguar XE R-Sport had me using it as handy transport to get to a road test venue for the new Tesla Model 3, driving on roads we often use in Surrey.
At first, I gave hardly a thought to the Jag. This was simply a chance to sample a much-ballyhooed electric car that was entirely new to us in the UK. But as things proceeded, I suddenly realised that the two cars – 'their' Tesla and 'my' Jaguar – were both born as compact and fairly sporty saloons with many similarities in their intended usage. Also, their key differences – weight, price, size, space – were brought about by the major difference between the powertrain they used.
So what? Well, I found myself thinking that each illuminates the strengths of the other. Or since this is a story primarily about the XE, the brush with the Tesla shows where we are heading, and how compact saloons will change when the market and the manufacturer decides – in decades' time – that it's time for conventional cars like the XE to take their final bow.
First, size. These cars are both intended as sleek, semi-sporting saloons for middle-management types, but the XE is about 10cm shorter and I'd estimate its hip point is at least 5-10cm lower. This lowness is one of the things I've come to value about the XE. It gives the cheapest Jag an unmistakably sporting nature and the Tesla just doesn't have that.
By contrast, the Tesla needs a longer wheelbase to house its big battery between the front and rear contact patches and it rides obviously higher. It has a short nose and seems from the outside to have a large cabin area, yet it is very similar in front and rear space to the Jag. Except there simply isn't room for my size 11s to fit under the front seats in the XE, a big disadvantage to the Jag.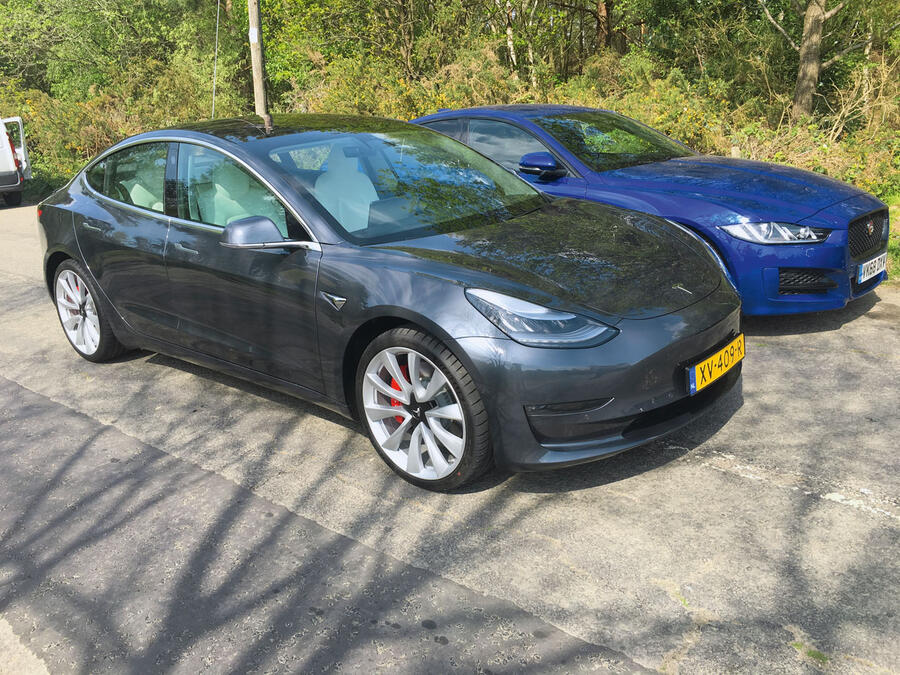 There are some surprising similarities: weight and price. Tesla has sneaked its entry-level two-wheel-drive Model 3 into a slot just under the business buyer's all-important £40k tax threshold, utilising the government's £3500 electric vehicle subsidy. This takes it close in price to our XE, which costs £40k-plus with options and starts around £35k. Not the gulf between now and the future we're often told about.
The XE's weights are quoted as between 1470kg and 1650kg, depending on model. The Tesla, battery and all, starts at 1650kg with two-wheel drive and runs to a pretty meaty 1850kg with a long-range battery (350 miles) and all the wheels driven. But it's not the mega difference we imagined.
What's my purpose here? To show that electric cars of an XE format are coming, and in Tesla's case quickly, but they'll be different. If you love the compactness, low seating, long nose – not to mention the special handling balance and the excellent steering of the Jag, refined by years – you need to reserve some appreciation for what we have now…
More generally, how's our XE performing? Very well indeed. We've had zero reliability issues and the handling and steering are a delight, especially when you press on. When not pressing on, I can often do better than 40mpg – unheard of for a 1600kg petrol car even quite recently – which means the touring range goes effortlessly over 400 miles, another advantage of petrol.
What are the best bits, besides classy dynamics? For me, it's the graceful shape, plus the stance and colour. This is one of those cars you appreciate looking back at as you walk away, and that's important.
Love it:
Superb looks Maybe this car's styling doesn't initially reach out and grab you, but get to know it and you enjoy the sight. Especially in deep blue.
Loathe it:
The ride, sometimes The chassis grip and balance are superb, but there are times when you when pay for it on lumpy roads. Passengers notice before you do.
Mileage: 10,244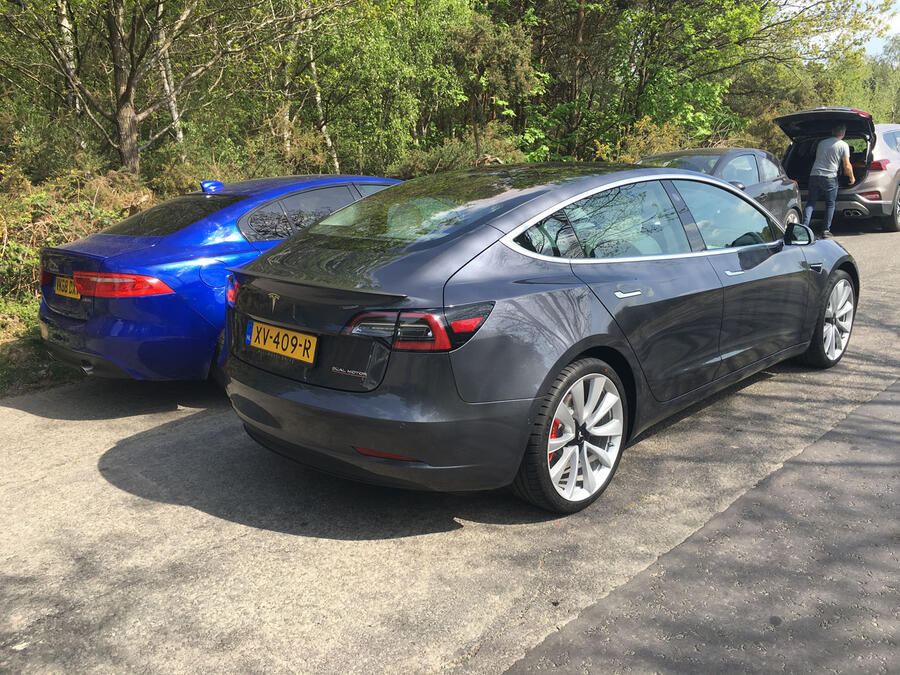 Life with a Jaguar XE: Month 2
New model doesn't mess with the formula - 17th April 2019
My XE R-Sport 200 has just been superseded, but I'm pleased they haven't changed the car's essential proportions. My XE's basic shape is of a compact saloon of unusual beauty. In Caesium Blue and with a Black Pack, it looks terrific. What the original lacked, in some versions, were eye-grabbing distinguishing features, and now it has them.
Mileage: 9203
Comfort keeps getting better - 3rd April 2019
At 9000 miles, the driver's seat keeps getting more comfortable. I swear the cushion fits my backside better than ever. Probably helps to be someone of the 'fuller figure'. Maybe I've pulverised the seat into submission – except I've heard snake-hipped types make the same claim. The effect certainly helps a car feel like yours alone.
Mileage: 9128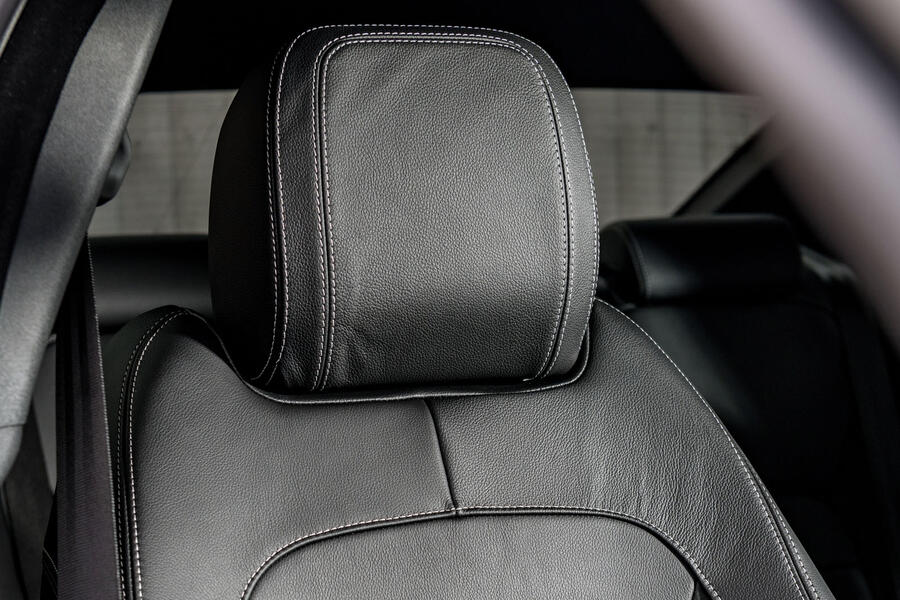 Life with a Jaguar XE: Month 1
Racking up the miles quickly - 27th March 2019
The Jag has had a busy baptism – I've done more than 3200 miles in our first four weeks together. I've left it at the airport a couple of times recently, and enjoyed that frisson you get on a flight home, knowing there's something decent waiting in the car park. The engine's a lot looser now, which reflects in the fuel consumption: 42mpg.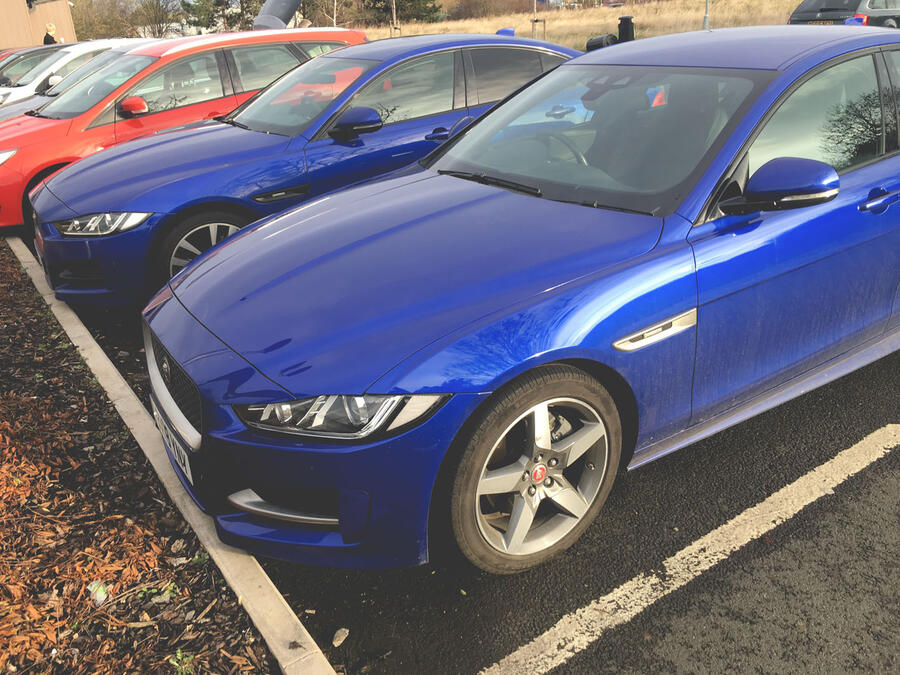 Mileage: 4108
Does this fine driver's car deserve to snare more buyers or not? We aim to find out - 13th February 2019
It's an odd time, you may think, to take on a Jaguar XE long-termer. The company has just refreshed its smallest saloon to distinguish it better from the bigger XF. And its showroom performance hasn't been exactly stellar.
But step back a bit. The XE is Jaguar's most naturally agile and sporty saloon, because of its compactness light weight. That, if you think about it, makes it arguably the best-handling Jag saloon of all time. And we already know enough of the coming refresh to be confident that the changes will mostly be cosmetic: the XE will change very little as a driver's car.
Step back further: we also know that the XE and XF are likely to be combined into one saloon model from the early 2020s, which is to say that despite the global success of SUVs, Jaguar continues to see itself as a maker of saloons.
Which neatly reveals our purpose here: to see if we agree. Our XE is exactly the kind of £40,000 upper-mid-spec machine a car-minded user-chooser might go for: the basic car comes well equipped, and the R-Sport pack adds 18in wheels, sports suspension, xenon headlights and sporty decor, including a restrained bodykit. With no extras, this set-up costs £34,500. Our options add £5480.
Of all the additions, the one I'd most readily shell out for is our car's £650 worth of Caesium Blue metallic paint, which positively draws people to the XE's fine shape and stance. It's a great-looking car: low, sleek and shrink-wrapped around an elegant set of mechanical muscles. But the company has decided it doesn't stand out well enough in a crowd, which is what the mid-life changes are about. Changes we'll experience for ourselves when we swap into a facelifted car in a few months' time.
Our engine is a 197bhp petrol turbo four, matched as standard with an eight-speed ZF auto, albeit with Jaguar-specific software that affords you more precise control of the gearchange regime, via either the twist controller on the console or the steering wheel paddles. You can elect for a Sport regime on the gear selector and a Dynamic setting from a special console switch, both of which sharpen responses further.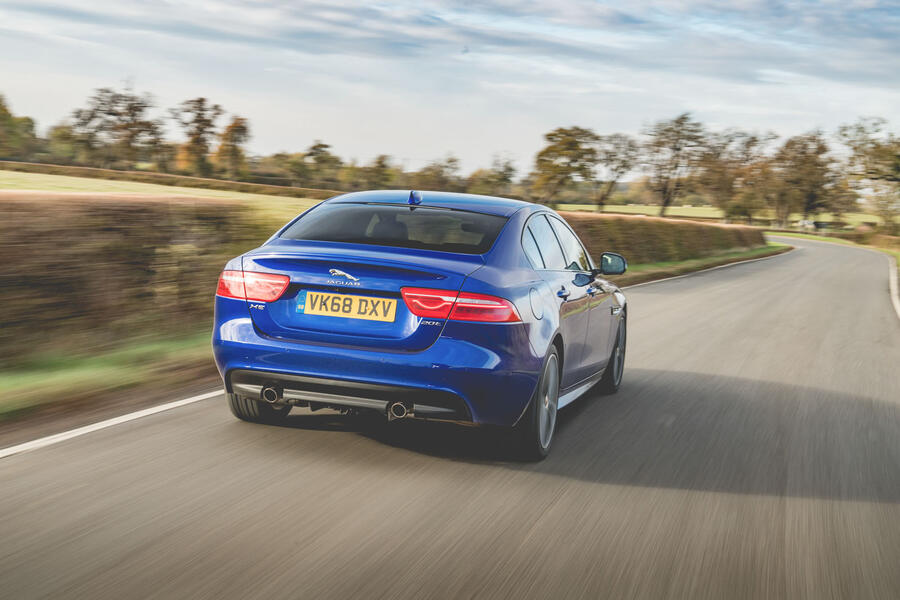 It may seem an error to choose the least powerful of three petrol fours (197bhp, 247bhp and 296bhp) but the choice is made advisedly. The first step adds £2500 and shaves a second from an already decent 7.2sec 0-60mph time. The most powerful engine cuts the 0-60mph time to 5.4sec and makes the R-Sport a genuinely fast car but costs a hefty £7600 extra, mostly because it has a permanent 4x4 system (that adds extra weight and less adjustable handling). Worth it if you need the extra traction and are made of money; not otherwise.
Chuck in the fact that with eight quick-shifting gearbox speeds attached, our 197bhp engine gets the car off the mark very quickly and can also quickly kick down a couple at higher speeds if needed. My only real gripes with the powertrain are a tendency of the stop/start system to shake the car uncomfortably when restarting, and a less than silky power take-up when accelerating from a crawl. Others do it better.
However, it's the chassis that makes this a true Jaguar. And the driving position. You sit low, backside close to the floor, looking over the top rim of the steering down the longish bonnet. Because the seats offer near-ideal side support, it's easy to imagine yourself in an amazingly affordable F-Type.
Any glance sideways affirms that the XE rides lower than most cars on the road (you have an excellent view of the whirling wheel bolts of buses) and the agility and steering accuracy constantly remind you of the advantage of lowness. Its disadvantage – in a 4.7m-long saloon – is a lack of adult-sized rear leg room (fine for kids, tolerable for early teenagers).
On the road, the XE's size seems close to ideal. Step into it from a bigger car and you're beguiled by its agility; drive it after a smaller model and you're impressed by its refinement, composure and uncorrupted steering. It cruises quietly with moderately long legs on the motorway but sprints willingly on demand. The engine is quiet and very smooth when cruising; more audible when used harder. The engine note is one of the less sporty aspects. Fuel consumption is 33-43mpg, depending how you drive, but we've so far averaged just over 40mpg. The ride, on the Sport suspension that comes with an R-Sport model, can occasionally be a bit jittery but never leaves you discomforted on long trips. But it has enough sporting character to do well when a journey brings a bonus B-road.
On the strength of three weeks and 2000 miles, I'm pleased with the XE. It appears to suit me and the way I use cars. It feels well made (my second car in five years with zero trim rattles) even if Jaguar feels perceived cabin quality needs an upgrade.
The way it looks and drives suits the Jaguar ethos and I'd find it hard to contemplate a Jaguar range without a compact saloon. On what I've learned so far, the XE and its descendants deserve a long and happy life.
Second Opinion
Drove the XE for an afternoon and thoroughly enjoyed it. It undermined any impression of Jaguars as old men's cars. If there's such a thing as sporty composure, this car has it in spades, although I'd have liked the power delivery to be a little less lumpy off the mark.
Olgun Kordal
Jaguar XE 2.0 R-Sport specification
Prices: List price new £34,565 List price now n/a Price as tested £40,575 Dealer value now £31,000 Private value now £33,000 Trade value now £28,500 (part exchange)
Options: Heated seats £320, Caesium Blue paint £650, 18in alloy wheels £840, Black pack £530, electrically adjustable door mirrors £295, privacy glass £370, Meridian 380W audio £530, park assist and camera £1045, electric towbar £900, keyless entry £530
Fuel consumption and range: Claimed economy 39.8mpg Fuel tank 56 litres Test average 37.7mpg Test best 44.9mpg Test worst 27.1mpg Real-world range 464 miles
Tech highlights: 0-62mph 7.2sec Top speed 143mph Engine  4 cyls, 1998cc, turbocharged petrol Max power 197bhp at 5500rpm Max torque 236lb ft at 1450-4500rpm Transmission 8-spd automatic Boot capacity 410 litres Wheels 19in, diamond-cut alloy Tyres  225/40 R19 (f), 255/35 R19 (r) Kerb weight 1505kg
Service and running costs: Contract hire rate £260 CO2 162g/km Service costs None Other costs None Fuel costs £1409 Running costs inc fuel £1409 Cost per mile 15.3 pence Depreciation £12,075 Cost per mile inc dep'n £1.46 Faults none