Why we're running it: To determine whether the country's best-selling new car is as worthy of that title as its brilliant predecessor was
Life with a Ford Fiesta ST-Line: Month 5
The nation's biggest-selling car leaves the Autocar fleet with its head held high – and ours downcast at its departure - 14th November 2018
When we first said hello to our shiny new Ford Fiesta ST-Line in May, we did so with trepidation.
This was a stylish, sporty hatchback with a respectable 138bhp, but it cost £19,495 when our car's options were accounted for, making it £200 pricier than an entry-level caught sight of a lovely old Fiesta ST. Before even getting out of the starting blocks, it faced a bit of a struggle to justify treading on the toes of its more focused cousin. Not to mention elbowing its way into the premium end of the hatchback realm. Was our car an example of a Fiesta that's too expensive for its own good?
Things got off to a good start. Now as much as then, the latest-generation Fiesta's smart cabin design and premium-feeling interior surfaces really reward forking out on higher-spec trim. In particular, the ST-Line's soft perforated leather steering wheel and well-bolstered seats feel like they've come from a car in the class above and the optional (£350) 8.0in touchscreen, complete with Apple CarPlay, is as intuitive and reactive as any in this class.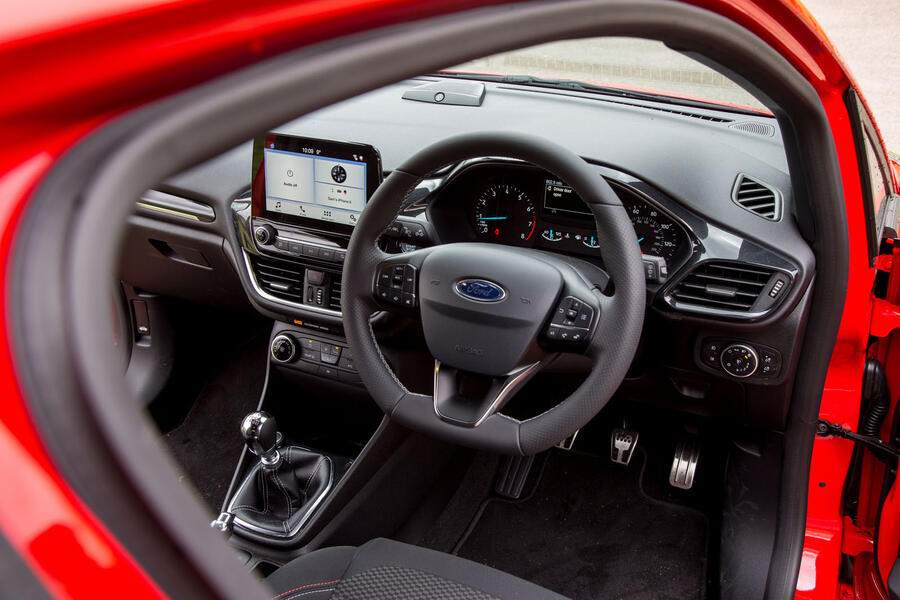 The latest Fiesta platform is also more practical than before. Okay, so there are a few minor issues – such as the high lip on the boot floor that prevents flat loading and those snug seats being potentially too close for comfort for larger drivers – but the Fiesta is unquestionably easy to live with. Key pros in our experience include the decent leg room in the back, even with the three-door access of our car, and the excellent B&O premium sound system (part of that £350 infotainment package), which, to these ears, is the best in this class.
Even if you're not impressed by the car's more premium cabin (although we're yet to find someone who dislikes it), catch a glimpse of the Fiesta's reflection in a shop window and you're more likely to be convinced. Dressed in sporty ST-Line bodywork with a set of optional (£600) 18in wheels, our car has not stopped looking the business. So much so that it has turned heads as effectively at the end of our tenure as it did at the start, even though in that period the new Fiesta has gone from rarity to commonplace on UK roads. For an ST-Line owner, it provides a welcome, albeit illegitimate, ST experience. Not sure ST drivers would feel so positive, mind.