Our Verdict
First Drive

We have bought a used BMW M135i to see how far we can improve this rear-wheel-drive hot hatch

First Drive

BMW's hot hatchback gets four-wheel-drive for added stability and security, without compromising the rear-drive version's entertainment factor
Why we're running it: To discover how much we can enhance this used BMW M135i with a little help from our friends at Birds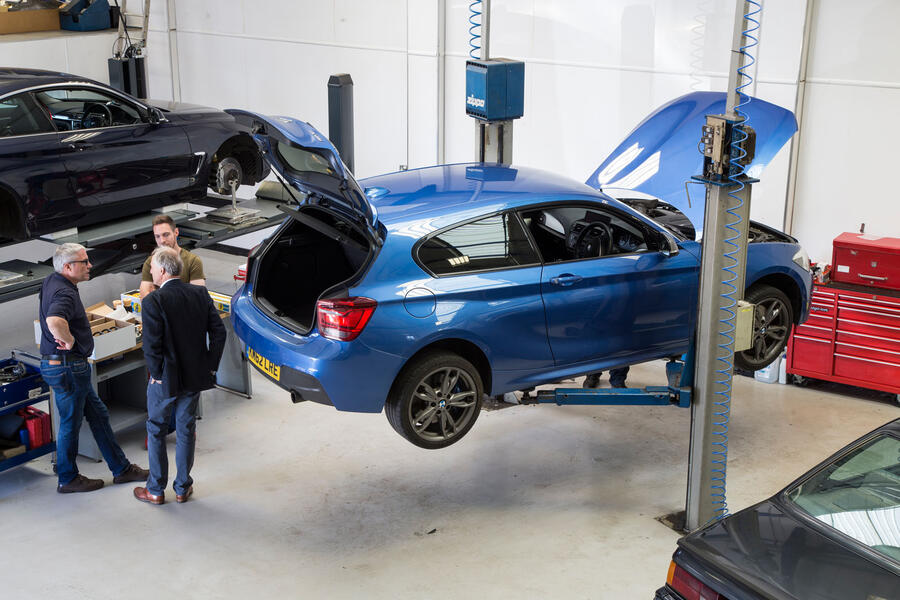 Life with a used BMW M135i: Month 5
A duel with an M2 is on the horizon - 28th February 2018
Right now, you should be reading all about the M135i's lovely new brakes. Unfortunately, the supplier was unable to deliver them before the end of our loan of the car, so the standard brakes will be staying put. No matter, actually, because we didn't set out to build a track car and I've never had an issue with the factory stoppers on the road.
Still, there is some progress: the world's most determined key scratch has finally been repaired. Whichever cheery soul it was who vandalised the car started at the very front and keyed the paintwork all along the right- hand side, damaging all three panels in the process. They then turned around and scraped their way back to the front again, just to be certain.
I took the car to Mustoes, a bodyshop near Chepstow, where they did a proper job of the repair. The whole side of the car was masked off, sanded down and resprayed. The car looks as good as new now and the repair cost a very reasonable £360.
As I type, the M135i will be going back to BMW tuning specialists Birds for good within a couple of weeks, but not before we've put it up against an M2. It'll be an intriguing comparison. Since its engine remap, the M135i has more power than the M2, so it will probably be quicker in a straight line. Everywhere else, though? We'll have to wait and see.
Finally, I've been reading about BMW's plans for the 1 Series. Reports suggest the third generation will switch from rear- to front-wheel drive next year, with high-performance models set to use four-wheel drive. I get why BMW would want to move away from a rear-drive layout for the 1 Series. The overwhelming majority of hatchback buyers would never appreciate the benefit of a rear-driven chassis, or even notice the difference. What they certainly would notice and appreciate, however, is the extra cabin space such a change in layout would bring. Rear leg room has been a problem for the 1 Series since day one.
But BMW has spent many decades telling us rear-wheel drive is best. And all of a sudden, it isn't. A pity, too, that the really quick models will almost certainly drop the current six- cylinder turbo engine in favour of a four-pot. (Try making six cylinders fit in an east-west installation...)
If these reports are accurate, the next high-performance 1 Series will share the same mechanical layout as the Audi S3, Mercedes-AMG A45 and VW Golf R: four-wheel drive with a four-cylinder turbo motor. Who knows, it may well become a better car for it. But that loss of variety in the hot hatch sector will be lamentable.
Mileage: 38,467
Life with a used BMW M135i: Month 4
Turning the wick up on our used BMW M135i – 24 January 2018
The plan for our M135i project car was always to get the suspension sorted first to make it ride and handle the way we wanted it to.
Next, we would fit a Quaife limited-slip differential, (LSD) and only then would we go anywhere near the engine.
That is exactly how it has worked out so far, but with the engine now having been remapped to liberate a good wedge of extra power and torque, I felt somewhat sorry that the project was close to coming to an end.
Which is precisely why I've twisted the arms of the good people at Birds – the tuning company we've been working with on this project – to let me keep the car a little longer and make an upgrade not in the original plan. At some point in the next few weeks, then, I'll be telling you about the M135i's lovely new brakes.
But that's for then and this is now. With just a remap, Birds is able to wind the N55 3.0-litre turbo engine up to almost 400bhp. In a car the size of a 1 Series, that really is a huge amount.
The project M135i is back from @BirdsGarageBMW - and now complete! Engine remap has lifted power to 390bhp. Big performance, sorted chassis and an LSD. Job done. pic.twitter.com/WwoffnmqmA

— Dan Prosser (@TheDanProsser) November 21, 2017
According to company founder Kevin Bird, the N55 motor can be extended even further, but that causes some fairly major issues further down the line. "We did push one of these engines beyond 400bhp," he says, "but we found that the ignition timing was being retarded at maximum torque revs in the higher gears. If you kept the throttle pinned for more than 10 seconds, you could also see that the throttle was beginning to close, ultimately triggering limp mode.
"We determined that the detonation protection was being triggered and clearly the thermodynamic and physical limits of the engine were being exceeded at the level of boost required for 400bhp-plus. To get more power, we'd have to open up the engine or provide additional external equipment to increase the detonation limit of the engine." In other words, it'd start getting extremely expensive.
For my tastes, though, a shade under 400bhp – let's call it 390bhp – is just right for this car. The rear axle can deal with that level of power, but the car now feels seriously quick in a straight line.
Torque has also leapt up to 420lb ft, so there's a big-car muscularity from low engine speeds even in the higher ratios.
The overall character of the engine hasn't changed. There's just more of it. So throttle response is still sharp and the boost threshold is still very low in the rev range.
But it feels much stronger through the mid-range, and at the top end, there's a ferocity and energy that wasn't there before. The remap costs £2249 plus VAT – not cheap, but Birds does provide a warranty.
The M135i is now a brilliantly rounded performance car. We've got it riding and handling well, the LSD is a huge improvement over the standard open diff and it now has bundles of power. Soon, it'll have the brakes to match, too.
Finally, the unsightly key scratch down the entire right-hand side of the car is still there, but not for long. By the next report, the M135i will be looking as good as new.
Mileage: 37,870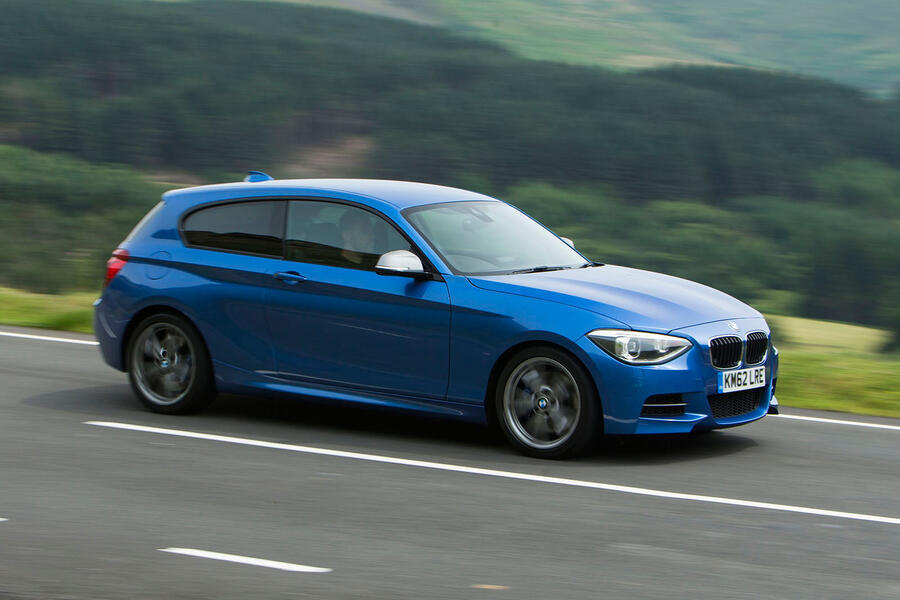 Life with a used BMW M135i: Month 3
Using the M135i as a rally pursuit car – 22 November 2017
The M135i had a very stern test last month as three friends and I used it to chase Wales Rally GB around Snowdonia.
There wasn't a huge amount of space for rear-seat passengers, but the car was relaxing enough on the four-hour return motorway journey and great to drive on the best of the region's twisting B-roads.
It is a bit of a mud-fest now, though, both inside and out.
Mileage: 33,525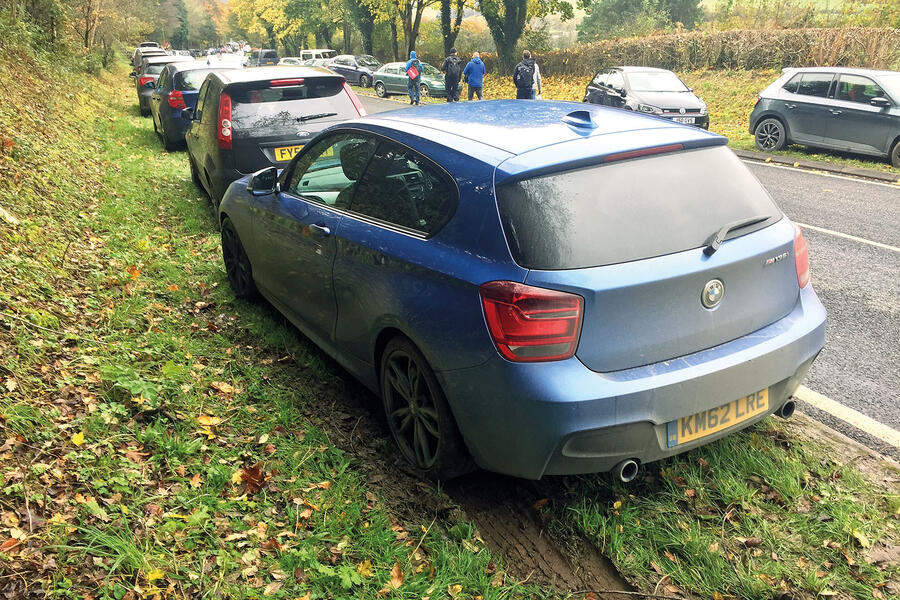 Making the M135i a barrel of laughs – 08 November 2017
The M135i project car has been riding on its trick Bilstein dampers for a couple of months now, so I've had plenty of opportunity to compare the new set-up with the junked standard suspension.
The ride quality has improved and body control is also better now, but it was a quick blast along a lumpy, uneven Cotswolds B-road that really highlighted how much better the uprated springs and dampers are.
The BMW breathed so brilliantly with the bumpy road surface that I actually got to wondering how many cars I've driven that were better damped than it. There are a few, I decided, but not many.
With the chassis sorted, the next round of upgrades concerned the transmission. No sense in uploading the grenade engine map until the limited-slip differential was in place, after all.
It's curious how reluctant many manufacturers are to fit limited-slip differentials.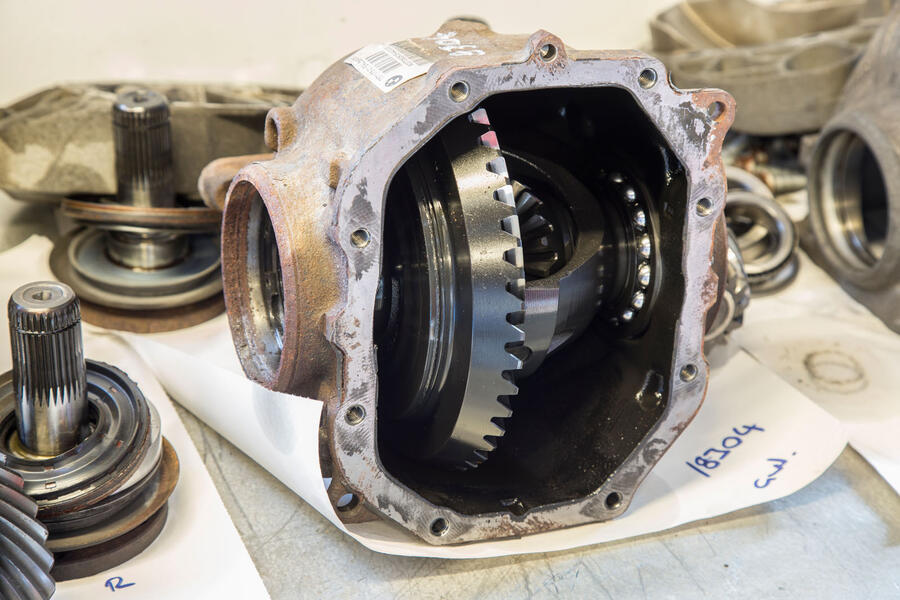 They say they increase understeer tendencies, but I suspect it's more to do with cost. The M135i never had a factory-fit LSD option (a dealer-fit locker was available), which seems odd given the power the car develops, as well as its billing as a proper driving machine.
Along with the cost, it might well be that BMW sees this as one of the key differentiators between the semi-skimmed M Performance models and its full-fat M cars.
Anyway, what it means for us is we can make the car a good deal more fun for relatively little outlay. The Quaife differential costs £2033 at Birds – the BMW specialist we've teamed up with for this project – and takes a couple of hours to fit.
I'd been looking forward to this upgrade. Without an LSD, the M135i is a bit like an Italian pasta dish without parmesan: good, but short of the finishing touch that makes it brilliant. Snap the throttle wide open mid-corner with an open differential and the inside rear wheel spins up hopelessly. It's messy and annoying. On track, it's more frustrating still.
In overly simplistic terms, an LSD splits the torque between both wheels, rather than allowing drive to follow the path of least resistance. This means you get much better acceleration away from a corner and better traction in low-grip conditions too.
And if you want to slide the car, you can. In fact, with the LSD fitted, the M135i is wonderfully controllable, the rear end breaking away in a completely fluid and predictable way. It's brilliant.
And I'm not talking smoky, showy powerslides here but those cheeky little drifts that make you giggle to yourself.
RWD and LSD really do go hand in hand.
The project M135i is back at Birds having the LSD and short-shift kit fitted. pic.twitter.com/qPDzhFvAfE

— Dan Prosser (@TheDanProsser) October 6, 2017
Besides, we've got plans to squeeze close to 400bhp out of the BMW's turbocharged straight-six; expecting an open differential to transfer all that power to the road would be ambitious.
I'll run around in the car as it is for a few weeks before we touch the motor, though.
While the diff was going in, we also had a short-shift kit fitted. I happen to really like the newly weighty, mechanical gearshift – before it was just a little too ponderous and rubbery – but I can well understand why some might find it cumbersome.
As a separate upgrade, Birds also modified the clutch pedal to add some heft to it. It feels appropriate when on a charge but not quite so clever in stop-start traffic.
On another note, I returned to the car one day to see some reprobate had keyed every panel on the driver's side. Quite what I've done to upset the vandal I don't know, but I do know it needs to be sorted. Fingers crossed it doesn't turn into a painfully expensive repair.
Mileage: 33,455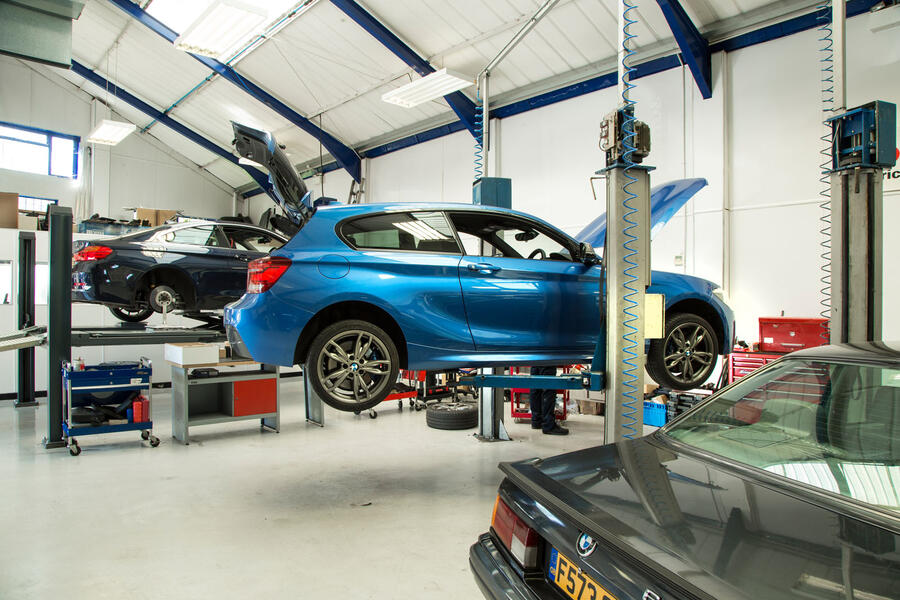 Tweaking the M135i's tyre pressures – 18 October 2017
Having replaced the standard suspension with uprated springs and dampers, I've been playing with tyre pressures.
I wanted to find the perfect compromise between ride quality, tyre stability and grip. I found 29psi was great for ride and grip, but the tyres squidged around too much in hard cornering.
But 37psi knackered the ride and did nothing for grip, so I've settled on 32psi. Perfect.
Mileage: 32,150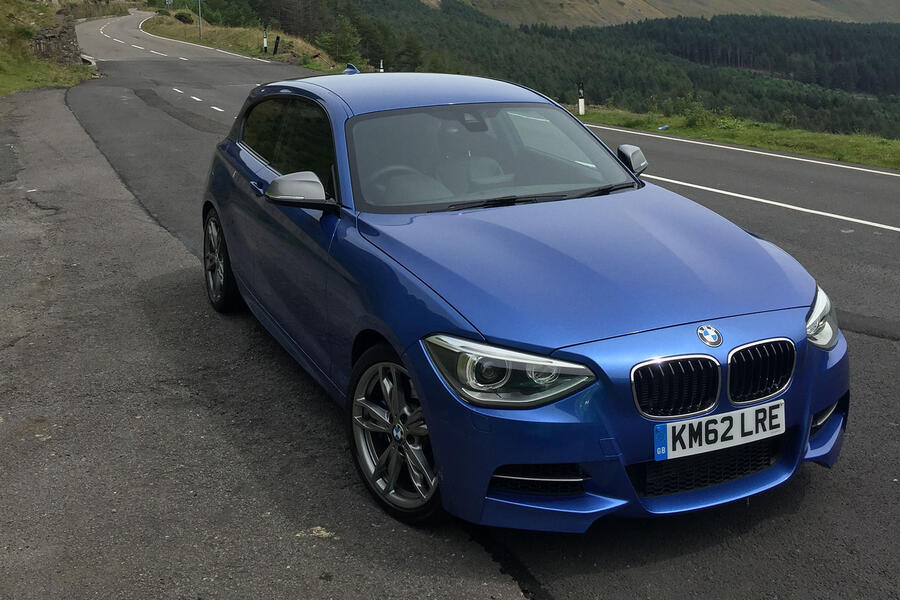 Life with a used BMW M135i: Month 2
Getting to grips with the M135i's suspension – 13 September 201​7
Perhaps the single biggest upgrade we'll make to our used M135i is also the first – the suspension.
Out goes BMW's Electronic Damper Control equipment in favour of a set of Eibach springs with passive Bilstein dampers, both tuned specifically for the M135i.
Birds, the specialist we're working with on this project, recruited former racing driver James Weaver and experienced race engineer Peter Weston to tune the new suspension.
Between them, Weaver and Weston chose appropriate off-the-shelf springs for the car while also specifying their own damper curves to Bilstein, which built the damper kits accordingly.
The result is that the Birds suspension upgrade for the M135i is proprietary. You can't get it anywhere else. The new suspension took half a day to fit, costing £1554.23 with installation, but not VAT (which takes the total to £1865.08).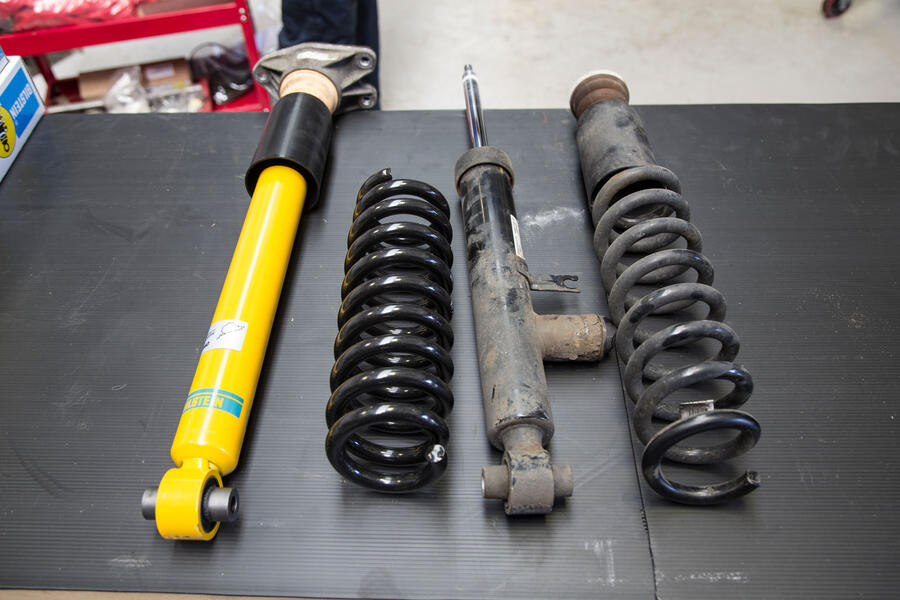 "I drove the standard car and it was a bit of an eye-opener to say the least," says Weaver. "The ride quality was pretty poor. The problem is that in Germany new cars have to be able to do 124mph, five-up and with a fully loaded boot, normally on smooth roads."
Consequently, as Weston explains, modern cars are desperately over-damped most of the time, when they only have one or two occupants. They are also often not optimised for the UK's broken, bumpy road network.
It means that most cars, the M135i included, offer plenty of room for improvement, which certainly tallies with my own experience of the car.
Weaver and Weston test drove a standard M135i using a loop of about four miles – mostly made up of narrow, bumpy lanes – near Birds' Buckinghamshire headquarters.
They found that the ride quality was poor, mostly because there was far too much rebound in the standard set-up, and the car also lacked grip, traction and steering precision.
"The damping I've incorporated into the shocks is what we've learned over the years with James in a racing environment, with a high-performance car on a bumpy circuit like Sebring," says Weston. "That experience taught us an awful lot about how to support a car on the springs and yet have damping that allows you to go over bumps. It blows the theory that for a car to be good over bumps you need soft springs – that isn't always the case."
The Birds M135i project really gets going today. In to have the uprated springs and dampers fitted. Will make a huge difference. pic.twitter.com/xmD7WNz14g

— Dan Prosser (@TheDanProsser) August 11, 2017
The set-up the pair eventually arrived at includes springs that are 15 percent stiffer at the rear and about 10 percent stiffer at the front, with a 10mm drop in ride height over the front axle.
The retuned damping has much less rebound, allowing a given wheel to quickly drop out of its wheel arch rather than hanging up in there.
Whether driving over a bump in the road, a pothole or sunken drain cover, less rebound damping will massively improve ride quality.
I've covered a few hundred miles on the new set-up now and it's definitely a big step forward. What it certainly isn't is a very stiff, track-focused set-up.
Instead, the car now feels much more settled on bumpy roads at speed. It no longer leaps about with the tyres losing contact with the ground.
It's more comfortable now too, the new suspension rounding off potholes and smothering broken, rough patches of tarmac.
Body control is also much better and the car no longer feels as though it's going to bounce itself off the road over crests and undulations.
The steering upgrade, meanwhile, is simply a pair of 10mm spacers on the front axle that subtly adjust the geometry. The steering now feels sharper and more direct, although it's not a night-and-day improvement.
The next upgrade will be a Quaife limited-slip differential to further improve traction and make the car easier to control on the throttle right at the limit of grip. Only then will we go anywhere near the engine.
Mileage: 31,706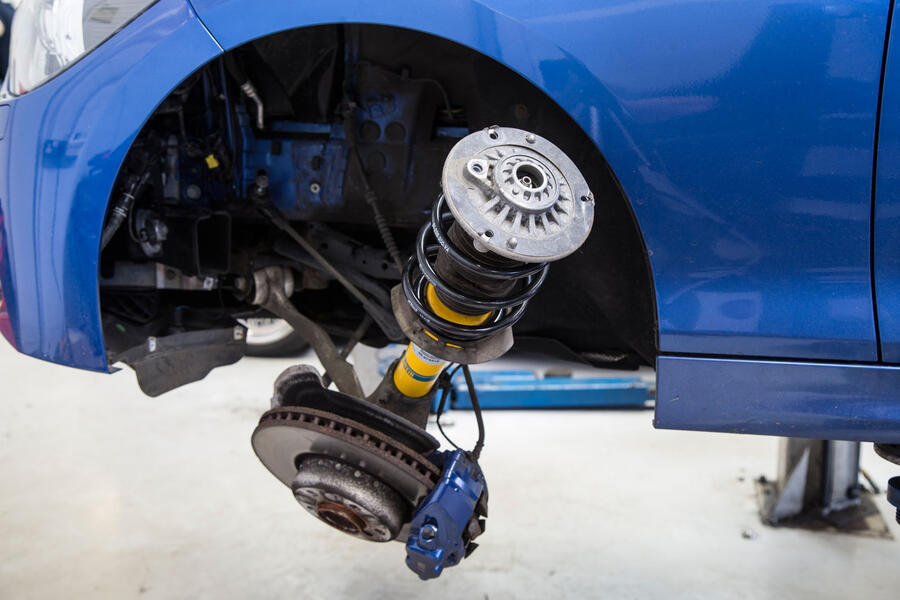 Life with a used BMW M135i: Month 1
Welcoming the BMW M135i to our fleet – 16 August 2017 
My new long-term test car isn't new at all. In fact, it's coming up to five years old.
By the standards of today's throwaway society, that probably means it's halfway to the scrapheap already, but we have grand plans for it nonetheless.
The BMW M135i was launched in 2012, making this 62-plate example one of the early cars. The M135i was so well received by the press and car-buying public that you couldn't read through more than 15 internet forum posts without somebody telling you to get one. 
Five years on, the cheapest, leggiest M135is have lost more than half their value. You can pick up a 70,000-mile car today for around £14,000, which looks like very good value indeed for a modern rear-wheel-drive hatch with 316bhp.
This particular car has covered 30,000 miles and it cost £17,500. The spec is just about spot on: three doors, manual gearbox, black leather.
The M135i cost a fiver under £30,000 when it was new, which meant it wasn't much more expensive than high-performance Volkswagen Golfs, Renault Sport Méganes and the like. But it was more powerful, it had a more prestigious badge and it was, of course, much more rear-wheel drive than any of them. Little wonder it proved so popular.
Years later, it's still a compelling package. The turbocharged six-cylinder engine gives it strong straight-line performance, the rear-driven chassis is nicely balanced and, on the much less interesting side, it's practical and pretty refined.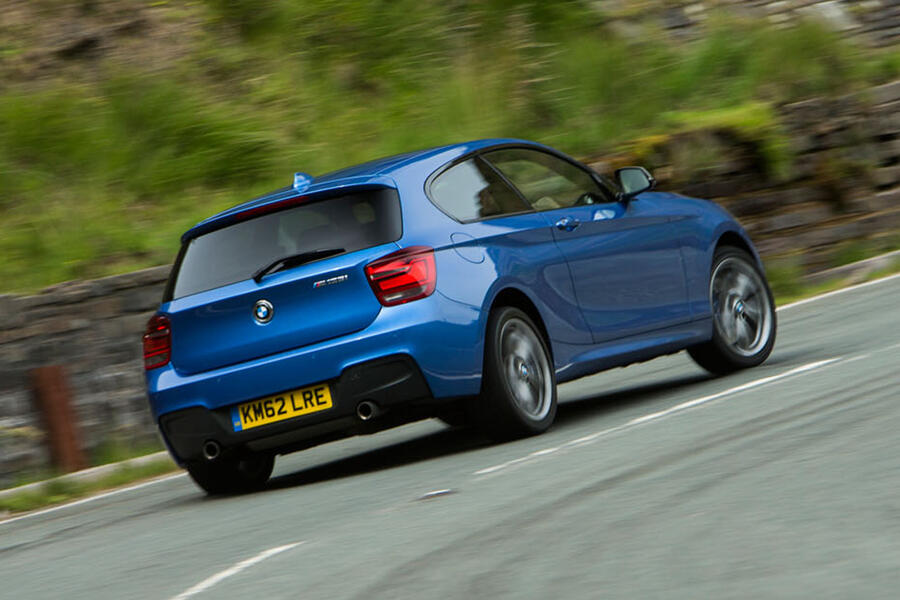 However, it's actually somewhat flawed. I won't say too much about the styling, except that I never much liked the big, triangular headlights, but I love that you can tell just from looking at it where the power is sent: the cabin that's pulled backwards over the car and the distance between the base of the windscreen and the front axle line give it away.
The biggest problem, though, is to do with the dynamics. Now, the M135i is very good to drive up to about seven-tenths, but when you really start hustling it, or when the road becomes particularly difficult, it all starts to unravel.
There isn't the precision in the steering or the tight-fisted body control you need to really fling it around with confidence.
And when you start throwing crests and little jumps and compressions into the mix, the damping feels all at sea. No matter which of the two damper modes you select, the chassis is never able to iron out lumps and bumps in the road surface while also keeping the body locked under tight control.
To be fair, only the very best cars do those two divergent things at once with any degree of flair.
In the M135i, you soon find yourself backing off because the body is heaving up and down like a boat in a storm, or because the rear end is scribing some strange circular pattern behind you as it bobs up and down while also flopping into and out of corners.
And then there's the lack of a limited-slip differential. Mostly, that really isn't a problem at all, but it does mean the car leans on its traction control far too often in the wet. And when you're really getting after the thing in the dry and you've got those systems off, it's frustrating to feel the unloaded inside rear wheel spin up uselessly as you try to neatly slide it out of a corner.
There is, therefore, a great deal of room for improvement. So this M135i is our new project car and, over the next few months, we're going to upgrade all the important bits and pieces to transform it into the vehicle we reckon it should always have been.
Working with BMW tuners Birds, we're going to replace the standard, under-specified suspension with much higher-quality Bilstein components tuned specifically for the M135i, we're going to fit a Quaife limited-slip differential and we're going to lift power to somewhere approaching 400bhp. We might yet make a few other modifications, too.
When it's upgraded to the full Birds B1 specification, it should be quite a car. We tested the company's M235i demonstrator – the upgrades are interchangeable across hatchback and coupé – and found it to be a vast improvement over the standard car.
What makes us so sure that we, a car magazine, and an independent garage, can build a better car than BMW?
Every component in a mass-produced car is built to a strict unit price. The cars are also designed for a wide cross-section of drivers and for countries on opposite sides of the world. We, however, are able to spend much more on suspension parts than BMW could justify and we also have a very specific idea of how we want the car to feel once it's finished.
The M135i will be upgraded over time and you can follow our progress in these pages.
Please do get in touch via the usual channels to let us know what you think of our new project car.
Second opinion
The M135i promised a better drive than it delivered.
The standard car's vertical body control is what's in greatest need of improvement.
A slippy diff has as much chance of hurting handling balance as it has of improving it, so let's hope it's well set up. I look forward to finding out.
Matt Saunders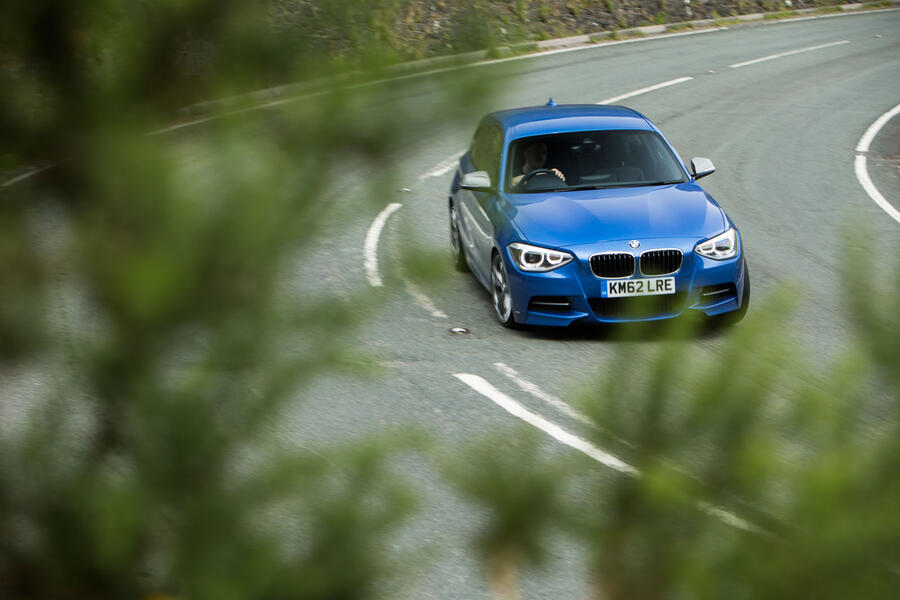 BMW M135i specification
Specs: Used Price £17,500; New Price £29,995
Test Data: Engine 6 cyls, 2979cc, turbocharged petrol; Power 316bhp at 5800rpm; Torque 332lb ft at 1250-5000rpm; Top speed 155mph; 0-62mph 5.1sec; Claimed fuel economy 35.3mpg; Test fuel economy 30.4mpg; CO2 188g/km; Faults None; Expenses Suspension upgrade (£1865), clutch pedal modification (£113), short-shifted kit (£532), limited-slip differential (£2033)