The Subaru Impreza gets all the attention, but in the mid-noughties more mature enthusiasts, put off by that model's hard-charging image, might have been tempted by the larger Legacy 3.0R Spec B, in saloon and estate forms, instead.
It was launched in 2004 but here we're interested in the facelifted version of 2006, because there are more for sale and they were usefully improved. Interior quality took a big leap, the optional five-speed automatic gained paddle shifts and a new drive mode system, called SI-Drive, was introduced.
Click here to buy your next used car from Autocar
The grille and head and tail-lights were smartened up while the car gained a more purposeful, sophisticated look thanks to delicately bulging wheel arches, an inoffensive roof-mounted spoiler and indicators integrated into the door mirrors. Alloys became smart 18in, 10-spoke affairs that still look good. The already crisp suspension was retuned (it features inverted Bilstein STI-style front struts) and the steering made a touch meatier.
What went unchanged was the standard-fit four-wheel-drive system with viscous centre differential and a limited-slip diff, and the 3.0-litre flat six continued to make a respectable 241bhp for 0-62mph in 6.7sec (autos take a yawning 1.2sec longer). A manual is clearly the pick but they're rare. At least the auto's paddle shifters help maximise what performance remains after the torque-converter 'box absorbed its share.
It's a real driver's performance car but, should you push things too hard in the corners, Vehicle Dynamics Control (VDC) will step in to brake individual wheels and straighten the car out. Switching it off gives the Legacy a greater rear-drive bias for a more laugh-out-loud experience.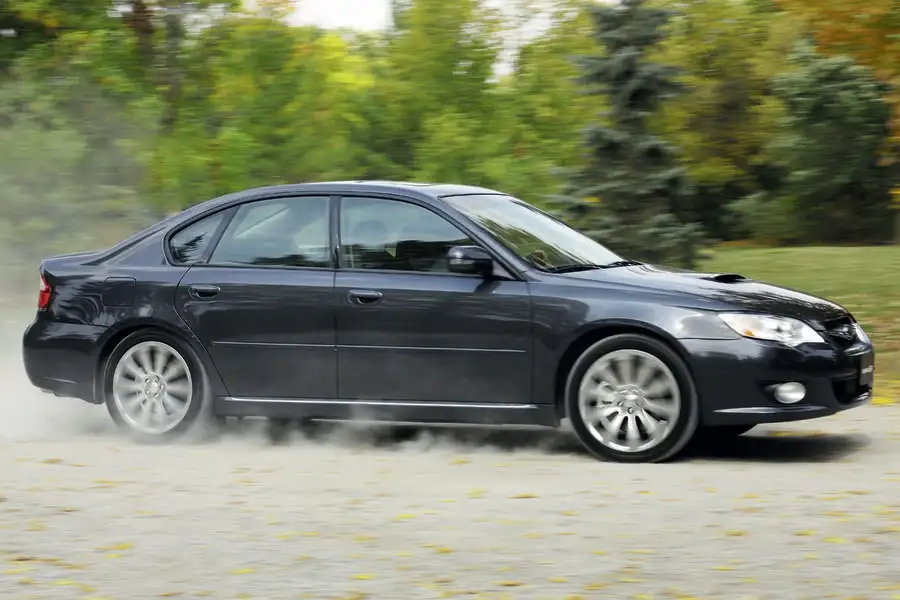 The 3.0R Spec B is a Q-car, then, and no more so than in estate form when its huge boot provides an effective distraction to the main event – namely, surprising other people from the lights. Not that it or the saloon should stoop to such levels. Instead, it's best treated as a civilised, all-weather cruiser with a touch of hooligan in reserve.
Business car it was not, due to its poor economy and high CO2 figure. Brace yourself for those two, but at least there's the three-mode SI-Drive system with its economy-minded Intelligent setting that makes this 3.0-litre Subaru feel like a dozy 2.0. It's operated via a rotary controller and steering wheel-mounted buttons.
Cars priced below £5000 tend to be UK-registered examples with high mileages. However, if their service histories and unmarked interiors (even the leather seats show little signs of distress) are a guide, they tend to attract caring owners. From around £8000, lower-mileage Japanese imports heave into view. They look bright enough and, assuming they've been prepped to satisfy UK regulations, are well worth considering as a less lairy but no less accomplished alternative to the ubiquitous Impreza.