If the prospect of owning a good Mazda MX-5 Mk1 is fading as prices rise, how about a Mk2 one instead? True, it's not as pretty and it has an even worse reputation for rust, but as the years roll by, it seems less bland, while a wire brush and lashings of Dinitrol anti-rust proofing should keep the worst of it at bay.
If Volkswagen ever thought launching a new Volkswagen Golf was tough, launching a new MX-5 must have been harder still for Mazda's dutiful executives, still reeling from the success of the original. Of course, it could never be a straight copy but, even so, the absence of the Mk1's pop-up lights – a move forced on Mazda by US safety officials – was a blow. A bit like when BL was forced to replace the MG B's traditional chrome bumpers with ugly rubber affairs.
Click here to buy your next used car from Autocar
Still, what else were you going to buy back in 1998, especially since word was that the car possessed the same sweet, rear-drive handling, delicate steering and crisp gearchange (plus some extra kit including a heated glass rear window) that had made the Mk1 such a winner?
Twenty-one years later, these very qualities continue to attract second-hand buyers, especially now that prices for Mk2s begin from as little as £350 for runners with an MOT. In fact, they don't really go any higher than £3500 for the best cars. In part, they're held back by the Mk3, which kicks off at around £2250 but also by demand for clean Mk1s. You'll easily pay £6000 for a good one of those.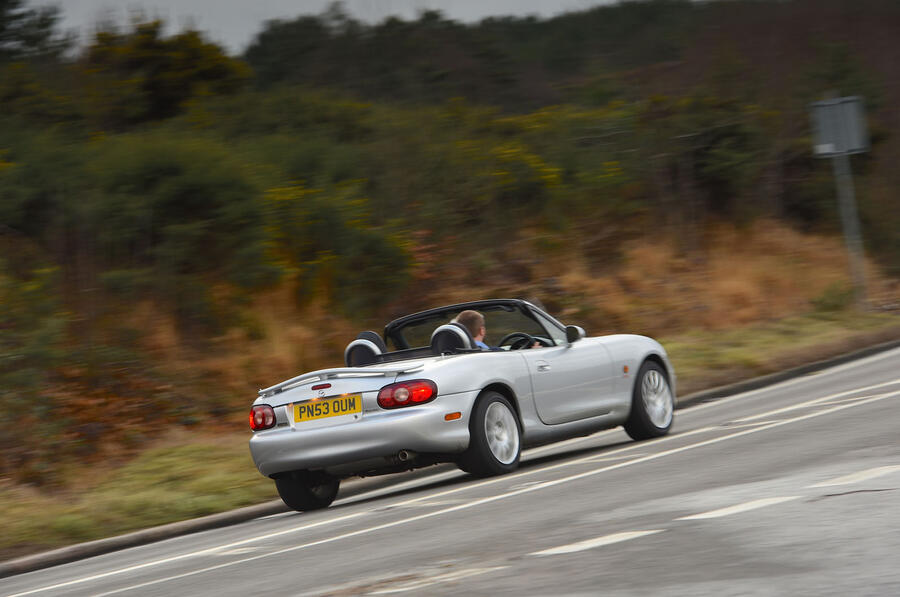 Condition and not age or specification or size of engine is key to valuing a Mk2. You're just as likely to find a tatty but late-plate 2004 1.8i Sport for a few pounds as you are an early but bright 1998 1.6 for a few thousand. Those two engines are your lot. The 140bhp 1.8 Sport had a Torsen limited-slip differential and 15in alloy wheels.