You can tell a lot about a car from its seller's flower beds. Take the 2005-reg SLK 55 AMG with 90,000 miles on the clock that we found advertised for £13,995. It's a private-sale example and is photographed on the owner's immaculate driveway, bordered with neatly trimmed bushes punctuated by flowering shrubs.
So the seller is house proud. It's no surprise, therefore, to find they're car proud, too, as their ad reveals: "Always run on Mobil 1 and V-Power. All 16 spark plugs recently changed. Fully stamped service book (next service is a minor). Vario roof works properly with all seals regularly treated with Gummi Pflege."
Click here to buy your next used car from Autocar
As a buying guide to the SLK 55, this ad doesn't get much better, especially so since the seller reveals his car has had a new gearbox valve body, new engine mounts, new front wishbones, new chassis bushes and new rear shocks. We know the 55 is a heavy car and the front suspension takes a pounding, which could explain the wishbones, and we know, too, that engine mount failure is a risk with big motors. Leaky dampers and broken rear springs are an issue with all R171-series SLKs. The seven-speed gearbox is not a blameless unit, so the new valve body isn't a surprise.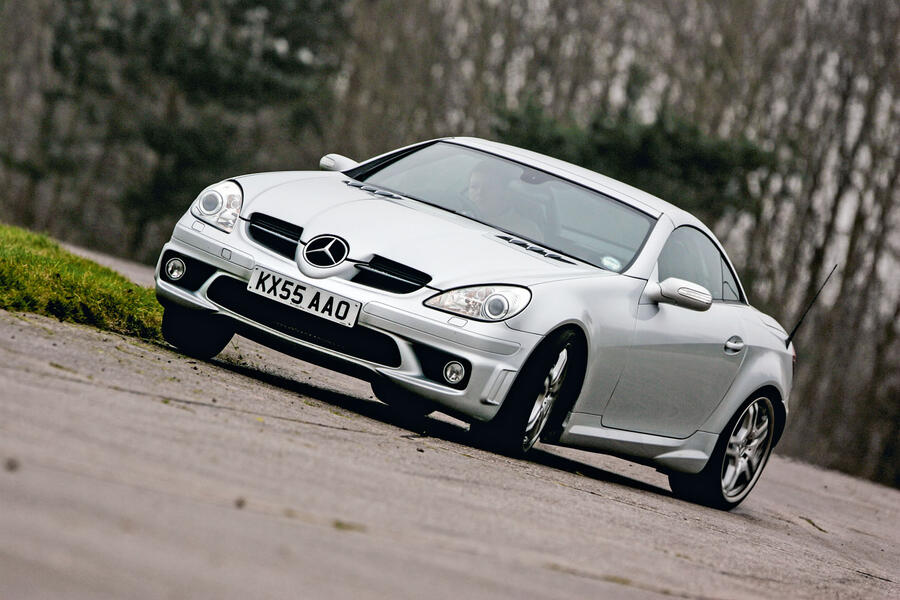 It sounds extremely tempting, especially since 2005-reg 55s attract lower road tax than later cars and have better front brakes than 2008-reg facelift models. Those brakes are expensive, though, which is why the seller of the example we found has made a point of saying his car's are in good condition.
The SLK 55 AMG was launched in 2004, powered by a naturally aspirated 5.4-litre V8, producing 355bhp and driving the rear wheels through a seven-speed automatic gearbox with paddle shifts. An AMG bodykit, 18in alloy wheels, lowered suspension and quad exhausts were standard. Desirable options included a Harman Kardon stereo and Airscarf neck heating.
Another was the £4500 AMG Performance pack, featuring composite brakes, firmer suspension, split-rim alloys and a raised speed limiter (from 155mph to 174mph).