The nation's classifieds may be gripped by classic car fever, a condition that drives prices of even the worst old tat through the roof, but there are one or two models about which the claim 'future classic' doesn't seem too far-fetched. The Alfa Romeo Spider of 1995-2006 is one.
There are only around 1000 examples of the 916-series Spider remaining, most of them 2.0 Twin Sparks of 1999 to 2005 vintage. (The 3.0 and 3.2 24-valve V6 cars are rare birds.) Prices range from £1000 to £5000 but around £3500 is enough for a decent car. There's a coupé version, too, called the GTV. It's less numerous but you've a better chance of finding a V6 example.
They were launched in 1995 and based on a modified Fiat Tipo chassis with MacPherson-strut front suspension. Fear not: a multi-link suspension set-up at the rear, super- quick steering and a stiffened body mean they're huge fun to drive.
The Spider, the focus of this guide, is powered by a 150bhp 2.0-litre four-cylinder Twin Spark engine, so called because it has two spark plugs per pot. Remember that when you're budgeting for the 60,000-mile service. Power goes to the front wheels through a five-speed manual gearbox. There is no auto option.
In 2001, it was joined by a 220bhp 24-valve 3.0-litre V6, this time with a six-speed gearbox. This was subsequently replaced in 2004 by a 240bhp 3.2. The latter is one of the best engines Alfa has made: smooth, torquey and blessed with a spine-tingling exhaust note at full tilt.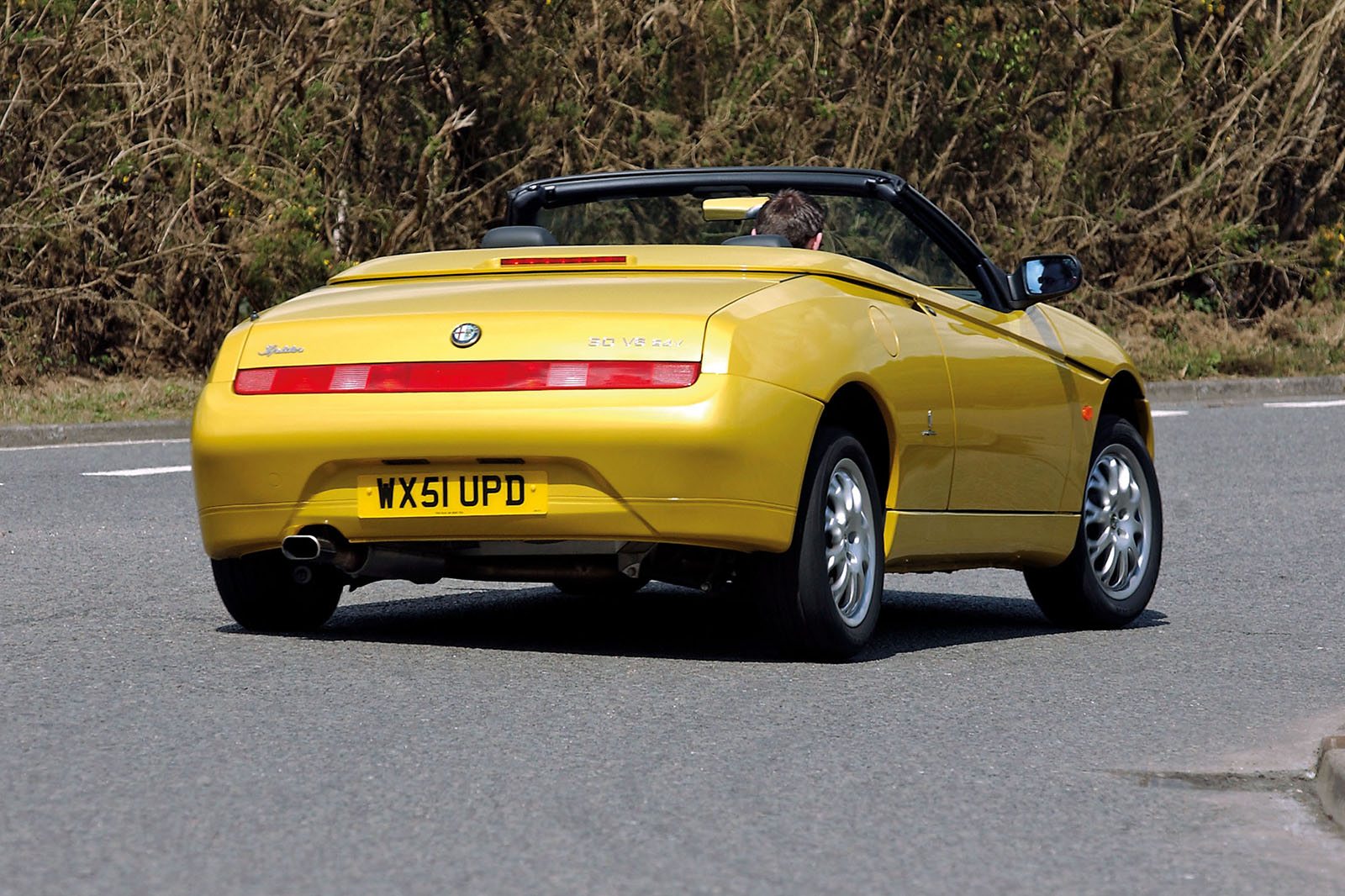 It's also free of the tensioner issues that bothered the Twin Spark and forced Alfa to slash that engine's belt change interval from 72,000 to 36,000 miles. That said, the TS is a strong, responsive and smooth engine. Do your checks and you should have nothing to fear.
The Spider was facelifted in 1998 (new centre console, small tweaks to the TS engine), but these cars are now very rare, most scrapped due to low values and high maintenance costs. Another facelift in 2003 was bolder (a new nose and that 3.2 V6). Production ended the following year.