Development of battery-swapping technology has largely centred around the idea of a swift, roadside battery swap for a quicker alternative to conventional charging, such as that pioneered by Chinese electric car maker Nio in its home country.
But commercial vehicle manufacturer Iveco has launched a new electric van that showcases a different use for an easily swapped, cassette-style battery. The Iveco e-Daily comes with the option of three battery sizes – 37, 74 and 111kWh, for WLTP ranges of between 74 and 217 miles – and it's innovative for allowing users to retrospectively remove or add elements to the modular battery pack.
This can be hugely useful in various contexts, its creators say, but is most obviously of benefit in a commercial setting. If a van is being used as a last-mile delivery vehicle and doesn't need a long range, the smaller battery would suffice, to keep costs and the environmental impact down as well as increase the maximum payload by removing battery weight of (in the Iveco's case) 270kg per 37kWh li-ion pack.
But if the vehicle's usage changes and a longer range would be useful, it can then be taken into one of Iveco's servicing stations, where they can up the cell count to 74 or 110kWh. Similarly, cell packs can be removed if necessary, and swapped between the fleet's vehicles as needed.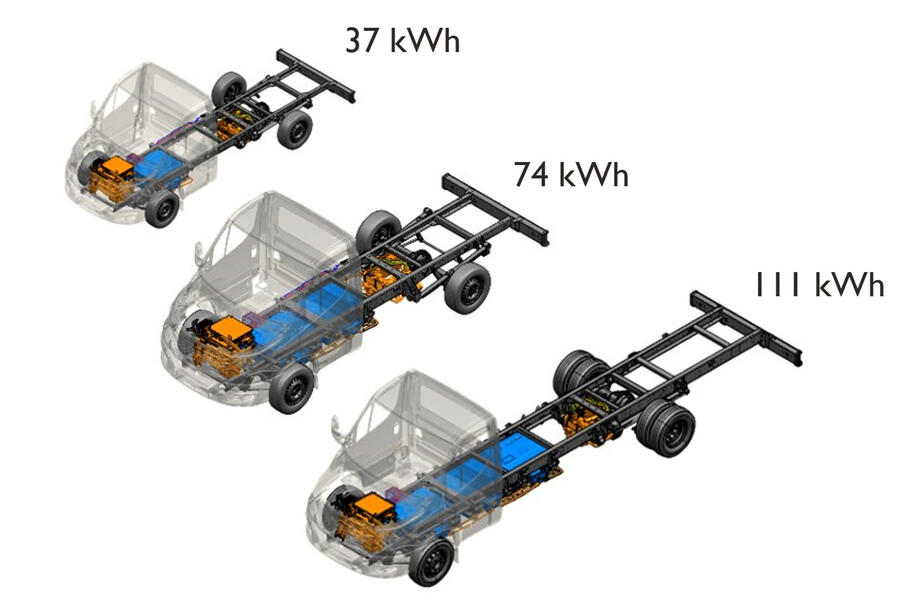 The process of swapping a battery pack in or out is expected to take around two hours and will need to be done at an Iveco service centre. This isn't a swift roadside swap, but a system to allow flexibility of range and resources for a fleet.
A new cell pack will cost around £15,000 if required, plus labour costs. Iveco would offer money off in exchange for the old pack, although the actual remuneration would depend on the age and state of the battery.
The battery pack tech is provided by American battery manufacturer Microvast. It uses a nickel-manganese-cobalt lithium ion cell chemistry similar to that already in use in many modern EVs but built into the modular packs that can be slotted in and out of the Iveco chassis. A warranty of 155,000 miles and eight years (100,000 miles on single-battery vehicles), with a performance guarantee of 80% – regardless of how often the 80kW DC rapid charging might be used – also suggests great confidence in the long-term performance of the cells.